---
Da Capo Players and Choir & Brett Alan Judson
---
Biography Da Capo Players and Choir & Brett Alan Judson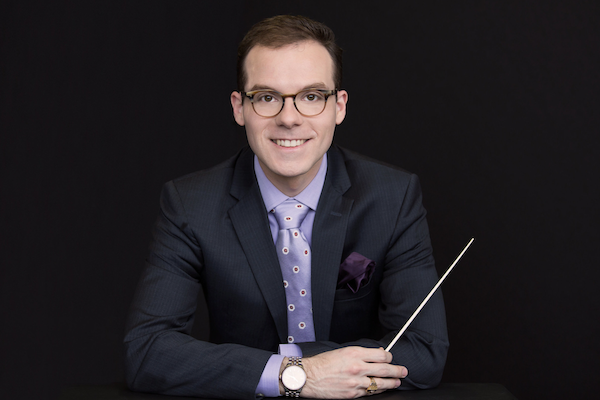 Brett Alan Judson
graduated from Yale School of Music, Yale Institute of Sacred Music, Eastman School of Music, and Crystal Cathedral High School and is pursuing a doctoral degree at the Hartt School, studying conducting with Edward Bolkovac. Brett studied conducting privately with Pamela Perry and Donald Neuen. He was Assistant Director of the New Haven Chorale, preparing works such as J. C. Bach's Magnificat, Charpentier's Te Deum, Handel's Judas Maccabaeus, and Orff's Carmina Burana. At Emanuel Lutheran Church in Man- chester, CT, Brett conducted Britten's Rejoice in the Lamb, Chilcott's A Little Jazz Mass, Schütz's Passion According to St. John, and Handel's Messiah. At Hartt, Brett taught English Diction and directed the Hartt Camerata. As Assistant Conductor, Brett conducted and performed on the organ with the Con- necticut Choral Union Touring Choir in Prague and Budapest in 2017. Brett commissioned five sacred choral anthems from award-winning composer Scott Perkins.
Brett studied organ with J. Christopher Pardini, Mark Thallander, David Goode, Wayne Foster, William Porter, and Martin Jean. He coached with David Higgs, Paul Jacobs, and Fred Swann. Brett received the Barnes Award for Excellence in Pipe Organ at Eastman and was a finalist in the 2010 Poister Organ Competition. He has appeared on the international television program Hour of Power with Robert H. Schuller and the radio broadcast Pipedreams! He has performed at churches and cathedrals throughout the US and Norway. During his studies at Yale, Brett was an organist at Marquand Chapel at Yale Divinity School. He has held leadership positions in the American Guild of Organists and the American Choral Directors Association.
Brett is currently Director of Music at Trinity Church, Episcopal, a vi- brant and growing parish in Folsom, California. He directs two adult choirs and a children's choir, using the curriculum from the Royal School of Church Music. In 2019 Brett founded Folsom Academy of Music to provide music lessons for students in Folsom's historic district. He is cur- rently Lecturer at California State University, Sacramento, teaching music theory and musicianship.
Tom Mueller
is Associate Professor of Church Music and University Organist at Concordia University in Irvine, California, where he directs academic programs in keyboard, composition, and jazz. An award-winning church musician, he serves as the Associate Organist at St. James' Church in Los Angeles. He main- tains an active concert schedule, and per- forms frequently across the United States and Europe. In 2010 he performed the complete organ works of J. S. Bach in a series of seventeen concerts in his native state of Maine. Mueller earned the Doctor of Musical Arts degree at the Eastman School of Music as a student of David Higgs. He also holds degrees in music from the University of Notre Dame and the University of Maine at Augusta.
Scott Perkins
Connecticut native Scott Perkins enjoys a multifaceted career as an international prize-winning composer, an award-winning scholar, and a music professor at California State University, Sacramento. His work, praised by critics for publications including the Washington Post ("dramatic," "colorful") and the Washington Times ("perfectly orchestrated," "haunting," "a remarkable and welcome musical surprise"), includes art songs, opera, musical theatre, instrumental works, choral and chamber music, electroacoustic media, and music for film and church. He has been commissioned by organizations ranging from the Washington National Opera to the American Guild of Organists, and his work has been performed throughout North America and Europe. He has collaborated with musical and non-musical artists, including Tony Award-winning playwrights, Emmy-winning filmmakers, and celebrated poets. He has released two discs on Navona Records, and he is published by E. C. Schirmer, Augsburg Fortress, Paraclete Press, and Encore Music Creations.
Scott's research interests are diverse. He gave the keynote address and a paper on the reception of Messiaen's work in the United States in Zgorzelec, Poland, as part of the celebrations for the 75th anniversary of the premiere of the Quartet for the End of Time. His work on the music of Benjamin Britten was awarded the Student Paper Prize by the New York State-St. Lawrence Chapter of the American Musicological Society. He has also presented on the integration of non-Western music into musicianship curricula at a national conference of the Society of Arts Entrepreneurship Educators at The Ohio State University; teaching music-reading skills to amateur choirs at a Northeast Regional Convention of the American Guild of Organists at Yale University; 17th-century lute song performance practice at the University of Chicago; and aspects of setting Old English texts to music at Harvard University.
Scott has concertized as a tenor throughout the United States, England, Mexico, Scotland, and Norway. He has performed with professional ensembles as both a vocalist and a conductor, and he is a featured soloist on CDs produced by Bridge Records and Loft Recordings.
In 2017 Scott was appointed Assistant Professor of Music at California State University, Sacramento, where he is the coordinator of the music theory area. He teaches composition and courses in theory and musicianship, and he serves as co-director of Sacramento State's Festival of New American Music (FeNAM). He has also taught at DePauw University, Central Connecticut State University, Nazareth College, and the Interlochen Summer Arts Academy.
Scott earned his PhD in composition with minors in music theory and music history at the Eastman School of Music, where his primary teacher was Ricardo Zohn-Muldoon. He holds master's degrees in both music theory and music theory pedagogy from Eastman, and he has a bachelor's degree with highest honors in music theory and composition with a sub-concentration in vocal performance from Boston University.