---
Biography Kissin' Dynamite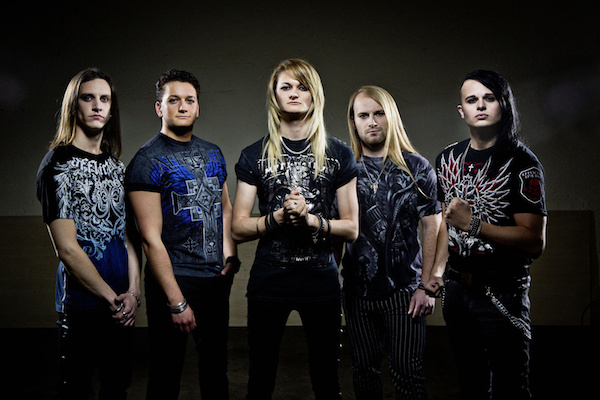 Kissin' Dynamite
The fact that KISSIN' DYNAMITE don't do things by halves should be known in the meantime all over the place. After national and international success with STEEL OF SWABIA (2008), ADDICTED TO METAL (2010), MONEY, SEX & POWER (2012) and recently MEGALOMANIA (2014), the young rockband from Baden-Württemberg comes back with their 5th studio album GENERATION GOODBYE in summer 2016.
Times of revolution
"GENERATION GOODBYE symbolically represents a feeling of longing, breakup and a new start, which frequently is thematized in the 11 new songs", Ande Braun, guitarist of the band, expresses. "And yet it's actually no concept album", adds his brother Hannes, singer & songwriter of the quintet.
The songs would be as honest and genuine as never before. The reason for this would be disengagements and changes in terms of business as well as private aspects of every single one. Thus the band parted with their management in 2014 and since then organized themselves completely self-sufficient.
Furthermore, no external producer was obligated anymore. Instead, one relied on the distinct sound concept of the band, which singer and songwriter Hannes Braun simultaniously put into action as producer on the mixing desk. "We had this vision of keeping full control this time in terms of the sound we exactly wanted. Thereby, we had the freedom to deliver the truest, most authentic and most genuine album for us, totally without any pressure or compulsion from outside." he remembers. Steffen Haile, bassist of the group, adds: "In the meantime, we cede a minimum of work and so do more and more by ourselves. We think, the more comes from ourselves, the better the end product gets." Hence the members spread tasks as songwriting, PR, merchandise, social media etc. internally.
"Of course I use writing lyrics in order to process certain incidents out of my private life, where just recently quite a bit has happened", reflects lyricist Andi Schnitzer about the lyrics!
In times of social changes
Also current events of politics and economy would have influenced the songwriting. "We live in a time of constant accessibility, where everyone needs to know everything at any time. The wrong things are taken for too important. That's not healthy anymore. Like this, the people get unsecure, blind and shy." attests Andi Schnitzer. "Because of the fact that in terms of these things we look into the future with quite several worries, GENERATION GOODBYE can also be seen as an act of liberation in a way. We are the generation that can achieve something. Our generation is able to see what goes wrong and so we call for turning one's back on this progress consciously."
Generation smartphone
In practice, this could already begin with banalities. It would be already a start to spend an evening with good friends or to go on a concert – but without taking along the mobile phone. You consciously would have to decide for not being reachable for the whole world, at least for a few hours. Like this, you wouldn't run the risk of getting the feeling of possibly missing something. "Instead, I have the possibility to enjoy the Here and the Now, the moment as it is, for me and others." tells Ande Braun.
Solidarity & endurance
The fast pace that our time entails also doesn't stop when it comes to music. The evidence was recently provided by the biggest record companies of this time. Artist identities are created overnight which are supposed to disappear from the screen the next day in order to clear the way for their replacements. "In this way we're subjected to a loss of value that we want to beard with our music." guitarist Jim Müller thinks. "We're sure the reason of our success is our endurance and our team spirit as a band." And the fact that the band plays music together since their school days, you notice with every tone.