---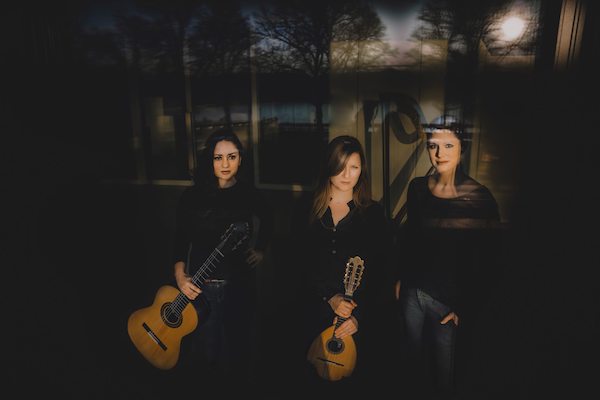 Ekaterina Solovey
was born in Sverdlovsk, Russia (now Yekaterinburg) in 1985 and comes from a family of musicians. While studying the domra, a Russian folk instrument, at the Urals Mussorgsky State Conservatoire, in 2005 she participated in the European Guitar and Mandolin Youth Orchestra, and decided to major in mandolin performance only, which she studied at the same time as the domra. In 2010 she transferred to the Hochschule für Musik und Tanz Köln and earned a master's degree under Caterina Lichtenberg in February 2013, graduating summa cum laude.
Ekaterina Solovey had already won numerous international competitions before and during her studies, most recently a First Prize at the Folk Modern Artist in Nessebar/Bulgaria festival competition (2011) and the WDR 3 Open Auditions. Concert tours have taken her to, among others, Russia, Spain, Israel, Austria, Italy and the US, where she impressed audiences as a soloist and chamber musician.
She also frequently performs with renowned orchestras, among them the Gürzenich Orchestra Cologne, the Düsseldorfer Symphoniker and the Beethoven Orchestra Bonn, under conductors such as Kent Nagano. Chamber music plays a special role in Solovey's artistic work. In 2010 she founded the Milchkaffee-Trio (two mandolins and guitar) and since 2015 has been a member of the unique trio sixty1strings featuring the unusual combination of mandolin, guitar and harp.
Negin Habibi
was born in Tehran in 1982 and comes from a family of writers and literary translators. Growingup in several countries (Iran, France, Belarus, Germany),she came into contact with different cultures at an early age. So far, her musical career too has been marked by great diversity and openness. She began her training in classical guitar at the age of twelve while also playing electric guitar in rock bands.
In 2001 she began studying music at the University of Music and Theatre "Felix Mendelssohn Bartholdy" in Leipzig and in 2005 completed her studies with top marks under Frank Bungarten at the Hannover University of Music, Drama and Media. In 2008 she completed her performance degree at the Lucerne School of Music, also summa cum laude.
During her studies, she attended numerous master classes with renowned musicians such as Stephen Stubbs, Fareed Haque and Markus Stockhausen. Since 2007, Negin Habibi has been a scholarship holder of several foundations and associations such as Live Music Now of the Yehudi Menuhin Association, the Edelhof Ricklingen Foundation and Klassik in der Klinik e.V.
She made her concert debut in 2004 with the Concierto de Aranjuez by Joaquín Rodrigo and is now in high demand as a soloist and chamber musician and pursues a busy concert schedule both at home and abroad. Concert tours have taken her to the US, the Netherlands, Belgium, Ireland, Austria and Bhutan. Since 2014, she has been studying baroque guitar with Israel Golani (Amsterdam) and is involved in both Early and New Music projects. In 2013 she co-founded the unique trio sixty1strings.
Konstanze Kuss
was born into a music dynasty and is the third generation of harp players in her family. She received her first harp lessons at the age of five and since that time has regularly participated in national competitions. She has been a multiple award winner in the categories Harp solo, Harp chamber music, Recorder solo and New Music Ensemble.
She studied at the University of Music, Drama and Media Hannover with Ruth Konhäuser, Anne-Sophie Bertrand and Birgit Bachhuber. During this time she became a member of the First German Harp Ensemble as well as Amabilees (film music with flute, harp and bass) and began to focus on different period instruments and to perform with various formations and ensembles, such as the Eranos Ensemble for Early Music and the Hofkapelle München. In contrast to these, she has also taken part in crossover rock/pop projects and gained experience in the field of experimental music, including electric harp.
In 2008 she received a scholarship from the RichardWagner-Verband e.V. After earning her diploma in music performance in 2009, she filled in temporarily with various orchestras such as the Bielefelder Philharmoniker, the Theater für Niedersachen, and the Orchester Lüneburg, and participated in several productions of the Tecklenburg Open Air Theater and the Allee-Theater in Hamburg.
She currently performs in Germany and abroad as a soloist as well as with various duo partners and ensembles, including the Studiogruppe Baltruweit. Concert engagements have taken her to the US, Poland, Spain, Russia, Austria, Belgium and the Netherlands. She also performs in studio recordings and is featured in recordings and live performances for radio and television. Konstanze Kuß is a founding member of the trio sixty1strings.