---
Trasnoche feat. Santiago Cimadevilla, Ebred Reijnen, Elliot Muusses, Mark Wyman, Virgilio Monti & Beatriz Aguiar
---
Biography Trasnoche feat. Santiago Cimadevilla, Ebred Reijnen, Elliot Muusses, Mark Wyman, Virgilio Monti & Beatriz Aguiar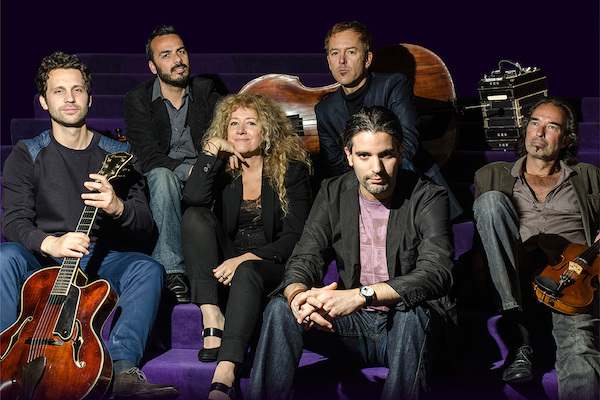 Trasnoche
is a recently formed quintet devoted to performing new music. All its members have a solid trajectory and come together in this project with the common goal of performing new compositions and arrangements based or inspired mainly but not only on Argentine tango music.
Santiago Cimadevilla
was born in Buenos Aires, Argentina. At a young age he studied classical piano and later on switched to bandoneon, instrument on which he completed his formal studies at the Conservatory.
He has performed extensively throughout Europe with his own bands and also as a guest with other groups and soloist with orchestras and chamber ensembles. He has a wide experience with Argentine tango music, both traditional and modern, and often performs classical and contemporary music with several orchestras. Among other styles he has specialized in the original quintet repertoire of Astor Piazzolla, which he performs regularly with several groups across Europe. Currently he focuses on composing and arranging original music for TRASNOCHE, his main performing group.
Elliot Muusses
studied jazz guitar at the Amsterdam Conservatory and also specialized in tango music, which he has performed extensively in various groups such as Guitarras Tango, Los Taitas (with Hernan Ruiz), and many others. In 2009 he was awarded the Doble Ocho (Concurso del Ocho) prize with his own Quinteto Arrastre, for which he also wrote original arrangements.
Ebred Reijnen
started playing violin at age 10 after having found an old violin at the cellar of his aunt's house. He graduated cum laude from the conservatory and later on studied in Brussels with Kati Sebestyen and in Germany with Andre Gertler. He is currently a member of the Rotterdam Philharmonic Orchestra and has also performed with several other orchestras such as the Orquesta Ciudad de Granada, the Bergen Filharmonisk Orkester and the Malaysian Philharmonic Orchestra. With TRASNOCHE he performs with that same violin he found as a child and that has accompanied him ever since.
Mark Wyman
began classical piano studies at age five. In 1988 he moved to San Francisco to continue his musical studies, graduating from San Francisco State University (Summa cum laude), and then Mills College (Dean's List) with a Master's in Piano Performance and Literature. Mark has a very broad musical experience, from classical to punk, from rock and pop to avant-garde, playing anything with keys or knobs, piano, organ, accordion, and many different synths. He has performed solo, and with many different groups across the entire musical spectrum. Mark has toured around the US and all over Europe, and went to Buenos Aires to study and play tango, his main musical interest. Mark currently lives in Amsterdam, performing regularly, accompanying and teaching. He plays with several different ensembles and singers, and performs in musicals.
Virgilio Monti
Virgilio studied double bass at the Giuseppe Verdi conservatory in Milan and has performed in several orchestras and chamber groups. Later on he specialized in tango music and became one of the most requested double bass players due to his virtuosity and deep knowledge of the genre. He has played with lots of tango groups, such as, among others, Gotan Project, Orquesta Tipica OTRA, Cuarteto Rotterdam, Orquesta Tipica Guardia Cadenera, Septetoscopio, etc.