---
Sokratis Sinopoulos, L'Achéron, François Joubert-Caillet
---
Biography Sokratis Sinopoulos, L'Achéron, François Joubert-Caillet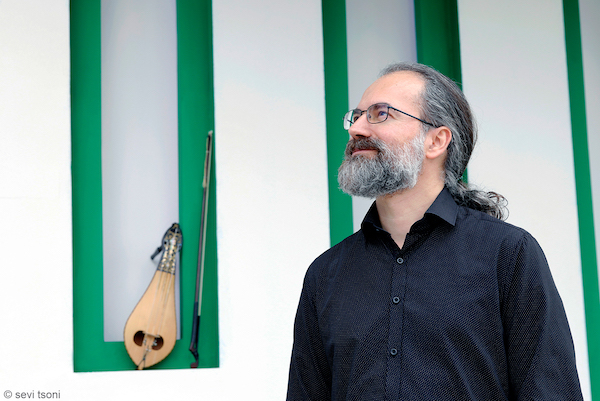 Sokratis Sinopoulos
Greek musician Sokratis Sinopoulos is a contemporary master of the lyra, a bowed instrument that dates back to the Byzantine era. His playing is delicate and nuanced yet highly expressive, and his proficiency on the instrument has been widely acclaimed. Sinopoulos has collaborated with numerous musicians throughout the world. He's equally comfortable crossing genre boundaries into jazz and classical, as he is to staying true to folk traditions of Greece and Eastern Mediterranean.
Born in Athens in 1974, he studied Byzantine music and classical guitar as a child, and began playing the lyra in 1988, under the instruction of Ross Daly. Sinopoulos' remarkable talent was immediately apparent, and he joined Daly's group Labyrinthos a year later. He became highly prolific, contributing to recordings by countless musicians all arround the world. Sinopoulos was awarded the Melina Mercouri award for young artists in 1999.
In 2010, he formed Sokratis Sinopoulos Quartet with pianist Yann Keerim, bassist Dimitris Tsekouras, and drummer Dimitris Emmanouil. The debut album of the quartet "Eight Winds", was produced by Manfred Eicher for ECM records and received excellent reviews globaly. Sokratis Sinopoulos is an assistant professor in the Department of Music Science and Art in the University of Macedonia, Thessaloniki, Greece.
L'Achéron
In Greek mythology Acheron is the river that Orpheus crossed to rescue Eurydice from the underworld. As itsname implies, L'Achéron wants to open a path between two apparently opposed worlds: that of the living and that of the dead, the past and the present, idealism and reality.
Created in 2009 by François Joubert-Caillet, L'Achéron is made up of a young generation of musicians from veryvaried backgrounds, all of them having studied in some of the best known schools for ancient music (Schola Cantorum Basiliensis, the Paris and Lyon National Conservatories, the Royal Music Conservatories of Brussels and The Hague, etc.). Some of these musicians have other artistic talents : acting, theatre direction, contemporary as well as renaissance and baroque dancing, writing, drawing, improvisation, pupeteering, instrument making and sound mixing, make up the range of passions present in the group.
L'Achéron seeks to strengthen ties between the musicians and the public by making ancient music more accessible, without denaturing it but to the contrary, by exploring the variety of musical instruments and genres of the renaissance and baroque periods. By trying to render the many nuances of this rich and vibrant music, L'Achéron proposes a journey through time and the senses where the flavours of the past are brought to life.
Initially L'Achéron was a viola da gamba consort and has worked since 2013 in collaboration with the instrument maker Arnaud Giral on the construction of a typically English consort. Until now, five instruments have been brought to life, giving the consort a unique cohesion and harmonic depth. A virginals and an positive organ will join them soon…
L'Achéron regularly works with artists from other spheres : in L'Orgue du Sultan, it collaborated with the ensemble Sultan Veled in a meeting between elizabethan and ottoman musics, the Lachrimæ Lyræ with the master of greek lyra Sokratis Sinopoulos ; it will also take part in an album of electronic music with DJ Marc Romboy and Tamar Halperin.
L'Achéron is regularly invited to perform in various festivals and musical seasons in Europe such as Saintes, Sablé and Royaumont Festivals, Auditorium du Louvre, Tage Alter Musik Regensburg, Festival Bach de Lausanne, Bruges' Concertgebouw, Oude Muziek Utrecht, Warsaw Philharmonie, etc.
L'Achéron records for Ricercar – Outhere and has released so far The Fruit of Love devoted to Anthony Holborne, the Ludi Musici by Samuel Scheidt (winner of the Diapason d'Or), Fancies for the viols by Orlando Gibbons (used by Robert Carsen in his Tempest by William Shakespeare at the Comédie Française) Johann Caspar Kerll's Requiem with the ensemble Vox Luminis, Ouvertures by Johann Bernhard Bach (Echo Klassik), Pièces Favorites by Marin Marais from whom François Joubert-Caillet started to record the integrality of the Pièces de Viole (the 1st Book has been awarded by a Diapason d'Or and a Choc de Classica). Last release : Complete Trio Sonatas by Philipp Heinrich Erlebach.