---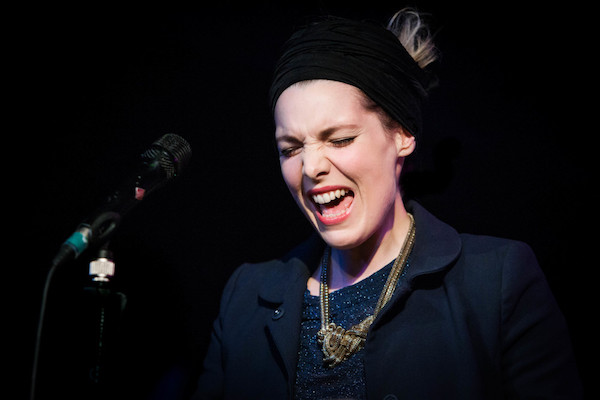 Julia Pallanch
was born in 1985 in Wels, Upper Austria. In her early childhood she started taking piano, flute and ballett lessons. In the brass band of her home town she played the flute till she graduated. From the very beginning she always knew, that she wanted to be a singer. After graduation at the Adalbert-Stifter-Gymnasium in Linz, a High School focusing on music education, she moved to Vienna and started to study Voice at the Music University of Vienna. She gathered her first live experiences by playing keyboards and singing with an Electro pop Trio called Roh Lex. In 2011 during a lecture at University, she met mathias rüegg and introduced herself by singing a Bob Dylan Song. Shortly after that she started her exchange year in Gothenburg/Sweden at Artisten. But through out the year she stayed in touch with rüegg via Skype and they started working together as a result of rüegg's engagement in the States. rüegg was in the middle of arranging two Schubert Songs for the Big Apple Circus in New York – which he had already done in 1993 for his Vienna Art Orchestra and the European Songbook. The idea was born to continue this path together by transferring Schuberts Songs of Winterreise in a different musical context and to sing them in English.
And so the collaboration of Julia Pallanch and her mentor mathias rüegg begins. From it, their first album Gone Too Far develops with 11 songs of Schuberts cycle "Winterreise" and was released in 2013 on Universal Music Austria and premiered on February 14th 2013 at Porgy & Bess in Vienna. Julia Pallanch turns to Lia Pale (last three letters of her first name, first three letters of her last name) and she instantly sings herself into the hearts of the audience and captures the critics and experts with her sense of timing and phrasing. Herself still being in a stage of doubts and insecurities she continues to devote herself to Jazz, her greatest inspirations being Billie Holiday Chet Baker and Miles Davis. At the same time her interest for classical music starts to grow more and more and she spents most of her time listening to Maria Callas or Glenn Gould studying their lifes and works. But her strongest inspiration and one and only hero is and will always be Mister Charles Chaplin. Besides watching all his movies and transciribing the Non-Sense-Ssong her hobbies are Tap Dance and Lindy Hop.
After touring rüegg and Pale started working on their second album with poems by Heinrich Heine and Rainer Maria Rilke set to music by rüegg.
Referring to Schumann's Dichterliebe they named it My Poet's Love and it was Pale and rüegg's second album for Universal Music Austria. The album features six different trumpet players, each of them contributing one or more soli in their own individual style, including Thomas Gansch, Juraj Bartos and Mario Rom. My Poet's Love premiered live on February 2nd 2015 at the Porgy & Bess in Vienna.
In the meantime Gone Too Far had grown from eleven songs of Schubert's Winterreise to all twentyfour. Through many live concerts and continues recordings – step by step - the whole cycle of songs was completed – even six from the original eleven songs of Gone Too Far were recorded again. And after finishing the Winterreise in 2016, Lia decides to walk the Camino de Santiago on her own. All the way from St Jean Pied de Port to Santiago de Compostela and by walking this path she experiences her very own, personal "Winterjourney" facing wind, weather and loneliness. Returning back home she decides to once more sing most of the songs anew and with it finally completing her musical and personal journey around Schubert's Winterreise. The talented newcomer had developed into a singer with profoundness and a matured voice of many colours and shades. After five years of intense musical work and through it the search for identity, in a way their collaboration led to a new beginning when their "Winter Journey" was completed. A Winter's Journey was released in April 2017 on Lotus Records.
In Fall 2016 Pale and rüegg began to work on The Schumann Song Book - continuing their path in between tradition and new interpretation. Of more than threehundred songs by Robert Schumann they chose their personal favourites and this time parts of the original scores appear in every arrangement in a different way. The Schumann Song Book premiered on November 3rd 2016 at the Porgy & Bess in Vienna and was recorded in June 2017. Schumann's Songs in a new version will be released on December 8th 2017 on Lotus Records.
Although Pale and rüegg's work is in between musical worlds, it is basically "Jazz" in the sense of taking something and turning it to something else, something new. Just think of Mackie Messer and how many translated and rearranged versions there are of Mack the Knife!
No one can invent the world anew, but one can interpret it in a different way : )...