---
Album Info
Album Veröffentlichung:
2019
HRA-Veröffentlichung:
29.03.2019
Das Album enthält Albumcover
Entschuldigen Sie bitte!
Sehr geehrter HIGHRESAUDIO Besucher,
leider kann das Album zurzeit aufgrund von Länder- und Lizenzbeschränkungen nicht gekauft werden oder uns liegt der offizielle Veröffentlichungstermin für Ihr Land noch nicht vor. Wir aktualisieren unsere Veröffentlichungstermine ein- bis zweimal die Woche. Bitte schauen Sie ab und zu mal wieder rein.
Wir empfehlen Ihnen das Album auf Ihre Merkliste zu setzen.
Wir bedanken uns für Ihr Verständnis und Ihre Geduld.
Ihr, HIGHRESAUDIO
1

Immortal Bind

04:31

2

Black Empire

04:50

3

Overload

04:24

4

Stranger

04:17

5

Linkage

04:51

6

Eternal Warrior

05:05

7

Ghost in the Flame

07:58

8

Venom Strike

04:47

9

Awake

04:53

10

Omega Man

04:06

11

Pain

04:16

12

Echoes in the Dark

05:09

13

Unbroken Sign

04:18

Total Runtime

01:03:25
Info zu Nucleus
Seit ihrer Gründung 1981 in Tokyo haben ANTHEM mit ihren hitzigen und aufregenden Live-Shows immer viel Aufmerksamkeit auf sich gezogen. Ihr legendäres Debutalbum, »Anthem« erschien 1985, gefolgt von einer weiteren großen Tour. Die Beliebtheit der Band wuchs noch stärker mit der Veröffentlichung ihres zweiten Albums, »Tightrope« (1986) und mit dem dritten Full-Lenght Album »Bound To Break« (1987) konnten sie dann auch den amerikanischen Markt erobern.
Sänger Eizo Sakamoto verließ die Band nur wenig später und wurde von Yukio Morikawa ersetzt, mit dem dann auch »Gypsy Ways« (1988) und »Hunting Time« (1989) aufgenommen wurden, die beide sehr erfolgreich waren und ANTHEM's Ruf als Japans führende Heavy Metal Band zementierten.
Nach dem Release von »No Smoke Withour Fire« (1990) und vielen Probe-Vorspielen, fanden ANTHEM dann ihren neuen Gitarristen, Akio Shimizu, der damals erst 21 Jahre alt war. Von seinem Talent beeindruckt, hat sich Naoto Shibata, Fronter von ANTHEM entschieden, ihr nächstes Album, »Domestic Booty« (1992) mit Shimizu fertigzustellen, bevor sich die Band nach der Release-Tour auflöste.
Die Rückkehr der Band wurde durch »Heavy Metal Anthem« aus dem Jahr 2000 begünstigt - ein Album mit ANTHEM-Songs, die von Naoto und Akio neu arrangiert wurden, mit Graham Bonnet als Gastsänger. Die Veröffentlichung und die anschließende Japan-Tour führten zu einer großen Nachfrage der Fans nach einem ANTHEM-Comeback.
Aber anstatt das ursprüngliche Line-Up wieder aufzubauen, hat sich Shibata dazu entschieden, etwas Neues aufzubauen, mit neuen Songs und neuem Line-Up: Akio Shimizu (Gitarre), Eiji Ohtake (Gesang) und Hirotsugu Honma (Schlagzeug). Insgesamt haben sie zwischen 2001 und 2010 ganze 5 Studioalben veröffentlicht - »Seven Hills«, »Overload«, »Eternal Warrior«, »Black Empire« und »Heraldic Devise« – was zeigt, dass ANTHEM eine durchaus 'aktive' Band waren.
Um ihre Position an der Spitze von Japans Metal-Szene weiter auszubauen, haben ANTHEM ihr Label gewechselt, rechtzeitig zur Veröffentlichung ihres Albums »Burning Oath« (2012) – auf dem der Gast-Drummer Isamu Tamaru auf allen Songs, außer einem, am Schlagzeug saß. Obwohl er zu dieser Zeit immer noch ein offizielles Mitglied der Band war, konnte Homma, aufgrund einer Verletzung nicht bei der Band spielen, was später dazu führte, dass er die Band verließ.
Gegen Ende des Jahres 2013, lud Naoto den ehemaligen Sänger Yukio ein, der Band wieder beizutreten und Ersatz-Drummer Isamu wurde ein reguläres Band-Mitglied, womit das aktuelle Line-Up der Band vollständig war: Shibata Naoto (Bass), Akio Shimizu (Gitarre), Yukio Morikawa (Gesang) und Isamu Tamaru (Schlagzeug). Akio Shimizu arbeitet auch als Produzent für andere japanische Künstler und hat sich schon die Bühne mit MICHAEL SCHENKER FEST auf deren Japan-Tour im September 2018 als Gast-Gitarrist geteilt.
ANTHEM veröffentlichten ihr 15. Album, »Absolute World« in 2014 und feierten das Release mit der erfolgreichen "30th Anniversary-Tour" im folgenden Jahr. Zwischen der Veröffentlichung ihres 2016er »Engraved« und der darauf-folgenden Tour, war die Band sehr mit Touren innerhalb Japans beschäftigt und bewies, dass ANTHEM auf einem durchgängigen Hoch sind – das alles wurde für die im Februar 2018 veröffentlichte Tour-Doku »Attitude 2017 – Live And Documents« festgehalten.
Jetzt in 2018 geben ANTHEM ihr Signing mit Nuclear Blast Records (in Europa) bekannt, um den internationalen Markt zu erobern. Die erste Veröffentlichung wird eine Sammlung ihrer größten Hits sein, neu aufgenommen und mit englischen Texten!
Für Mixing und Mastering war Jens Bogren verantwortlich, ein anerkannter Produzent und Sound-Ingenieur, der für seine Zusammenarbeit mit einer ganzen Reihe von namhaften Bands bekannt ist. Jens' Arbeit, die sich auf Feinheit und einem großen Wissensschatz gründet, hat bereits zu den Karrieren vieler Bands beigetragen und ANTHEM wird da keine Ausnahme sein. Dieses Album erreicht dank seinem Einfluss internationalen Heavy Metal Standard.
Das Erstaunliche an diesem Werk ist, dass alle Songs, außer 'Venom Strike', nach der Band-Re-union in 2001 geschrieben wurden. Das beweist, dass ANTHEM schon immer eine Band 'von heute' waren, die sich nicht auf ihre Vergangenheit stützen müssen.
Diese Sammlung neu aufgenommener Hits, »Nucleus«, die eine Vielzahl der Klassiker dieser Band enthält, ist ein nahezu monumentales Werk, das perfekt ANTHEM's hohe musikalische Qualität unterstreicht und beweist, dass sie eine erstklassige Band sind, selbst nach internationalen Standards.
Yukio Morikawa, Gesang
Akio Shimizu, Gitarre
Naoto Shibata, Bass
Isamu Tamaru, Schlagzeug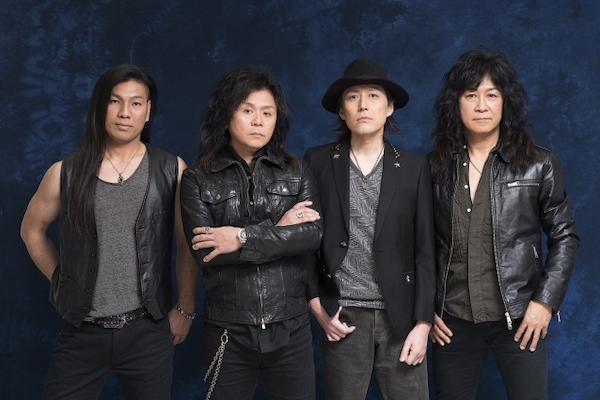 Anthem
Considered to be one of the earliest pioneering bands of Japanese heavy metal alongside Loudness and Earthshaker, Anthem formed in 1981 as a quartet of singer Toshihito Maeda, guitarist Akifumi Koyanagi, bass player Naoto "Ski" Shibata and drummer Takamasa Ohuchi.
Koyanagi left in late 1983 to be replaced by Hiroya Fukuda. In December 1984 vocalist Toshihito Maeda also left. He appeared as Anthem's vocalist on the first "Heavy Metal Force" compilation and sings the song "Warning Action". Anthem then drafted vocalist Eizo Sakamoto for their debut eponymous album issued in July 1985 by Nexus and licensed to Europe via Roadrunner Records. This was followed by a string of successful albums including "Tightrope", "Bound to Break", and the band's most successful album; "Gypsy Ways" which featured Yukio Morikawa on vocals instead of Sakamoto. Morikawa at the time was often compared in terms of vocal skill, range, and ability to Graham Bonnet, who would ironically join the band in 2000. Within this successful span in the mid 80's, the band experienced perhaps their greatest highlight, a North American tour in which they were the headlining act supported by Racer X, and Commander.
In the early 90s, Anthem experienced more lineup changes with the departure of Hiroya Fukuda, followed by his replacement Hideaki Nakama. Akio Shimizu was finally hired after many auditions and the band released "Domestic Booty", but with the drop of popularity that plagued most Heavy Metal bands in the 90s, as well as the rise of the Visual Kei movement led by bands such as X Japan, Dead End, and D'erlanger among many others, they were left with no choice but to put the band on hold. Anthem played one final tour and disbanded in late 1992, this would be the last time they would perform for another 8 years.
Finally, in 2000, Anthem made their triumphant return to the Japanese music scene, releasing "Heavy Metal Anthem" featuring Hirotsugu Homma of Loudness as well as Graham Bonnet of Rainbow, and Alcatrazz fame. Anthem have since brought back Eizo Sakamoto on vocals and are still recording and touring to this day.
In January 2013, band leader Naoto Shibata was diagnosed with Stomach Cancer after which the band immediately went on hiatus. The cancer was discovered early and the band returned to touring by April.
Anthem are credited as the first band to have a song used as promotion for a video game in their single "Xanadu" released in 1986 promoting Nihon Falcom's computer RPG "Dragon Slayer II: Xanadu". Additionally the song, "Show Must Go On!" (from Bound to Break) appeared in the anime series OAV Devil Man: The Genesis, Part One near the end of the episode, when Akira Fudou first becomes Devil Man. It appears in a scene in a club where people are partying in order to become possessed by devils.
Naoto "Ski" Shibata has orchestrated and released an album of hard rock versions of classic themes from the Castlevania video games via Konami, entitled Konami Kukeiha Club: Dracula Battle Perfect Selection.
Vocalist Yukio Morikawa is working with Akira Kajiyama on their project named Goldbrick.


Dieses Album enthält kein Booklet