---
Album info
Album including Album cover
I`m sorry!
Dear HIGHRESAUDIO Visitor,
due to territorial constraints and also different releases dates in each country you currently can`t purchase this album. We are updating our release dates twice a week. So, please feel free to check from time-to-time, if the album is available for your country.
We suggest, that you bookmark the album and use our Short List function.
Thank you for your understanding and patience.
Yours sincerely, HIGHRESAUDIO
1

Immortal Bind

04:31

2

Black Empire

04:50

3

Overload

04:24

4

Stranger

04:17

5

Linkage

04:51

6

Eternal Warrior

05:05

7

Ghost in the Flame

07:58

8

Venom Strike

04:47

9

Awake

04:53

10

Omega Man

04:06

11

Pain

04:16

12

Echoes in the Dark

05:09

13

Unbroken Sign

04:18

Total Runtime

01:03:25
Info for Nucleus

Formed in Tokyo in 1981, ANTHEM turned heads with their intense and heated performances. They released their major debut, »Anthem" in 1985 and continued to tour relentlessly. The band's popularity grew with the release of their 2nd album, »Tightrope« (1986), and they were able to break into the American market with their 3rd full length, »Bound To Break« (1987).
Vocalist Eizo Sakamoto left shortly after, and was replaced by Yukio Morikawa for »Gypsy Ways« (1988) and »Hunting Time« (1989), both extremely successful releases which cemented their reputation as leaders of Japanese traditional heavy metal.
Following the release of »No Smoke Without Fire« (1990) and many auditions, ANTHEM found their new guitarist, Akio Shimizu, who was 21 at the time. Impressed with his talent, leader Naoto Shibata decided to finish their next album, »Domestic Booty« (1992) with Shimizu, before disbanding after the release tour.
The band's return was spurred by 2000's »Heavy Metal Anthem« - an album of ANTHEM songs rearranged by Naoto and Akio, featuring Graham Bonnet's vocals. Its release and subsequent Japan tour led to huge demand among fans for an ANTHEM comeback.
Instead of reforming the original lineup, Shibata decided to move forward by writing new music with a new lineup of Akio Shimizu (guitar), Eiji Ohtake (vocals) and Hirotsugu Honma (drums). They released a total of 5 studio albums between 2001 and 2010 - »Seven Hills«, »Overload«, »Eternal Warrior«, »Black Empire« and »Heraldic Device« - proving that ANTHEM was very much an "active" band.
To further strengthen their position at the top of Japan's metal scene, ANTHEM switched labels for the 2012 release of »Burning Oath« - on which guest musician Isamu Tamaru played drums on all but one song. Though still an official member at the time, a performance-affecting injury that Homma could not fully recover from led to his eventual departure.
At the end of 2013, Naoto recruited Yukio to rejoin the band, and support drummer Isamu became a permanent member to finalize the current lineup of Shibata Naoto (bass), Akio Shimizu (guitar), Yukio Morikawa (vocals) and Isamu Tamaru (drums). Akio Shimizu also works as a producer for other Japanese artists, and has shared the stage with MICHAEL SCHENKER FEST as a guest guitarist on their September 2018 Japan tour.
ANTHEM put out 15th album, »Absolute World« in 2014 and celebrated a successful 30th anniversary tour the following year. From the release of 2016's »Engraved« to its subsequent nationwide tour, the band found themselves busy on nationwide tours of Japan, proving that ANTHEM to be at an all-time high - all of which was captured for tour documentary »Attitude 2017 -Live and documents-« released in February 2018.
Now in 2018, ANTHEM have signed to Nuclear Blast Records (for the European territory) to break into the worldwide market. The first release will be their greatest hits album, completely re-recorded with English lyrics!
Mixing and mastering were done by established producer and engineer Jens Bogren, known for his work with a multitude of big name artists. Jens' work is based on elaborate theories and an abundance of knowledge, which has helped guide the careers of many bands, ANTHEM's case is no exception. This album which features Jens' fat sound with rich low-end is more than up to par with the worldwide heavy metal standard.
A remarkable point worth noting about this release is that all of the songs except 'Venom Strike' were written after their reunion in 2001 – proving that ANTHEM have always has been a 'today band' that does not have to rely on their past.
This re-recorded greatest hits, »Nucleus« which includes a variety of their classics is a monumental work, perfectly demonstrating the musical quality of ANTHEM and proving that they can be ranked as a top-notch band even in the international market.
Yukio Morikawa, vocals
Akio Shimizu, guitar
Naoto Shibata, bass
Isamu Tamaru, drums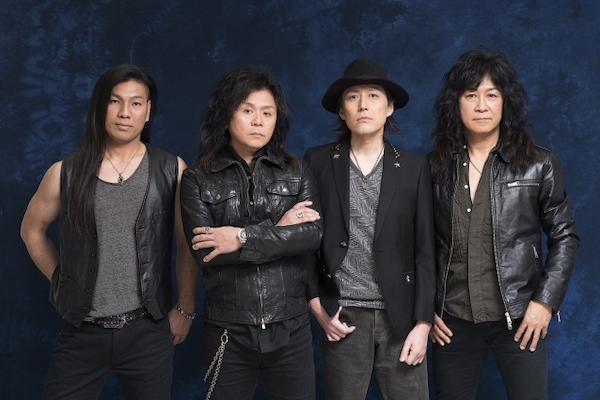 Anthem
Considered to be one of the earliest pioneering bands of Japanese heavy metal alongside Loudness and Earthshaker, Anthem formed in 1981 as a quartet of singer Toshihito Maeda, guitarist Akifumi Koyanagi, bass player Naoto "Ski" Shibata and drummer Takamasa Ohuchi.
Koyanagi left in late 1983 to be replaced by Hiroya Fukuda. In December 1984 vocalist Toshihito Maeda also left. He appeared as Anthem's vocalist on the first "Heavy Metal Force" compilation and sings the song "Warning Action". Anthem then drafted vocalist Eizo Sakamoto for their debut eponymous album issued in July 1985 by Nexus and licensed to Europe via Roadrunner Records. This was followed by a string of successful albums including "Tightrope", "Bound to Break", and the band's most successful album; "Gypsy Ways" which featured Yukio Morikawa on vocals instead of Sakamoto. Morikawa at the time was often compared in terms of vocal skill, range, and ability to Graham Bonnet, who would ironically join the band in 2000. Within this successful span in the mid 80's, the band experienced perhaps their greatest highlight, a North American tour in which they were the headlining act supported by Racer X, and Commander.
In the early 90s, Anthem experienced more lineup changes with the departure of Hiroya Fukuda, followed by his replacement Hideaki Nakama. Akio Shimizu was finally hired after many auditions and the band released "Domestic Booty", but with the drop of popularity that plagued most Heavy Metal bands in the 90s, as well as the rise of the Visual Kei movement led by bands such as X Japan, Dead End, and D'erlanger among many others, they were left with no choice but to put the band on hold. Anthem played one final tour and disbanded in late 1992, this would be the last time they would perform for another 8 years.
Finally, in 2000, Anthem made their triumphant return to the Japanese music scene, releasing "Heavy Metal Anthem" featuring Hirotsugu Homma of Loudness as well as Graham Bonnet of Rainbow, and Alcatrazz fame. Anthem have since brought back Eizo Sakamoto on vocals and are still recording and touring to this day.
In January 2013, band leader Naoto Shibata was diagnosed with Stomach Cancer after which the band immediately went on hiatus. The cancer was discovered early and the band returned to touring by April.
Anthem are credited as the first band to have a song used as promotion for a video game in their single "Xanadu" released in 1986 promoting Nihon Falcom's computer RPG "Dragon Slayer II: Xanadu". Additionally the song, "Show Must Go On!" (from Bound to Break) appeared in the anime series OAV Devil Man: The Genesis, Part One near the end of the episode, when Akira Fudou first becomes Devil Man. It appears in a scene in a club where people are partying in order to become possessed by devils.
Naoto "Ski" Shibata has orchestrated and released an album of hard rock versions of classic themes from the Castlevania video games via Konami, entitled Konami Kukeiha Club: Dracula Battle Perfect Selection.
Vocalist Yukio Morikawa is working with Akira Kajiyama on their project named Goldbrick.

This album contains no booklet.