---
Album Info
Album Veröffentlichung:
2020
HRA-Veröffentlichung:
03.09.2020
Das Album enthält Albumcover
1

God's Target

04:10

2

T.M.P.

03:38

3

One with Everything

03:20

4

La, Cowboy

02:38

5

Ska Ska Blah Blah

03:43

6

Judy Garland

04:38

7

Free Sweaters, Fantastic!

01:57

8

Bones to Dust

03:36

9

Elvis Pelvis

02:20

10

This Can't Be Nothing

03:47

11

Unoriginal Boy

03:18

12

Part II

04:01

Total Runtime

41:06
Info zu Laugh.
With the upcoming release of their album 'Laugh.', The Gooms are here to prove that they aren't your typical LA indie rock outfit. They excel at mixing humor and absurdity with both their personalities and serious musical prowess. They won't apologize for stirring a ruckus in your ear canals, but they will give you a hug.
The 12-track album is a collection of upbeat songs with dark undertones of mingling comic and tragic elements including various emotional dissonances that animate the band's exploration of social relationships, isolation and personal limitations related to tragedy. Their latest song, God's Target follows the album's already released tracks, Free Sweaters? Fantastic! and I'm Judy Garland.
The period at the end of 'Laugh.' underscores the fact that the album is a directive—to laugh in the face of sadness, even if you don't feel like it. The band shares, "we intended to showcase our goofiness, silliness, and the ability to find humor in dark places when dealing with dark subject matters"
They continue stating, "The idea of the album is basically having to live your daily life while also facing some sort of tragedy," the band says. "We paired upbeat music with intense lyrical themes to create an album that explores the contrast between light and dark, happy and sad, and the line that often blurs them all together."
The Gooms are a Los Angeles indie garage rock band whose edgy and melodic sound derives from a die-hard love of surf, punk, jazz, and all that lies in between. Their off-kilter brand of noise rock coupled with catchy hooks and dirty instrumentation make them a force to be reckoned with. They won't apologize for stirring a ruckus in your ear canals, but they will give you a hug.
The Gooms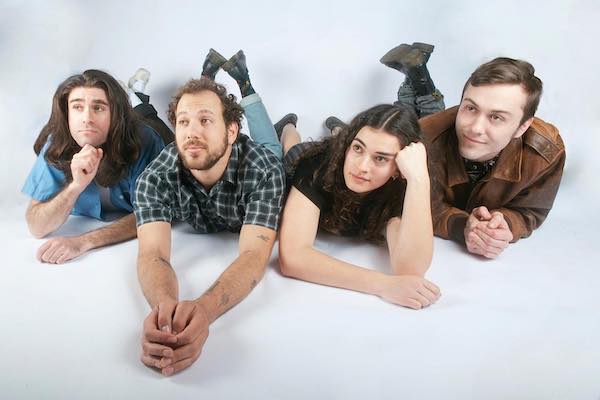 The Gooms
are a Los Angeles-based indie-rock quartet. After emerging with a series of demos back in 2017, they took their first steps into studio recordings with 2018's EP, With an M. Now some two years later, the band are gearing up for the imminent release of their debut album, Laugh, out at the end of next month.
So far, the band have shared two offerings from Laugh the wonderful I'm Judy Garland, and their most recent offering, Free Sweaters? Fantastic! Discussing the track, The Gooms have suggested it's a track about, "slowly, but surely unraveling in the face of deciding which version of ourselves we want to be today". To the band's trademark blend of upbeat indie-punk melodies and darkly humorous lyricism, the track charts a downward spiral out of control, "as if the brain is moving faster than the mouth". The Gooms ability to combine an energetic almost silly exterior with a hidden exploration of the human psyche is what causes them to shine above the crowd – life can be tough, and that's just one more reason to make sure it's an enjoyable as it possible can be. The Gooms know that and now we do too.


Dieses Album enthält kein Booklet