---
Biographie Kasai Allstars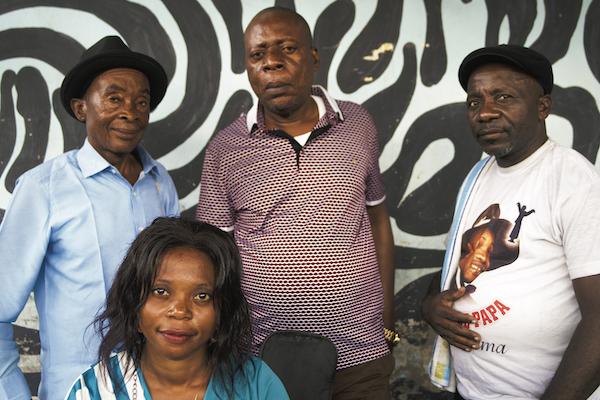 Kasai Allstars
Seit Veröffentlichung ihrer ersten fünf Stücke auf dem Congotronics 2-Album im Jahr 2005 hat der spezielle Sound der Kasai Allstars KünstlerInnen und MusikliebhaberInnen weltweit fasziniert. Vor allem KünstlerInnen aus Avant-Rock, Elektronik und HipHop meinten, eine Art "Ur-Rock" darin zu finden, eine durch Zufall entstandene Mischung aus traditioneller ritueller und Trance- mit Avantgardemusik. Die traditionelle Musik ihrer Heimat, auf die sich die Kasai Allstars beziehen, war allerdings dort einem Bann unterzogen, weil sie angeblich Skandalöses wie erotischen Tanz oder heidnische, sogar satanische Rituale beinhalten sollte.
2008 folgte das Debütalbum In The 7th Moon, The Chief Turned Into A Swimming Fish And Ate The Head Of His Enemy By Magic und 2010 das Tradi-Mods Vs. Rockers-Projekt mit Bands und KünstlerInnen wie Deerhoof, Animal Collective, Juana Molina, Shackleton, Jolie Holland oder Aksak Maboul, die zu Ehren der Kasai Allstars und anderer Congotronics-Bands wie Konono N°1 eigene Versionen ihrer Stücke einspielten.
Unter dem Projektnamen "Congotronics vs. Rockers" entwickelte ein Jahr später eine Supergroup bestehend aus zehn kongolesischen MusikerInnen, darunter auch Mitglieder der Kasai Allstars, und zehn Indierock-MusikerInnen wie Juana Molina gemeinsam neues Repertoire und ging damit auf Tournee. 2014 folgte mit Beware The Fetish ein über 100 Minuten langes Doppelalbum der Kasai Allstars mit wilder Trancemusik voll großer roher Intensität. Das Album erschien auf so einigen Bestenlisten des Jahres.
Ein etwas anderes Projekt tat sich 2017 für die Allstars auf. Die Geschichte des bei der Berlinale mit dem Silbernen Bären prämierten Spielfilms Félicité von Alain Gomis basiert auf der Figur von Kasai Allstars-Sängerin Muambuyi und handelt von einer Barsängerin. Die Band spielt sich im Film selbst, schrieb darüber hinaus den Großteil der Musik und nahm sie auf. Später wurden diese Stücke gemeinsam mit anderen Tracks aus dem Film auf dem Album Around Félicité veröffentlicht.
Zwischen 2007 und 2018 spielte die Band bei vielen großen Festivals wie Glastonbury, Roskilde, Eurockéennes, Paleo, Fuji Rock, North Sea Jazz und mehr. KünstlerInnen wie Björk, Questlove, Saul Williams oder Juana Molina zählen zu ihren Fans.