---
Biographie Marina & The Kats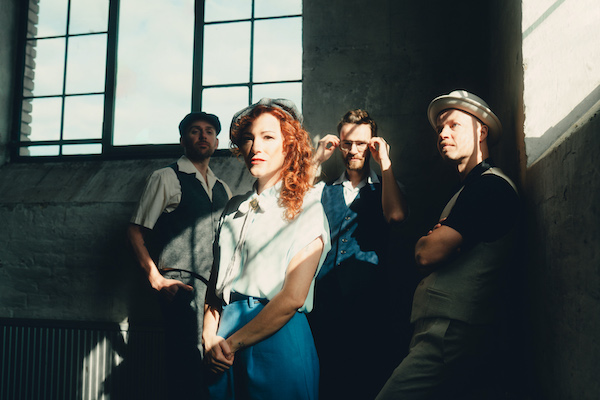 Marina & The Kats
das sind die Sängerin und Songwriterin Marina Zettl aus Graz, der Gitarrist Thomas Mauerhofer, gebürtig aus Weiz, und – seit dem Abgang von Jörg Haberl – der Bassist Peter Schönbauer. Die drei stehen derzeit wie keine andere heimische Band für den Swing der 30er-Jahre, umgesetzt in Nummern, die sie selbst schreiben und sowohl aktuell als auch recht persönlich betexten. Swing also – dabei war Marina Zettl in den letzten Jahren alles andere als eine Genre-Puristin. Unter den steirischen Jazzsängerinnen agierte sie mit ihren Mitmusikern immer besonders offen und undogmatisch. Ihre stilistisch zwischen Jazz, Pop, Liedermacher und Soul angesiedelten Nummern auf früheren CDs waren immer schon eingängig und dabei nie banal oder vorhersehbar. Mit dem Swing der 30er-Jahre ist die quirlige Zettl nun punktgenau bei ihrem "Ding" angekommen.
Die Band, die ursprünglich zu dritt erste Schritte unternommen hat und zwischenzeitlich zum Quartett angewachsen ist, zählt seit Jahren zu den spannendsten und aufregendsten Bands des Landes, wenn nicht Europas. Wer je in den Genuss einer ihrer zahlreichen, vor Energie berstenden Shows gekommen ist, wird das bestätigen.
Gleich drei der vier Bandmitglieder spielen aktiv Schlagzeug. "Shared Drums macht es zwar nicht leichter", sagt die Band selbst dazu, "dafür aber fetter." Denn das ist die Marina & The Kats Trademark, ein völlig eigenständigen Sound, der die Songs gnadenlos vorantreibt und dafür sorgt, dass sich bei den Konzerten niemand dem Groove entziehen kann.
Marina & The Kats finden ihren Ursprung 2015 in Graz, doch bald verschlägt es sie nach Wien. Dort formiert sich die Band, Stimmungen der Stadt verschmelzen mit dem Alten, das wir überall finden. Sie ergänzen Retrospektion mit neuem Sound, feiern ein fulminantes Debut mit "Small" (2016), dem Album folgen zwei weitere erfolgreiche Platten "Wild" (2016) & "Swingsalabim" (2019).