---
Revolution Come...Revolution Go (Deluxe Edition) Gov't Mule
Album info
Album including Album cover Booklet (PDF)
I`m sorry!
Dear HIGHRESAUDIO Visitor,
due to territorial constraints and also different releases dates in each country you currently can`t purchase this album. We are updating our release dates twice a week. So, please feel free to check from time-to-time, if the album is available for your country.
We suggest, that you bookmark the album and use our Short List function.
Thank you for your understanding and patience.
Yours sincerely, HIGHRESAUDIO
1

Stone Cold Rage

06:01

2

Drawn That Way

05:18

3

Pressure Under Fire

05:24

4

The Man I Want To Be

06:22

5

Traveling Tune

05:17

6

Thorns Of Life

08:48

7

Dreams & Songs

06:38

8

Sarah, Surrender

04:12

9

Revolution Come, Revolution Go

08:03

10

Burning Point

06:52

11

Easy Times

06:58

12

Dark Was The Night, Cold Was The Ground

07:26

13

What Fresh Hell

05:47

14

Click-Track

04:14

15

Outside Myself

06:08

16

Revolution Come, Revolution Go (Alternate Version)

08:04

17

The Man I Want To Be (Live In Studio Version)

05:34

18

Dark Was The Night, Cold Was The Ground (Live In Studio Version)

06:52

Total Runtime

01:53:58
Info for Revolution Come...Revolution Go (Deluxe Edition)

Gov't Mule has showcased its virtuosity, intelligence and breadth over the course of 15 studio and live albums, millions of album and track sales and thousands of performances. The flexible interplay amongst front man Warren Haynes, drummer Matt Abts, keyboardist Danny Louis and bassist Jorgen Carlsson makes them a true living, breathing ensemble. 20 years strong, Gov't Mule's vast reservoir of songs has become a human encyclopedia of great American music while adding to that cannon with their signature sound.
Revolution Come, Revolution Go is the latest release and Fantasy Records debut from the band fronted by one of music's most treasured storytellers and most formidable guitarists and vocalists in the modern era.
"It was very poignant that we went into the studio in Austin, Texas, to begin recording on Election Day [last November]," notes Haynes."Like most people, we really had no idea that the election was going to turn out the way it did. That changed everything – from a lyrical perspective. It's not a political record, per se, but there are political connotations.
"There are also love songs, relationship songs, and songs about working together to make this a better planet. It covers a lot of ground, but it definitely starts and ends as a rock 'n' roll record. It's all within the realm of what we do, but it explores a lot of territory and, in some cases, territory we've never explored before."
Six tracks were co-produced, with Haynes, by longtime collaborator Gordie Johnson, and there's a guest vocal appearance on 'Burning Point' by Jimmie Vaughan. "When I first wrote 'Burning Point,' it had more of a New Orleans feel to it," notes Haynes. "But when we got into the studio in Austin to record it, it took on more of a Texas vibe, and Jimmie really added to that."
Warren Haynes, guitar, vocals
Danny Louis, keyboards, guitar, trumpet, vocals
Jorgen Carlsson, bass
Matt Abts, drums, percussion, vocals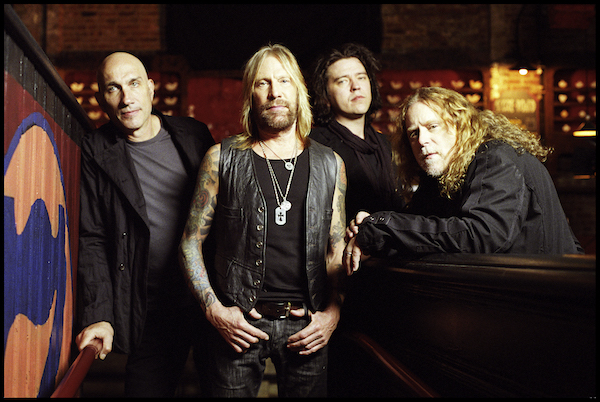 Gov't Mule
Legendary rock torchbearers, Gov't Mule, are ramping up their 2016 schedule with an extensive tour and the release of a new archival album entitled The Tel-Star Sessions, the band's very first, and never-before-released, demos made in June 1994 at Tel-Star Studios in Bradenton, Florida. These newly mixed and mastered recordings feature the original line-up: Warren Haynes, Allen Woody and Matt Abts. "Having listened to them recently, for the first time in decades, a big smile came over my face. These recordings capture the rawness and excitement of the earliest stage of Gov't Mule," explains Haynes.
Recorded during the infancy of Gov't Mule, the demos heard on The Tel-Star Sessions are from a time when Mule was an adventurous side project, formed during a year when Warren Haynes and Allen Woody had some down time from their work with the Allman Brothers Band. Becoming one of the most enduring, respected and active bands in the world was the furthest thing from the band's imagination; the plan was to record a low-budget album and play a few shows. More than two decades later, it's now clear that they had stumbled upon something special, but at that point Mule was an experimental rock trio: Haynes, Woody and drummer Matt Abts, who Haynes brought in after playing with him in the Dickey Betts Band. Fans will love the chance to hear their early improvisational interplay, an impressive skill that has since become a signature of Gov't Mule's albums and live shows.
Collaborating with Allman Brothers sound engineer Bud Snyder, and taking legendary producer Tom Dowd's advice to record all instruments simultaneously live in a room, Gov't Mule holed up in the Tampa-area studio. They recorded a mix of early originals such as "Blind Man In The Dark," "Monkey Hill," and "Left Coast Groovies" along with covers by ZZ Top ("Just Got Paid"), Free ("Mr. Big"), and Willie Dixon ("The Same Thing"). Says Warren, "Along with our discussions about the 'power trio' being missing from the current musical landscape were the discussions of how the sound of the bass guitar had gotten progressively 'cleaner' since the '80s (or late '70s), and how that affected the overall feeling of the music." Their influences leaned heavily on the likes of Cream, Jimi Hendrix Experience and ZZ Top, but Mule's search to bring back a familiar sound is mingled with grunge and alt-rock influences that had just emerged in the early-mid '90s. Little did they know that the magic created during these sessions would spark such a prolific musical journey.
The band recorded three increasingly ambitious studio albums and performed countless shows before Woody died in August, 2000. After briefly pausing to ponder their next move, Haynes and Abts began recording The Deep End, two CDs featuring guest bassists, ranging from the Who's John Entwistle to the Grateful Dead's Phil Lesh.
"Everything we've done collectively has led up to where we are now," says Haynes. "But those Deep End sessions, and the experience of playing with so many bassists and adapting to different sounds and approaches had a profound effect on Gov't Mule and what we've done since."
Danny Louis, a longtime collaborator, became a full-time member of Gov't Mule in 2001, and the group has been a four-piece ever since. Bassist Jorgen Carlsson has been with the group since 2008, solidifying the lineup.
"I think a lot of the music we're doing now is very similar to the music we were making in the earliest years with the obvious exception that we are no longer a trio," says Haynes. "In some ways we've come full circle and in other ways it only makes sense if you step back and connect the dots. And that seems right to me. You want to keep growing and you never want to be static, or done changing."
Warren Haynes' unparalleled ability to bring together different musicians into a cohesive whole or to pull off epic musical happenings is one of the many reasons why Haynes stands apart from the many great front men and guitarists who have graced the musical landscape. Combined with his guitar and vocal mastery, these skills have made him an in-demand presence and indispensible musical ally for many.
Gov't Mule has showcased its virtuosity, intelligence and breadth for more than two decades, which have encompassed 15 studio and live albums, millions of album and track sales and thousands of performances. The band has become a human encyclopedia of timeless American music while adding to that canon with their signature sound.

Booklet for Revolution Come...Revolution Go (Deluxe Edition)