---
Album info
Album including Album cover
I`m sorry!
Dear HIGHRESAUDIO Visitor,
due to territorial constraints and also different releases dates in each country you currently can`t purchase this album. We are updating our release dates twice a week. So, please feel free to check from time-to-time, if the album is available for your country.
We suggest, that you bookmark the album and use our Short List function.
Thank you for your understanding and patience.
Yours sincerely, HIGHRESAUDIO
1

Same As It Ever Was

06:44

2

Shake Our Way Out

06:22

3

Made My Peace

09:07

4

Peace I Need

07:22

5

Your Only Friend

05:57

6

Dreaming Out Loud

04:39

7

Head Full Of Thunder

04:35

8

The River Only Flows One Way

07:21

9

After The Storm

06:24

10

Just Across The River

05:18

11

Long Time Coming

05:19

12

Gone Too Long

07:14

Total Runtime

01:16:22
Info for Peace...Like A River

Renowned GRAMMY-nominated band Gov't Mule has announced their new studio album, Peace…Like A River, will be released this summer and has shared the first single "Dreaming Out Loud," featuring Ivan Neville and Ruthie Foster. For the stirring new song, GRAMMY Award-winning vocalist, songwriter, guitar legend, and producer Warren Haynes wove together inspirational quotes from Dr. Martin Luther King Jr., Robert and John Kennedy, and the late civil rights leader and U.S. Representative John Lewis.
Peace…Like A River is the band's 12th studio album and follow-up to their chart-topping, Grammy-nominated blues album, Heavy Load Blues. The 12-song rock collection also features guest appearances from Billy Bob Thornton, Celisse, and Billy F Gibbons.
"Peace…Like A River is very ambitious from a musical arrangement standpoint in the way that a lot of the songs take twists and turns that is not common in today's pop music world," shared Haynes. "At the same time, it's very much a song record and covers a lot of ground, stylistically speaking. Song for song maybe my favorite one."
The tracks on Peace…Like A River explore the many sides of Gov't Mule and bring together all the qualities that have earned the four-piece - Haynes [guitar, vocals], Matt Abts [drums], Danny Louis [keyboards, guitar, and backing vocals], and Jorgen Carlsson [bass] – the beloved stature they enjoy today. Concise songcraft coexists seamlessly with the band's trademark instrumental journeys. Songs longer than pop convention are somehow still compact: they're explorative but never meandering; the tunes are at once both wide-ranging and tightly focused. Thematically, the new album explores the seismic changes the world has gone through over the past few years. Influenced both in his songwriting and playing by what Haynes calls "the golden era of rock, soul, jazz and blues," Gov't Mule combines the best and most enduring qualities from all those musical strains to create a timeless piece of art on Peace…Like A River that could have easily been released during rock 'n roll's classic 70's classic.
Peace…Like A River was recorded during the same sessions as Heavy Load Blues at The Power Station New England with co-producer John Paterno (Elvis Costello, Bonnie Raitt, Los Lobos) alongside Haynes. The albums, however, were created in different rooms, with no shared gear or instruments, keeping the two concurrent projects with their own unique identity and character.
One distinguishing difference on Peace…Like A River is the presence of talented friends in important guest roles. Billy F Gibbons' trademark vocals underscore the tasty ZZ Top textures that inform the humor-infused "Shake Our Way Out," while Billy Bob Thornton adds his distinctive vocals to "The River Only Flows One Way." For introductory track "Dreaming Out Loud," Haynes wanted a Sly and the Family Stone vocal style where different singers take different sections of the song, so he called upon previous collaborators blues great Ruthie Foster, whose backing vocals graced Mule's 2006 album High & Mighty, and longtime friend, New Orleans soul legend, Ivan Neville. Lastly, rising soul artist Celisse adds her incredible vocals to "Just Across The River."
Gov't Mule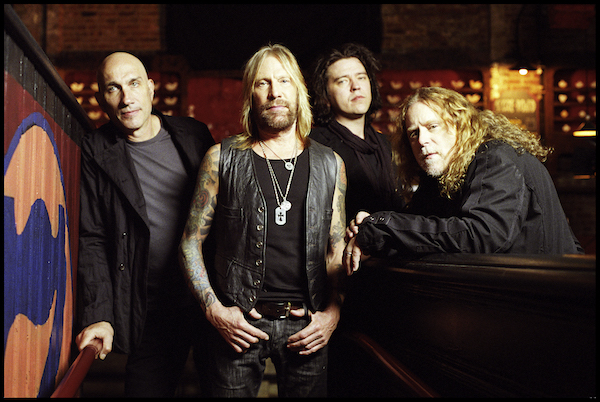 Gov't Mule
Legendary rock torchbearers, Gov't Mule, are ramping up their 2016 schedule with an extensive tour and the release of a new archival album entitled The Tel-Star Sessions, the band's very first, and never-before-released, demos made in June 1994 at Tel-Star Studios in Bradenton, Florida. These newly mixed and mastered recordings feature the original line-up: Warren Haynes, Allen Woody and Matt Abts. "Having listened to them recently, for the first time in decades, a big smile came over my face. These recordings capture the rawness and excitement of the earliest stage of Gov't Mule," explains Haynes.
Recorded during the infancy of Gov't Mule, the demos heard on The Tel-Star Sessions are from a time when Mule was an adventurous side project, formed during a year when Warren Haynes and Allen Woody had some down time from their work with the Allman Brothers Band. Becoming one of the most enduring, respected and active bands in the world was the furthest thing from the band's imagination; the plan was to record a low-budget album and play a few shows. More than two decades later, it's now clear that they had stumbled upon something special, but at that point Mule was an experimental rock trio: Haynes, Woody and drummer Matt Abts, who Haynes brought in after playing with him in the Dickey Betts Band. Fans will love the chance to hear their early improvisational interplay, an impressive skill that has since become a signature of Gov't Mule's albums and live shows.
Collaborating with Allman Brothers sound engineer Bud Snyder, and taking legendary producer Tom Dowd's advice to record all instruments simultaneously live in a room, Gov't Mule holed up in the Tampa-area studio. They recorded a mix of early originals such as "Blind Man In The Dark," "Monkey Hill," and "Left Coast Groovies" along with covers by ZZ Top ("Just Got Paid"), Free ("Mr. Big"), and Willie Dixon ("The Same Thing"). Says Warren, "Along with our discussions about the 'power trio' being missing from the current musical landscape were the discussions of how the sound of the bass guitar had gotten progressively 'cleaner' since the '80s (or late '70s), and how that affected the overall feeling of the music." Their influences leaned heavily on the likes of Cream, Jimi Hendrix Experience and ZZ Top, but Mule's search to bring back a familiar sound is mingled with grunge and alt-rock influences that had just emerged in the early-mid '90s. Little did they know that the magic created during these sessions would spark such a prolific musical journey.
The band recorded three increasingly ambitious studio albums and performed countless shows before Woody died in August, 2000. After briefly pausing to ponder their next move, Haynes and Abts began recording The Deep End, two CDs featuring guest bassists, ranging from the Who's John Entwistle to the Grateful Dead's Phil Lesh.
"Everything we've done collectively has led up to where we are now," says Haynes. "But those Deep End sessions, and the experience of playing with so many bassists and adapting to different sounds and approaches had a profound effect on Gov't Mule and what we've done since."
Danny Louis, a longtime collaborator, became a full-time member of Gov't Mule in 2001, and the group has been a four-piece ever since. Bassist Jorgen Carlsson has been with the group since 2008, solidifying the lineup.
"I think a lot of the music we're doing now is very similar to the music we were making in the earliest years with the obvious exception that we are no longer a trio," says Haynes. "In some ways we've come full circle and in other ways it only makes sense if you step back and connect the dots. And that seems right to me. You want to keep growing and you never want to be static, or done changing."
Warren Haynes' unparalleled ability to bring together different musicians into a cohesive whole or to pull off epic musical happenings is one of the many reasons why Haynes stands apart from the many great front men and guitarists who have graced the musical landscape. Combined with his guitar and vocal mastery, these skills have made him an in-demand presence and indispensible musical ally for many.
Gov't Mule has showcased its virtuosity, intelligence and breadth for more than two decades, which have encompassed 15 studio and live albums, millions of album and track sales and thousands of performances. The band has become a human encyclopedia of timeless American music while adding to that canon with their signature sound.

This album contains no booklet.