---
Album info
Album including Album cover
1

Everything

04:39

2

Open Up

05:01

3

Pm&Cc

06:00

4

Dresden

05:35

5

Kopfkino

05:29

6

Argh

05:18

7

Pm&Cc Reprise

03:33

Total Runtime

35:35
Info for Someone Talked

Jazz spielen heißt: Musik transportieren, die so reich ist an Information, Farben und Emotionen, dass es einem das Atmen erleichtert und Brust und Kopf öffnet.
FIELD hat einiges am Start, was es dafür braucht: Ideen, Humor und Energie so breit und tief wie ein Fluss. Und ausserdem die Neugier, darin auf Tiefgang zu tauchen.
Wie die Figur des Tricksters, des Schelms, in der Mythoiogie indigener Völker, der die Regeln in Frage und sich den göttlichen Gegebenheiten in den Weg stellt, wird die Band, sich im weiten Feld von "Jazz" bewegend, zum Vehikel innerlicher und äußerlicher Grenzverschiebung. Mit Instrumenten als Waffe und Werkzeug wird in der Dualität von Licht und Finsterem, von Struktur und Antistruktur agiert. Ob sie überwunden wird? FIELD spielt Jazz.
"Anarchisch, voller rhythmischer Verschiebungen, und doch groovte es mächtig. Die vier Berliner Jazzer sind musikalische Freigeister, verwegene Tüftler und Klangverfremder, die zwischen komplex Arrangiertem und freien, aufgelösten Strukturen Geniales zuwege bringen. Ihr Quartettspiel wahrt bei allen Freiheiten immer den Blick für die Querverbindungen und spannenden Verflechtungen: unabhängig und doch immer mit Bezug zueinander." (Rhein Neckar Zeitung)
Uli Kempendorff, Tenorsaxofon
Christopher Dell, Vibrafon
Jonas Westergaard, Kontrabass
Peter Bruun, Schlagzeug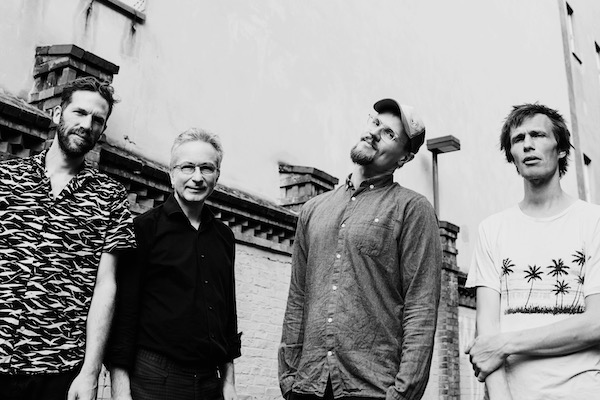 Uli Kempendorff
was born in Berlin in 1981. Jazz Saxophone and Improvisation studies at "Hanns Eisler" Conservatory in Berlin and at City College, NYC. His work is documented on over two dozen CDs and LPs and radio broadcasts, on labels like WhyPlayJazz, ECM, Enja/Yellowbird, Philophon, jazzwerkstatt or Four Music. Among those are five of his own productions with his groups "Field" and "Yellow Bird". Aside from his own projects such as "Field" (since 2018 with Christopher Dell, Peter Bruun and Jonas Westergaard), Kempendorff has been active in groups with Ulrich Gumpert, Benjamin Weidekamp, Felix Henkelhausen, Wanja Slavin, Rudi Mahall, Markus Pesonen, Pablo Held, Julia Hülsmann, Tobias Delius, Mike Pride, Christian Weber; he has toured and played with SEEED, Rolf Kühn, Jimi Tenor and 'Little' Jimmy Scott.
In 2010, he started the concert series "Serious Series" which he programmed until 2014. In 2016, he programmed the concert series "In Between Festivals" in Wroclaw (PL), as part of the city's European Capital of Culture tenure. This was done in collaboration with Marc Schmolling, Stiftung Zukunft Berlin and MicaMoca. Until 2018 he also co-programmed the series "JAB 105" at Berlin's club A-Trane with Gebhard Ullmann.
Concerts and teaching brought him to the Ivory Coast, Canada, the US, South America, Mexico and to many countries in Europe. Kempendorff received several grants from the city of Berlin, was a DAAD-scholar from 2006-2007 in NYC and spent a month at the Stadtmühle Willisau in Switzerland as a grantee of the Alfred-Köchlin-Foundation. In addition, he was a founding member and head of the IG Jazz Berlin, a kind of union lobbying for a better funding for the arts in Berlin. In this function, Kempendorff also spent time as a spokesman for music in the Coalition of Berlin's Independent Scene and was active in cultural politics on the state and federal level from 2012-2016.

This album contains no booklet.