---
Album info
Album including Album cover Booklet (PDF)
1

Die kleine HaarFee

05:10

2

Sonne und Mond

04:52

3

Kleines Instrumental

03:07

4

An der Saale hellem Strande

04:17

5

Jeden Morgen geht die Sonne auf

03:19

6

FünfTeeHalbTour

05:56

7

Frühlingslied

02:43

8

Im Garten

02:56

9

Roter Mond

04:33

10

Auf einem Baum ein Zebra

01:45

11

Schön ist die Welt

05:04

12

Zum Tanze da geht ein Mädel

02:43

Total Runtime

46:25
Info for Sonne & Mond

Three multitalented German musicians sing and play gentle German ballads and instrumentals with a taste of relaxed beauty and harmony.
Their Stockfisch album Sonne & Mond is a very sophisticated mélange of inspired folksy balladesque with Pauler's high level sound esthetics. The music on this album brings to mind pictures of beautiful landscapes, peaceful valleys and a touch of timelessness; always balanced and and joyful.
Thomas Kagermann, vocals, acoustic guitar, violin
Urs Fuchs, vocals, acoustic guitar, bass, percussion, Mbira
Wolfram Cramer von Clausbruch, vocals, acoustic guitar, hang, accordion, percussion, harp, marimbaphone
Andrea Leonhardi, vocals, acoustic guitar
Digitally remastered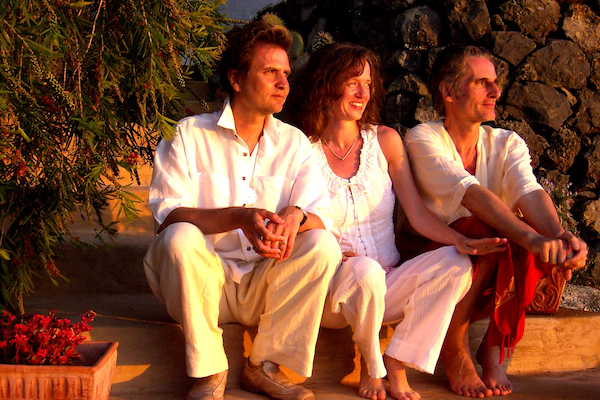 ZebraSommerwind
An aesthetic musical delight of contemporary songs, reinterpreted songs in French, English, German and extremely snappy dance medleys. The renunciation of microphones and any technology ultimately turns out to be a quality feature with regard to the immediate touching quality of ZebraSommerwind's performances.
Besides their guitars and their excellent 3-part vocals, they fully focus on authenticity, charisma and depth. That sounds intense, fresh and lively.
...and whoever watches them singing and making music sees that they are fully concentrated in connection with each other.
Each of them on a high level of virtuosity, sovereignty and genuine enthusiasm.

Booklet for Sonne & Mond