---
Album info
Album including Album cover
I`m sorry!
Dear HIGHRESAUDIO Visitor,
due to territorial constraints and also different releases dates in each country you currently can`t purchase this album. We are updating our release dates twice a week. So, please feel free to check from time-to-time, if the album is available for your country.
We suggest, that you bookmark the album and use our Short List function.
Thank you for your understanding and patience.
Yours sincerely, HIGHRESAUDIO
1

The Night

06:07

2

Chasing Utopia

05:27

3

Beauty Is Truth

05:30

4

Only Human

03:06

5

Don't (You Mess With Me)

03:24

6

No Ordinary Girl

04:48

7

The Wolves Are Returning

05:02

8

Ribbons Of Steel

09:44

9

The Night (Instrumental Version)

06:07

10

Chasing Utopia (Instrumental Version)

05:27

11

Beauty Is Truth (Instrumental Version)

05:30

12

Only Human (Instrumental Version)

03:06

13

Don't (You Mess With Me) (Instrumental Version)

03:24

14

No Ordinary Girl (Instrumental Version)

04:48

15

The Wolves Are Returning (Instrumental Version)

05:02

16

Ribbons Of Steel (Instrumental Version)

09:44

17

Don't (You Mess With Me) (xTract)

02:49

18

Beauty Is Truth (xTract)

03:37

19

Only Human (xTract)

02:59

Total Runtime

01:35:41
Info for The Heart Is Strange (Deluxe)

The German city of Düsseldorf is renowned for its fashion, design, vibrant arts scene and proximity to the rest of Europe. Bowie loved his visits there in the 1970s, and in the 1980s Düsseldorf helped shape two of the finest electronic albums in recorded history. The first came in 1981 with Kraftwerk's 'Computer World', whilst the second followed four years later with the 1985 release of Düsseldorf group Propaganda's 'A Secret Wish'.
Now, four decades on after recording that legendary LP, ex Propaganda members Claudia Brücken and Susanne Freytag alongside original producer Stephen Lipson, have reunited to form a new group: xPropaganda and to release a stunning new album, The Heart Is Strange. It will be released by UMC on the ZTT label on 20 May 2022, and complemented by a special live show taking place at London's Garage on 24 May 2022 where Claudia, Susanne & Stephen will perform 'The Heart Is Strange' in full, as well as some much-loved Propaganda classics from their back catalogue. It promises to be a momentous evening.
After the original line up split in 1987, the individual band members of Propaganda pursued various solo projects and musical adventures. Fast forward to the spring of 2018 and Claudia and Susanne reformed as xPropaganda to play two sold out headline shows at The Garage in Islington, London. Having felt creatively inspired by the experience, the duo then reconvened with 'A Secret Wish' producer Stephen Lipson to write new music.
The results of these sessions, held over two years, can be heard on 'The Heart Is Strange'. It evokes the spirit and passion of classic Propaganda whilst sounding effortlessly contemporary. With its strident beats and glacial soundscapes offset beautifully by Claudia and Susanne's expressive, passionate vocals, stand outs include the smouldering, slow burner 'Chasing Utopia', the intense, obsessive 'No Ordinary Girl' and the jagged pop glory of 'Don't (You Mess with Me)'. The album's epic opener 'The Night' sets the benchmark in the same way 'Dream Within A Dream' did for 'A Secret Wish', a 6-minute journey of pulsating, nocturnal electro bliss. All throughout 'The Heart Is Strange', producer Stephen Lipson adds a panoramic quality that mirrors his recent excellent Hans Zimmer collaboration for the score to the latest Bond film, 'No Time To Die'. Over a quarter of a century on, all of the promises of 'A Secret Wish' are fulfilled once again on a new album that is conceptually and sonically the follow up that never was to 'A Secret Wish'.
Formed originally as a trio in Düsseldorf, West Germany in 1982, Propaganda emerged from that city's thriving post-punk avant-garde music and arts scenes. Founding members included established industrial musician Ralf Dörper, visual artist Andreas Thein and vocalist Susanne Freytag, later expanding to a five-piece with the addition of classically trained musician Michael Mertens and a second vocalist also from the Düsseldorf scene, Claudia Brücken.
Propaganda's startling, pioneering electronic sound swiftly caught the ears of various members of the UK music press and the radio legend John Peel. After hearing the band's music on Peel's late-night show, they were swiftly signed to producer Trevor Horn's newly established ZTT by journalist-turned-A&R-man, Paul Morley. As one of the 'holy trinity' of ZTT's legendary founding acts – alongside Frankie Goes To Hollywood and The Art Of Noise – Propaganda exemplified the mid-'80s zeitgeist for beautifully crafted, sonically thrilling, boundary-pushing pop music.
The band's debut album 'A Secret Wish' arrived in 1985, hot on the heels of two of the era's standout electronic singles – the sinister, propulsive powerhouse 'Dr Mabuse' and the shimmering pop-art of 'Duel'. Produced by Stephen Lipson 'A Secret Wish' is undoubtedly one of the most satisfying and complete musical statements of the 1980s. Mixing intelligence, passion, state-of-the-art technology, Edgar Allen Poe poetry, twisted love songs, lush soundscapes and future-forward electronic beats it is now rightly spoken about in the same breath as other masterpieces like The Human League's 'Dare', ABC's 'The Lexicon Of Love', 'Please' by Pet Shop Boys and Depeche Mode's 'Violator'. Its influence on subsequent generations of electronic musicians, producers and DJs is incalculable.
Propaganda quickly achieved international success, attracting dedicated followings across Europe and the Americas. The supreme, sensual electronic sound and enigmatic image of the group belongs as much in the new music and technology landscape of the 2020s as it did to the 1980s.
xPropaganda's Claudia and Susanne note; "We always thought it was a shame that an album as distinctive and acclaimed as 'A Secret Wish' seemed destined to be a one-off. It certainly meant a lot to us, and it never seemed right that the story stopped there. Working again with Stephen Lipson and means that we can turn our dreams about what the ZTT follow up to 'A Secret Wish' would sound like into a reality. The reality is 'The Heart is Strange.'"
Claudia Brücken & Susanne Freytag
Produce by Stephen Lipson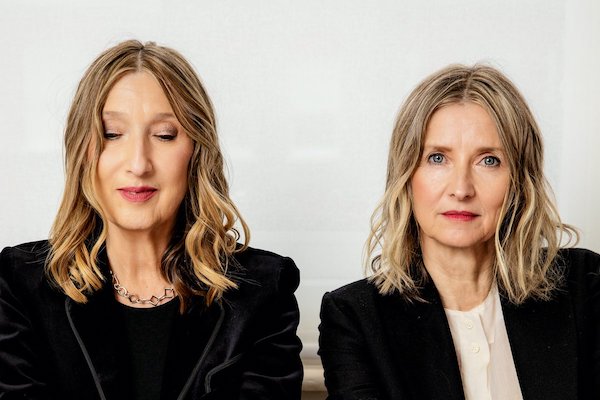 Claudia Brücken & Susanne Freytag
In 1982, the former member of the band "Die Krupps", Ralf Dörper, founded Propaganda. PROPAGANDA sprang from the lively Düsseldorf punk and new wave movement that also included "Die Krupps", "Male", "DAF", "Fehlfarben" and the "Toten Hosen". Together with DJ and Plan producer Andreas Thein and singer Susanne Freytag, the trio started out with two songs.
In 1983, Michael Mertens, an enthusiastic and professional percussion expert, until then with the Düsseldorf Philharmonic Orchestra, and Claudia Brücken joined the trio. A contract with the English label ZTT Records followed and in 1984 the song Dr. Mabuse, which was a real commercial success, was recorded using new technical possibilities, especially samplings previously used by producer Trevor Horn in his collaboration with Art of Noiseand Frankie Goes to Hollywood. The result was an outstanding pop hit with forward-looking elements that inspired and influenced many artists in the years that followed.
In 1985, the singles "Duel" and "P-Machinery" were released, which were very successful in Europe. The accompanying album "A secret Wish" sold millions of copies.
The melodic album, produced with danceable synthie beats, concisely, uniquely and coolly sung by Claudia Brücken and Susanne Freytag, managed to hit the musical zeitgeist of the time in a special way, especially through the voices of the two artists, and achieved a significant positioning in modern music history.
After a successful world tour in 1985, the remix album "Wishful Thinking" was released.
In 2010, Propaganda achieved a surprising chart success in the British charts with an extended form of the album "A secret Wish".
In 2019 Claudia Brücken and Susanne Freytag will perform the songs of Propaganda, which got their character and uniqueness especially through their voices. Three exclusive shows played in clubs in Berlin, Bochum and Hamburg promise first-class entertainment on a musically outstanding level. The interpretation of the 80s hits of Propaganda sung with the unique voices of the former band members Claudia Brücken and Susanne Freytag invite you to a musical journey into a time that influenced and shaped many performers in later years. The performance in club atmosphere captivates with a unique intimate and familiar show, close to the audience, danceable, audible and enjoyable.

This album contains no booklet.