---
Album info
Album including Album cover Booklet (PDF)
1

The Viking Rhythm

04:47

2

El Son

03:24

3

Respiro

04:37

4

Outstanding, Pt. 1

06:58

5

Interlude Changuisero

02:56

6

Del Bahia

03:29

7

Outstanding, Pt. 2

04:27

8

Amor a tu Manera

04:50

9

Kongo "Kurbato"

04:42

10

Fiesta en la Playa

04:51

Total Runtime

45:01
Info for Outstanding

"Outstanding" blends inspired Cuban music with a melange of jazz, samba, flamenco and world music of the Americas. Timba MM is a Montreal-based group of new generation Cuban-style musicians formed in 2012.
The members are all in love with Havana and Cuban sounds. Classified as World Music / Latin / Afro Cuban, this is a project that celebrates original repertoire as well as covers of great classics of Latin music.
The aim of "Timba MM" (pronounced 'Timba emmay emmay') is to introduce music lovers to new Latin rhythms emerging in the current day that are not yet widely explored outside Cuba's frontiers. The band is made up of eight musicians from Cuba and Canada playing an array of instruments: percussion, drums, bass, guitar, piano, keyboards, sax tenor, trumpet, etc. An additional nine guest musicians were also invited to record with them, in the true Latin sociable spirit. The album is a shining testament to the fact the country is bursting with musical talent: "Music is so essential to the Cuban character that you can't disentangle it from the history of the nation." (Ned Sublette)
"Outstanding" is a project that encourages musical assimilation from all over the world. It acknowledges its true origins with the grooves, melodies and chants brought from Africa to Cuba in the 19th century, while simultaneously merging sounds from the New World. It is a captivating frenzy of rhythms that transcribes the experiences of our history as well our present.
Original songs have been composed based on a range of genres such as Latin classics, classical music, folk, funk and others. They are also inspired by contemporary Cuban artists such as the Pedrito Martinez Group, NG La Banda, Sintesis, Afro Cuban All Stars and Buena Vista Social Club.
Cuba's renowned cultural identity is celebrated in songs such as Interlude Changuisero and The Viking Rhythm – 'if you bring the rumba, Cuba will bring the clave'. The Cuban genre el son montuno is heard on the track El Son, celebrating one of the most influential Latin American genres. Yet, alongside this homage to its origins, sounds of Brazilian samba are mixed with Spanish flamenco in Del Bahia.
"Outstanding" (part 1) is an Afro-Cuban Yoruba prayer wishing health and blessings to all, while Outstanding (part 2) focuses on the importance of listening to our much-experienced elders. Kongo "Kurbato" is about the joy of travelling outside of Cuba. This sums up Timba MM's motive as a band, as they wish to bring their new Latin rhythms to music lovers beyond the Cuban borders.
"A unique foray into the Afro-Cuban universe" (Camuz, Montreal)
"World music fusion in the spotlight" (Le Devoir)
Timba MM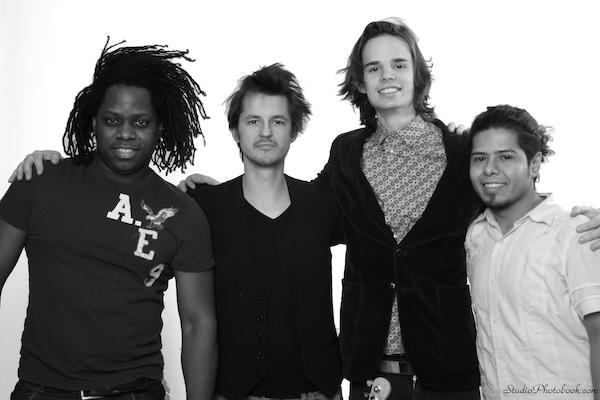 Timba MM
pronounced 'Timba emmay emmay', was formed by good friends Michel Medrano Brindis, Mathieu Sénéchal and Adam Goulet. Michel, born in Cuba's vibrant Havana City, where there's live music on every street, taught himself Afro-Cuban percussion at the age of 17. Inspired by his elder brother Carlitos Medrano, he went on to play in Havana's famous jazz clubs and well-known festivals such as the Festival Internacional Jazz Plaza.
Since moving to Canada in 2009, he has performed, toured and recorded with local and international artists, such as David Sanborn, Miguel De Armas, Gipsy Kings, Dominique Fils-Aimé and many others.
It was in Canada where Michel met Mathieu and Adam. As their friendship developed, and their joint appreciation for Cuban sounds grew, they decided to start their own project 'Timba MM – Music from a new generation of Cuban and Canadian musicians'. The ensemble usually consists of four band members with the occasional guest appearance. They compose their own songs based on a range of genres such as Latin classics, classical music, folk, funk and others. They are also inspired by contemporary Cuban artists such as the Pedrito Martinez Group, NG La Banda, Sintesis, Afro Cuban All Stars and Buena Vista Social Club.

Booklet for Outstanding