---
Album info
Album including Album cover
I`m sorry!
Dear HIGHRESAUDIO Visitor,
due to territorial constraints and also different releases dates in each country you currently can`t purchase this album. We are updating our release dates twice a week. So, please feel free to check from time-to-time, if the album is available for your country.
We suggest, that you bookmark the album and use our Short List function.
Thank you for your understanding and patience.
Yours sincerely, HIGHRESAUDIO
1

Here Comes The Hammer

04:29

2

U Can't Touch This

04:16

3

Have You Seen Her

04:40

4

On Your Face

04:32

5

Help The Children

05:16

6

Dancin' Machine

02:54

7

Pray

05:12

8

Crime Story

05:07

9

She's Soft And Wet

03:24

10

Lets Go Deeper

05:13

Total Runtime

45:03
Info for Please Hammer Don't Hurt 'Em (Remastered)

Please Hammer Don't Hurt 'Em is the third studio album by MC Hammer, released on February 12, 1990, by Capitol Records and EMI Records. The album was produced, recorded, and mixed by Felton Pilate and James Earley.
The album ranked number one for 21 weeks on the US Billboard 200, due primarily to the success of the single "U Can't Touch This". Likewise, the album saw longevity on the Top R&B/Hip-Hop Albums chart, peaking at number one and staying at the top for 28 weeks. It was the top selling album of 1990 in the United States and one of the bestselling hip hop albums of all time.
"Still the biggest-selling rap album of all time at ten million copies (though the Beastie Boys' Licensed to Ill is gaining rapidly), Please Hammer Don't Hurt 'Em proved that rap music was no longer just a specialty niche genre, but had the crossover potential to be a commercial juggernaut. But in an art form so conscious of preserving its integrity, this wasn't the way to go about it -- at least not from a creative standpoint. Hammer builds the majority of the songs here on obvious samples from easily recognizable soul and funk hits of the past, relying on the original hooks without twisting them into anything new (or, by implication, his own). That approach confirmed the worst fears of hip-hop purists about how the music might hit the mainstream. Taken on its own terms, Please Hammer Don't Hurt 'Em is a pretty slick -- if unsubtle -- pop confection. Hammer certainly has good taste in source material, if nothing else; the hits "U Can't Touch This" and "Pray" crib from Rick James' "Super Freak" and Prince's "When Doves Cry," respectively, and the ballad "Have You Seen Her" is a flat-out cover of the Chi-Lites' hit (with some updated lyrics). Other tracks sample Marvin Gaye, Earth, Wind & Fire, and the Jackson 5. Throughout the record, choruses are repeated ad infinitum for maximum memorability, which either makes it irresistible or irritating, depending on your taste. Hammer has improved as a rapper -- his delivery is often more subtle, and he even attempts a little bit of verbal flash here and there. He still isn't technically on a par with the average MC of the time -- he's a little too stiff, flowing awkwardly around the beat. Of course, his simple style also makes him easy to understand, and coupled with the highly danceable production and a great set of borrowed hooks, it's easy to see why Please Hammer Don't Hurt 'Em was so popular -- and why it now functions chiefly as a nostalgia piece." ( Steve Huey, AMG)
M.C. Hammer
Digitally remastered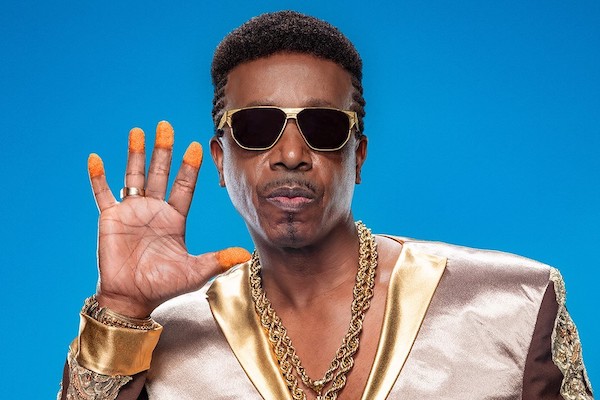 MC Hammer
There had been hit rap singles and albums before him, but MC Hammer was the man who truly brought rap music to a mass pop audience. Armed with a flamboyant wardrobe (particularly his trademark baggy parachute pants) and a raft of sampled hooks lifted straight from their sources, Hammer's talents as a dancer and showman far exceeded his technique as an MC. Still, he had an ear for catchy source material, and that helped his second album, Please Hammer Don't Hurt 'Em, become the best-selling rap album of all time.
Even if he was never able to duplicate that level of success, and even if his street credibility was virtually non-existent, Hammer still broke down numerous doors for rap music in the mainstream, demonstrating that hip-hop had the potential for blockbuster success in the marketplace.
MC Hammer was born Stanley Kirk Burrell in Oakland, California on March 30, 1962. A member of a strongly religious family, he landed a job as a bat/ball boy for the Oakland Athletics baseball team, where he entertained fans by dancing during breaks in the game, and earned the nickname "Hammer" for his resemblance to all-time home run leader "Hammerin'" Hank Aaron. An aspiring ballplayer himself, he failed to catch on with a professional organization following high school, and enlisted in the Navy for three years. Long a fan of funk and soul, he became interested in hip-hop upon returning to civilian life, and began performing in local clubs; with the financial help of several Athletics players, he also started his own record label, Bustin' Records, and recorded a couple of popular local singles. With ex-Con Funk Shun mastermind Felton Pilate producing, Hammer recorded an album titled Feel My Power in 1987. After impressing a Capitol Records executive with his already elaborate live show, he was signed to a multi-album deal, the first of which was a revamped version of Feel My Power retitled Let's Get It Started. Producing an R&B hit in "Turn This Mutha Out," Let's Get It Started went double platinum.
Still, nothing could have foreshadowed the phenomenon of Please Hammer Don't Hurt 'Em, the 1990-released follow-up. Its first single, "U Can't Touch This," blatantly copped most of its hooks from Rick James' funk classic "Super Freak," yet Hammer's added catch phrases (and young listeners' unfamiliarity with the original song) helped make it a smash. "U Can't Touch This" dominated radio and MTV during 1990 in a way few rap singles ever had, and won two Grammys (Best R&B Song, Best Solo Rap Performance); save for a quirk in its release format — it was only available as a 12″, which cut down on its sales — it would easily have been the first rap single to top the Billboard pop chart. The next two singles, "Have You Seen Her" (a flat-out cover of the Chi-Lites' '70s soul ballad) and "Pray" (built on the keyboard hook from Prince's "When Doves Cry"), followed "U Can't Touch This" into the Top Ten, eventually pushing sales of Please Hammer Don't Hurt 'Em past the ten-million mark and making it the number one album of the year.
The album Family Affair was slated for release on Hammer's own Oaktown Records label, but plans were aborted at the last minute; only 1,000 copies were pressed, and were never distributed nationally, save for limited Internet downloads. Several projects were rumored to be in the works, including another album (War Chest: Turn of the Century) and a soundtrack to the film Return to Glory: The Powerful Stirring of the Black Man, but none ever appeared. Finally, Hammer released a new album, the patriotic-themed Active Duty, through his own WorldHit label in late 2001.

This album contains no booklet.