---
Album info
Album including Album cover
1

Spirit Splitter, No. 54

06:18

2

Away with You, No. 55

08:04

3

The Absolute Almost, No. 52

09:59

4

Sword Barrel, No. 58

04:41

5

Old King Misfit, No. 57

07:34

6

Fog Bank, No. 56

05:31

7

Safety Orange, No. 59

05:14

8

Inky Ribbons, No. 53

08:35

Total Runtime

55:56
Info for Away with You

Mary Halvorson unveils an octet for Away With You, but also in keeping with her audacious unpredictability, that eighth seat is occupied by a pedal steel player. Susan Alcorn started out in country-western pedal steel but eventually developed her own technique informed by free jazz, avant-garde classical music, Indian ragas, and various folk music from around the world. It's not hard to imagine the potential that Halvorson saw after seeing Alcorn perform live on multiple occasions.
Mary Halvorson occupies her very own space, making the only sensible comparisons of her work is with her other works. Inspired by Susan Alcorn's pedal steel guitar, Away With You keeps Halvorson's idiosyncratic ideas fresh and pushes forward her boundless conception of jazz on the frontier.
Born in Massachusetts, this artist graduated in 2002 from the Wesleyan University and, since then, she has accumulated an endless number of concerts and albums. In fact, "Away With You", recorded with the eight-piece band that is visiting us this year, came out at the end of 2016, and since then the artist has participated in several projects, such as: "Crop Circles", with Sylvie Courvoiser, and "Bitter Almonds", for Kristo Rodzevski.
"This is art music on a large scale. Halvorson's compositions and arrangements take twists and turns that you don't expect, leaving you to wonder how on earth she'll make them work. She always does. After all, Halvorson is masterful in turning the ordinary into something amazing and new. On Away With You, the 36–year–old guitarist assembles an all–star cast of the avant–garde scene, including Jonathan Finlayson on trumpet, Jon Irabagon on alto saxophone, Ingrid Laubrock on tenor, Jacob Garchik on trombone, Susan Alcorn on pedal steel guitar, John Hébert on bass and Ches Smith on drums. It's a cast of leaders who all chip in to do incredible ensemble work. "Spirit Splitter (No. 54)" is a mind–bender. The title track, "Away With You (No. 55)," is a surf–pop tune from an alternate universe. "The Absolute Almost (No. 52)" takes a slow–flame approach to the inner soul. "Old King Misfit (No. 57)" displays Hébert's mastery on bass. "Safety Orange (No. 59)" is anything but safe, a majestic piece of magic with some wonderful arranging. And "Inky Ribbons (No. 53)" closes this eight–track set with a slow pulse and laid–back groove that brings the album to a perfect close. Halvorson has become a critic's favorite in creative music for very good reason. She's a fine guitarist, a thoughtful musician and a far–reaching artist." (Frank Alkyer, Down Beat)
Mary Halvorson, guitar
Susan Alcorn, pedal steel guitar
Jonathan Finlayson, trumpet
Jon Irabagon, alto saxophone
Ingrid Laubrock, tenor saxophone
Jacob Garchik, trombone
John Hébert, bass
Ches Smith, drums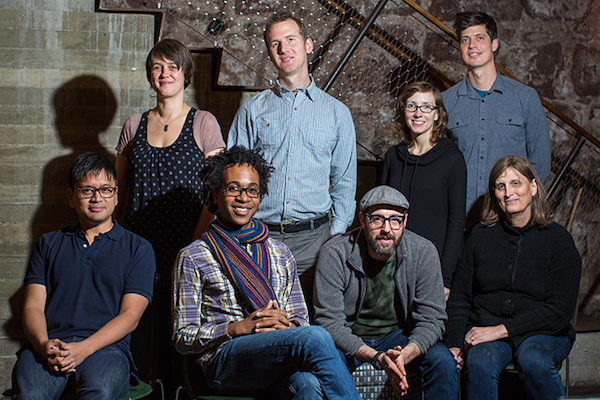 Mary Halvorson
One of improvised music's most in-demand guitarists, Mary Halvorson has been active in New York since 2002, following jazz studies at Wesleyan University and the New School. Critics have called her "a singular talent" (Lloyd Sachs, JazzTimes), "NYC's least-predictable improviser" (Howard Mandel, City Arts), "one of the most exciting and original guitarists in jazz—or otherwise" (Steve Dollar, Wall Street Journal), and "one of today's most formidable bandleaders" (Francis Davis, Village Voice). The Philadelphia City Paper's Shaun Brady adds, "Halvorson has been steadily reshaping the sound of jazz guitar in recent years with her elastic, sometimes-fluid, sometimes-shredding, wholly unique style."
After three years of study with visionary composer and saxophonist Anthony Braxton, Ms. Halvorson became an active member of several of his bands, including his trio, septet and 12+1tet. To date, she appears on over ten of Mr. Braxton's recordings. Ms. Halvorson has also performed alongside iconic guitarist Marc Ribot, in his bands Sun Ship and The Young Philadelphians, and with the bassist Trevor Dunn in his Trio-Convulsant. Over the past decade she has worked with such diverse bandleaders as Tim Berne, Taylor Ho Bynum, Tomas Fujiwara, Ingrid Laubrock, Jason Moran, Joe Morris, Tom Rainey, Tomeka Reid and John Zorn.
As a bandleader and composer, one of Ms. Halvorson's primary outlets is her longstanding trio, featuring bassist John Hébert and drummer Ches Smith. Since their 2008 debut album, Dragon's Head, the band was recognized as a rising star jazz band by Downbeat Magazine for five consecutive years. Most recently she has formed an octet, adding trumpeter Jonathan Finlayson, saxophonists Jon Irabagon and Ingrid Laubrock, trombonist Jacob Garchik, and pedal steel guitarist Susan Alcorn. Their debut 2016 release, Away With You, on the Firehouse 12 Record label, was called "radiant" by the New York Times and "one of the most intricate and entrancing sets of her career" by Pitchfork. Ms. Halvorson is also a part of several collaborative projects including Thumbscrew (with Michael Formanek and Tomas Fujiwara), Secret Keeper (with Stephan Crump), a chamber-jazz duo with violist Jessica Pavone, and the avant-rock band People.

This album contains no booklet.