---
Album info
Album including Album cover
I`m sorry!
Dear HIGHRESAUDIO Visitor,
due to territorial constraints and also different releases dates in each country you currently can`t purchase this album. We are updating our release dates twice a week. So, please feel free to check from time-to-time, if the album is available for your country.
We suggest, that you bookmark the album and use our Short List function.
Thank you for your understanding and patience.
Yours sincerely, HIGHRESAUDIO
1

Fü Pfü

09:25

2

Lufti

04:27

3

Loveland

09:19

4

Stress

07:29

5

Ania

04:09

6

When Earth Becomes Desert

09:55

Total Runtime

44:44
Info for Schattseite (Remastered)

It's unfortunate that Adelhard Roidinger only cut this one record for ECM. The Austrian-born Renaissance man seems to have been a perfect fit for the label, which by the time of this release (1982) had firmly established its aesthetic hold on the jazz market. Schattseite has a lush, airy sound that is always appealing, and what better way to draw us in than with the slow-moving "Fü Pfü." The soloing is crisp all around: gorgeous vibe work from Pirchner, Pepl's soft guitar licks, DiPasqua's tender drumming, a fluid run from Sauer on tenor sax, and an alluringly pianistic turn from Degen all make for a crystalline opener, and Roidinger's plaintive accompaniment pulls it all together with humility. There is much stopping and starting, as if the music were afraid to latch on to a memory it knows could be self-destructive. Next is "Lufti," a delightfully overdubbed bass duet, interrupted by occasional glissandi for a playful effect. "Loveland" fades in on a sweet piano riff doubled by Aina Kemanis's brassy vocals, evoking the distinctive sound originally forged on Return to Forever. Roidinger harmonizes with the lead motif, blending into another mercurial leap from Pirchner, this time on marimba, supported by a delicate repeat of the same progression sans voice. The fantastic sax solo and Metheny-esque picking lend even more elegance to the track's progressive sound. "Stress" begins with a bowed electric bass, caressing the air like whale songs. Sauer introduces the main line, again doubled by Kemanis, before Roidinger steps in to offer some regularity, thereby allowing Deger more room to flex his fingers. "Ania" starts with laughter, or something like it. Out of this abstract pointillism comes an engaging chant, throughout which Pepl jauntily strums his way along. The album closes with its longest track, "When Earth Becomes Desert," which steadily moves from haunting drones to an all-out improv-fest. The marimba is unusually present here, and I wouldn't be surprised if it was miked differently, if not added in postproduction. The final minute brings us slowly back down with a gorgeous melody in tutti.
Although Schattseite does take a while to find its groove, whatever it may lack in drive it makes up for in atmosphere and melodic robustness. This is an album of exceptional sound and quality, and is like the audio equivalent of a scenic route: it may get you to the same destination, maybe even less efficiently, but its allure is such that by the time you near the end, you no longer care where you were going. In dire need of a reissue.
Adelhard Roidinger, bass
Heinz Sauer, tenor saxophone
Bob Degen, piano
Harry Pepl, guitar
Werner Pirchner, vibraharp, marimba
Aina Kemanis, voice
Michael DiPasqua, drums, percussion
Recorded November 1981 at Tonstudio Bauer, Ludwigsburg
Produced by Manfred Eicher
Digitally remastered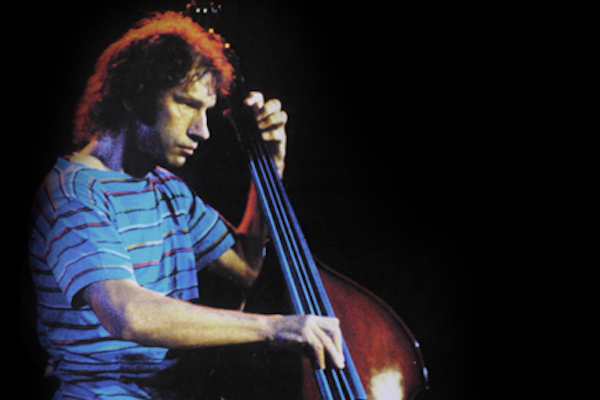 Adelhard Roidinger
Bassist and composer Adelhard Roidinger was born in Windischgarsten, Austria, in 1941. He studied architecture, double bass and jazz composition in Graz. In addition, he studied architecture and design at the Hornsey College of Art as well as painting and sculpting in Graz and computer music in Paris, working in the field of the latter at the lnstitut de Recherche et Coordination Acoustique (IRCAM) and at the Ateliers UPIC,founded by lannis Xenakis. In 1982 he set up his own studio called "ACROASIS" to realise multimedia projects. From 1976 to 2002 he worked at the department of Cybernetic Methods of Design, which he had established at the Graz University of Technology, as an editor.
​From 1982 to 1993 he worked as a lecturer at the Graz Jazz Department specialising in improvisation and electronic music. His list of courses established at universities and academies is vast: the jazz workshop (1984), the department for jazz and popular music (1987), and the "Studio For Advanced Music & Media Technology" (Studio SAMT, 1995), ali of which are part of Bruckner Conservatory (now Anton Bruckner Private University) in Linz, as well as the course on music and media technology, initiated al university in 1997. Adelhard is the author of double bass and bass guitar methods (Universal Edition, Vienna) as well as the present publication with the tille Jazz lmprovisation & Penta­ tonic (advance music, Mainz). He received the Dr. Ernst Koref Composition Award in 1988, an Honorary Mention for his 7-tone tempered computer composition SIAMESIC SINFONIA as well as an Honorary Mention for his computer­ generated graphic UNDINE (with A.G. Wagner) at ARS Electronica, Linz, in 1994. In addition, he received the National Culture Award of Music in 1997.

This album contains no booklet.