---
Album info
Album including Album cover
I`m sorry!
Dear HIGHRESAUDIO Visitor,
due to territorial constraints and also different releases dates in each country you currently can`t purchase this album. We are updating our release dates twice a week. So, please feel free to check from time-to-time, if the album is available for your country.
We suggest, that you bookmark the album and use our Short List function.
Thank you for your understanding and patience.
Yours sincerely, HIGHRESAUDIO
1

Fonkadelica

00:46

2

#KingButch

02:25

3

Broad Rock

03:58

4

Cabbage (DFC)

04:38

5

Gum In My Mouth

02:39

6

Frontline

00:43

7

Frontline

04:52

8

1992

02:50

9

Love Lock

04:15

10

Hopscotch

01:08

11

Tidal Wave

03:30

12

For The City

03:47

13

IDK

06:17

Total Runtime

41:48
Info for #KingButch

#KingButch—hashtag proudly attached—is the title of Butcher Brown's soon-to-be top-trending album, the eighth in the band's up-from-the-roots legacy, and their first with Concord Records, on the Concord Jazz imprint. The 13 tracks collectively represent a bold step forward for the 5-piece group from Richmond, Virginia. Remaining true to the group's heady fusion of contemporary hip-hop, '70s fusion, '60s jazz and funk—even echoes of Southern rock and marching band music show up—#KingButch is a powerfully original statement that reaches across divisions of genre, generation, ethnicity, and geography. Significantly, the new recording also reveals a side of Butcher Brown that's been developing and is now in full-flower: a song-crafting, studio maturity on a par with their national reputation as an explosive live act.
#KingButch, like previous Butcher Brown recordings, was recorded in their home recording facility—Jellowstone Studios (the group's "nerve center")—and features the striking and diverse talents of the band's members: deejay / producer / keyboardist DJ Harrison; drummer Corey Fonville; bassist Andrew Randazzo; trumpeter / saxophonist / MC Marcus "Tennishu" Tenney; and guitarist Morgan Burrs. The album also benefits from the production skills of Chris Dunn (N'Dambi, NEXT Collective, Leela James, Christian Scott aTunde Adjuah), Concord Records' Sr. Director of A&R, and was recorded in a furiously creative, two-week period last October. The cover art was created by famed designer Lou Beach, famed for his iconic cover of Weather Report's 1977 classic, Heavy Weather. Butcher Brown's career has been guided for the past four years by veteran artist manager David Passick (Herbie Hancock, Don Was, Maxwell), whose management firm represents a number of pioneering musicians in the jazz/hip-hop overlap; #KingButch is dedicated to Passick's long-time partner, Jack Leitenberg, who passed away last year.
Track by track, the musical menagerie on #KingButch is a balance of stylistic flavors—polished and raw, urban and country, North and South—offering a fluid, feel-good sonic journey: from the party-starting, neo-soul lope of the opening track "Fonkadelica", and the exuberant, horn-driven energy (serious EWF echoes!) of "Cabbage (DFC)"; to the hypnotic, guitar-driven groove of "Broad Rock"; the ethereal cover of Ronnie Laws' "Tidal Wave", fusing it with flavors from Black Moon's 1993 classic "Who Got Da Props" which sampled it; and the soaring, skipping-through-clouds feel of "Love Lock", reviving a 1978 Mtume tune with a melodic line that stays for days. There are the album's four tunes highlighting Tennishu's rhymes and flow: the relaxed, acid-jazz vibe of the title track; the skillful, free-styling "Hopscotch"; and the bossa nova-flavored "Gum In My Mouth". "For The City" offers a taste of South Coast hip-hop flavor, and features RVA rapper Fly Anakin.
#KingButch is a direct outgrowth of Butcher Brown's burgeoning popularity, building since the group's first homegrown releases in 2013. Many of the songs were born on the road during a busy two-year period, when they shared the stage with such jazz, funk, and jam-band favorites as Kamasi Washington, Galactic, Turkuaz, and Lettuce. "We did so many tours from 2017 through most of 2019," Corey Fonville says. "We were working on much of this material, working it out every night like an open rehearsal, developing a set list and sharpening these songs until it just felt natural once we got into the studio."
Butcher Brown settled into Jellowstone studio last October with Harrison engineering and Chris Dunn producing, setting their sights on creating a new level of experience for their fans. "All the guys in Butcher Brown are great players but also can think like producers," says Chris Dunn. "For a few tracks, they brought in music from their live shows, some that were more than twelve minutes long. We discussed what the recipe should be, and they jumped right in trimming, shaping, adding, and finally fashioning a blend of rawness and lo-fi sophistication that was all their own. Watching it come together track by track, I believe #KingButch opens up an exciting new chapter for the band creatively."
Two weeks was the longest the group has devoted to a single recording project. "We were all in the room together, no other dates to get to, no other distractions," says Harrison. "Some days we went from 11 to 7, some it was 12 noon until super late at night but nothing else. It was like the whole Quincy Jones-Bruce Swedien Michael Jackson team aspect."
Harrison's familiarity with the recording team behind Thriller suggests his—and Butcher Brown's—fluency with the musical tradition they are carrying forward, and their appreciation for the production and engineering side of their craft. The group's decision—and Concord's—to release #KingButch in the midst of the current pandemic was not one they made lightly, but with the conscious intention of sharing a needed spark of joy and connection. "It's a time now when people need to be uplifted, they need to hear new music," says Chris Dunn. "Of course we were worried about releasing an album without the chance to tour, especially with a live band like Butcher Brown, but we said, no—we can't wait. This music has to come out."
#KingButch will be released in full on September 18, with a number of single tracks dropping before then, as part of the Butcher Brown's mission to share the music and their message.
"Butcher Brown is a once-in-a-generation band. Imagine if Jimi Hendrix's Band of Gypsys had heard Biggie Smalls, D'Angelo, JDilla, and could hold their own sitting in with John Coltrane. Each player in the unit is a killer, and this squad is positioned to be one of the greatest bands of our era. Mark my words." (Christian Scott Atunde Adjuah)
"In an era when most kats their age are playing odd-meters and trying to obscure the "one" in an attempt to be hip, Butcher Brown affirms soulful and funky ain't out of style. (Nicholas Payton)
"I love this band because they play together. You can really hear the camaraderie in the music. (Charlie Hunter)
"Butcher Brown is one of the really exciting groups on the scene right now. We toured together and they sounded amazing every night!" (Kamasi Washington)
Butcher Brown:
DJ Harrison, keyboards
Andrew Randazzo, bass
Morgan Burrs, guitar
Corey Fonville, drums
Marcus Tenney, saxophone, trumpet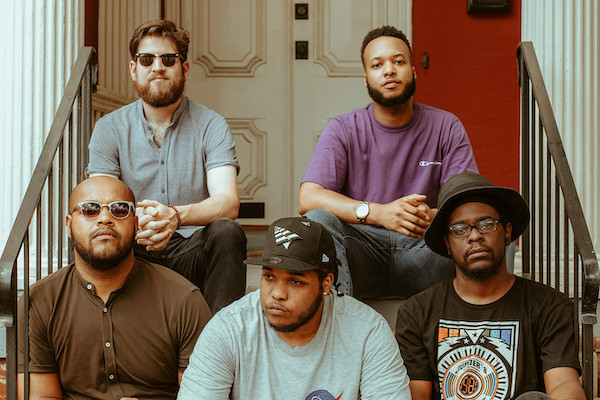 Butcher Brown
Straight out of the underground, a steady rumble is building and it's called Butcher Brown. Pulsing from the nerve center of Jellowstone Studios in Richmond VA, Butcher Brown takes careful note of the history and legacy of jazz and throws caution to the wind with wanton abandon. Butcher Brown's ability to blend jazz with funk, rock, rap and soul is like no other. They are authentic to each musical genre and, at the same time, break down the walls of traditional musical borders, creating a unique sound with no restrictions. When all is said and done, they will create their own chapter in musical history. Butcher Brown features Tennishu, Morgan Burrs, Corey Fonville, Andrew Randazzo, and DJ Harrison.

This album contains no booklet.