---
Album info
Album including Album cover
1

Lightning Strike

02:58

2

Good Day

02:18

3

White Lines

03:08

4

When I Think About Love

02:52

5

Wave

02:54

6

Blind Eyes

03:16

7

Keep It Close

03:40

8

Ain't Nobody

03:17

9

Come My Way

03:02

10

Country Man

03:08

11

Tell Me

03:17

12

Keep on Running

03:58

13

Rambler (Bonus Track) (96 kHz)

03:30

Total Runtime

41:18
Info for Bones Owens

There are debuts destined to make their mark, debut albums that explode in all their beauty so suddenly that you almost don't care that it's a first album. Flames that are released with such warmth and intensity that you hope they will not go out anymore : here is the debut disc of Caleb Owens is all this. An unexpected explosion, a record that as soon as you have finished listening to it, is automatic press play again (or put the stylus back at the beginning for vintage as you write) and make it restart to see if the flame in the meantime heats less, but it doesn't keep burning and you want to get warmer and warmer. Those who love rock music know very well that many times the beginnings are fairy fires, they last the moment of a listen and then at the test of the second album many melt and go off as they had come. Here you can be sure Bones Owens has arrived to stay and after years of hard work, of concerts in smoky venues or of support to great artists, He seized the moment and threw his heart over the obstacle proving to the world that the success that we are sure will receive with this effort is fully deserved and will last in time. Bones, the nickname with which he has always been called, is a native of rural Missouri but since he was very young was immersed in music, bluegrass country folk and rock, at 10 years he learns to play guitar and never stops, with the posters of the great rockers that he had in his room impressed in his mind : that was the life he wanted to make. An early author, at 13 already writes songs and in 2005 decided to take the big step and try his luck. And where can a young american artist who wants to be noticed go? Of course in Nashville, Tennessee. In the years that followed, she became a session musician both in the studio and on tour with different artists, from Bon Jovi to alternative musician Mikky Ekko. Experiences that have formed him and brought him into contact with genres, more different sensations and in his music all this is felt , yes. He wants to be himself, a bold original but with an eye to the influences that have marked his youth. The real debut in 2017 was an EP, Make No King that makes him notice both live circuits and streaming services, producers and agencies are interested. The boy is original, likes and live performs as the opening of many artists but also a band that is now a guarantee of quality, Whiskey Myers. The fans are interested in him, they found a fan club that eagerly awaits this debut of the same name, which arrives in all its beauty in 2021. On the cover is all of him and his art, an explosive mix of American rock music, which drags in a whirlwind crazy rock, blues, psychedelia and roots, an electric shock perfect for his voice. The album is produced by Paul Moak and Vince Powell for Thirty Tigers/Black Ranch Records and is 12 songs that will not leave you indifferent. Nothing built, nothing difficult : guitar (his and Moak's in some pieces), bass ( Jonathan Draper) and drums ( Julian Dario for 10 pieces and Daniel Sousa and Lance Bennett for one each) and keyboards (Paul Moak). No makeup, no deception. Do you want to light the flame? Do you need the spark? Start the first piece, Lightining Strike, a killer riff and the rhythm that surrounds you and then burn with the chorus, a real love at first sight! A little Black Keys first way a little rock and roll from the street, a lot of talent. There are no songs you'll want to skip or filler, listen to the guitar scratching the air of White Lines, a song that has streamed as a single since 2018, and since then has deservedly placed in the most popular playlists, rock and blues, anger and feeling with a splash of Cobain anguish (you will also find strong influences of Nirvana.) The guitar of Bones Owens is aggressive, does not let the speakers breathe, scratch wraps upside down, When I Think About Love is sour, angry, with a groove and a chorus that will not come out easily from the ears, Jack White made school but the interpretation is original. Echo of the 70s soul-flavored in Wave, that blues rock to dance and sing soaked with a hint of melancholy give way to another of the songs that had already upset the net, Keep It Close and rock has a strong flavor of British alternative influences ( Oasis and Artic Monkeys) but with a greater wickedness and lyrical ability. The end of the child Caleb's innocence when his father warned him of the world that would steal his joy. Maybe my favorite lyrics but also the music of this piece envelops you in its simplicity that leads to the irresistible riff of Ain't Nobody, here emerge the southern roots, maybe with the influence of Texan rockers Whiskey Myers with whom he shared the stage. A masterful guitar job, a killer groove that drags and amuses. Come My Way is no less and we imagine traveling along a dusty highway with the windows lowered at full speed, the street rock craves the road at full volume. Is there room for country in the next Country Man? No only for another round of guitar that doesn't make prisoners, acid and psychedelic, as if the Rolling Stones more rock and aggressive had made a jam session with Jack White and Kurt Cobain in a club in the south of the United States in the '70s where soul permeated the air. This is what my mind and ears think of at the end of a sparkling 38-minute-long guitar-scretch that I would absolutely like to hear again right now. A debut with his foot pressed on the accelerator, which ignites and burns souls and live (when you can) will ignite many hearts and will upset many live clubs. In the meantime we invite you to enjoy these beautiful 12 original and truly exciting rock songs, waiting to find out if the flame looks more like Greek Fire than a silly fire and if it will continue to burn the speakers even at the next record release.
Bones Owens, vocals, guitar
Julian Dorio, drums
Jonathan Draper, bass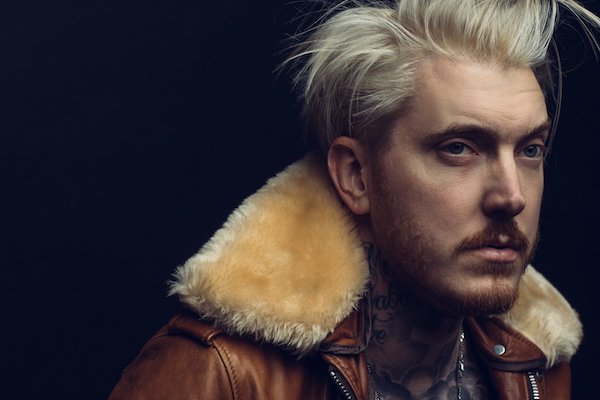 Bones Owens
has been writing songs since the mid 90's, when posters of Kurt Cobain and Jimi Hendrix adorned his walls. The rural Missouri native found music to be his connection to the outside world, from the otherwise desolate landscape of corn fields and gravel roads surrounding him. Discovering an interest in literature and storytelling in his teenage years, Bones attended college where he studied English and creative writing before dropping out to accept his first publishing deal in Nashville. Fast forward through a string of bands, record labels, guitar gigs and tours around the globe, and you'll find Bones at home in his own rural oasis of Whites Creek, Tennessee, just outside of Nashville, where he composes a majority of his songs.
2017 saw the release of the EP "Make Me No King", which caught the attention of Bones' now booking agency, William Morris, and publisher, Combustion Music. The title track received extensive Spotify playlisting in the Americana genre, and has continued to grow over the last year and a half. In early 2018, the stand-alone single "Keep it Close" was released and received substantial Spotify playlisting in Rock, surpassing 2M streams in it's first six months. The follow-up single "White Lines", released in September has received similar playlisting in the Rock genre, as well as Spotify's New Music Friday, and continues to build momentum. "White Lines" was recorded with legendary producer/engineer Vance Powell (Jack White, Chris Stapleton). True to the posters on his wall as a kid, Bones' sound is a combination of blues-based rock and roll mixed with the angst and edge of the alternative records he grew up on. His shows are at one moment blisteringly loud and aggressive, and the next moment giving pause to a more sensitive story song before kicking you in the gut again with a cranked up Marshall stack. He can currently be found criss-crossing the country on a string of tours, writing the songs that will make his next record in the downtime between.

This album contains no booklet.