---
Album info
Album including Album cover
1

Welcome

04:00

2

Pangea

01:15

3

Brace

02:21

4

Richard

02:12

5

Error

01:34

6

Bad Dream

01:23

7

Missed Call

01:17

8

Sucked into Space

01:40

9

Jackie

01:52

10

Last Man Alive

00:52

11

Time to Let Go

01:54

12

Earth Imploded

01:38

13

Europa

02:44

14

Vincent and Diane

02:28

15

Fight

04:06

16

Fire

03:24

17

Floating Away

03:20

18

John, Day 3022

02:57

19

Found

03:52

Total Runtime

44:49
Info for 3022 (Original Motion Picture Soundtrack)

Originally formed in 1999, The Album Leaf went from a solo project of Jimmy LaValle (while he was spending time in San Diego area bands Tristeza, The Locust, Swing Kids, and Gogogo Airheart) into a full-fledged live band, and has been making its mark as a soft-spoken innovator ever since. For over twenty years now, LaValle has exercised his creative vision into the realms of film scoring, sound collage, and his singular style of ambient-electronic-rock music on labels from Tiger Style to to Sub Pop to Relapse Records. Now in 2017, LaValle is launching his own new imprint Eastern Glow Recordings and has some exciting things in store.
"Eastern Glow Recordings was born as an outlet to release my soundtrack work and other rarities / music that has not been released. I also hope to release other artists that I think are creating amazing music," LaValle says. "I'm also excited to reissue my first two full length records as The Album Leaf. These records were born out of improvisation before the Album Leaf was my main project."
Eastern Glow Recordings, with worldwide distribution via INgrooves, will be doing deluxe vinyl reissues of a number of out-of-print, difficult-to-find releases from The Album Leaf that have long been collector's items that can fetch head-turning sums of money online. With the inaugural releases being 2012's Forward/Return EP (remastered and sequenced with a new intro and interludes), 2003's EP Seal Beach EP (originally released on Spanish label Acuarela), and "New Soul" from 2016's Between Waves being released on 7" white vinyl (with the vinyl exclusive b-side "Oneonta"), Eastern Glow also released two seminal full lengths from The Album Leaf.
On December 8th, deluxe reissues of An Orchestrated Rise to Fall, originally released on Music Fellowship / Linkwork Records in 1999, and One Day I'll Be On Time, originally released in 2001 on Tigerstyle, were released by Eastern Glow. The former was born out of Gogogo Airheart member Mike Vermillion recording LaValle's improvisations on a vintage Roland drum machine and a Rhodes Piano. The vinyl reissue will feature a die cut leaf cover, and limited runs of blue + yellow starburst vinyl, as well as solid gold vinyl. The latter album displayed LaValle's talents in a full on recording studio, and was the album picked up by Jón Þór Birgisson of Sigur Rós, who then asked The Album Leaf to support them on their upcoming tour.
The diversity of The Album Leaf's music is second only to the diversity of the music that has inspired LaValle through the years. He's named everything from German Ambient/pysch bands like Can, Cluster and Harmonia to traditional mariachi music, electronic music and Brian Eno as some of his primary influences – and it's clear that The Album Leaf is unafraid of thinking outside the box, both as an individual artist & within the larger scope of modern music.
Jimmy LaValle, all instruments
Clarice Jensen, cello (tracks 1, 19)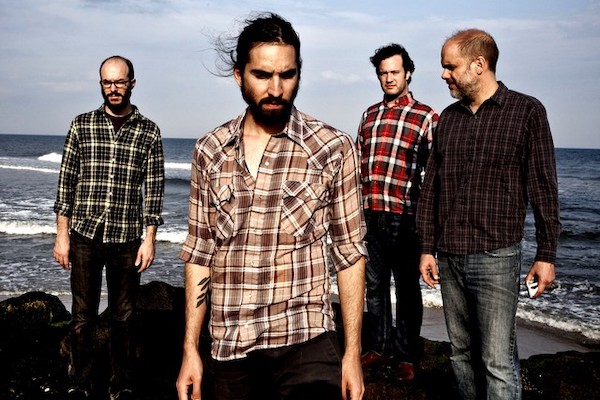 The Album Leaf
Over time, THE ALBUM LEAF (now based in Los Angeles) has grown from a side endeavor to LaValle's main focus. The project's first releases, An Orchestrated Rise To Fall (1999) and One Day I'll Be On Time (2001), intertwined field recordings, Rhodes piano, and a nuanced treatment of texture with mature songwriting and dense, evocative atmospheres. Following these records, which put THE ALBUM LEAF on the map for critics and fans worldwide, Icelandic band Sigur Rós discovered LaValle and took THE ALBUM LEAF on tour with them in the US, garnering the band wide exposure and recognition.
Following a European and a second US tour with Sigur Rós, LaValle left Tristeza to devote his full attention to THE ALBUM LEAF, and soon produced the highly acclaimed releases Seal Beach (2003, Acuarela discos) and In A Safe Place (2004, Sub Pop / City Slang). Since then, THE ALBUM LEAF's influence has continued to grow. LaValle has released two more well-received full-lengths as well as tens of other releases ranging from soundtracks to collaborations with artists such as Bright Eyes & Mark Kozelek, further establishing THE ALBUM LEAF as a household name in the world of modern rock music and beyond. THE ALBUM LEAF has toured extensively across the globe, and many of the band's songs have appeared on TV shows including Scandal, Sons of Anarchy, Suits, and more. In 2016, the band partnered with renowned label Relapse Records for the release of the group's sixth studio album and first since 2010's A Chorus Of Storytellers (Sub Pop).
Now, nearly twenty years into a career that has seen LaValle exercising his creativity across the realms of film scoring, sound collage, and rock music, via instrumental and vocal-driven compositions alike, LaValle & THE ALBUM LEAF's newly solidified lineup are poised to deliver yet another sonic triumph with 2016's Between Waves. The album was born out of a thorough reinvention of LaValle's creative process and approach: Between Waves is THE ALBUM LEAF's first full-length record to be recorded with the band's current lineup, and was written with greater emphasis on the group dynamic (the album was also entirely recorded and produced by LaValle and the band). The album's eight tracks were winnowed down from thirty, and it shows: each song is memorable and unique, all speaking in THE ALBUM LEAF's singular voice while expressing themselves through a wide variety of different sounds and emotions.
The band's thorough, unified approach is evident on nearly every aspect of Between Waves: the album displays multifaceted, meticulous sound design, a keen ear for balancing disparate influences, and the strongest senses of dynamics, rhythm, and composition THE ALBUM LEAF has displayed to date. From the moody evolution of "Glimmering Lights" to the wistful hip-hop stylings of "A New Soul" and beyond, Between Waves is THE ALBUM LEAF at its most inventive, most confident, and most impressive.

This album contains no booklet.