---
Album info
Album including Album cover Booklet (PDF)
Einojuhani Rautavaara (1928 - 2016):

1

Vigilia: No. 1, Tulkaa, kumartakaamme meidän

00:53

2

Vigilia: No. 2, Alkupsalmi

02:31

3

Vigilia: No. 3, Katisma

02:29

4

Vigilia: No. 4, Avuksihuutopsalmi

02:05

5

Vigilia: No. 5, Avuksihuutostikiira

04:08

6

Vigilia: No. 6, Dogmistikiira Jumalansynnyttäjälle

02:16

7

Vigilia: No. 7, Ehtoohymni

02:26

8

Vigilia: No. 8, Hartauden ektenia

01:22

9

Vigilia: No. 9, Litanian stikiira

02:50

10

Vigilia: No. 10, Litanian ektenia

02:43

11

Vigilia: No. 11, Virrelmästikiira

01:11

12

Vigilia: No. 12, Tropari I

03:01

13

Vigilia: No. 13, Juhlapäivän tropari

02:44

14

Vigilia: No. 14, Loppusiunaus

01:41

15

Vigilia: No. 15, Kunnia olkoon pyhälle

00:37

16

Vigilia: No. 16, Tropari II

01:47

17

Vigilia: No. 17, Tropari III

01:31

18

Vigilia: No. 18, Ylistysveisu

00:34

19

Vigilia: No. 19, Ylösnousemustropari

05:19

20

Vigilia: No. 20, Antifoni

02:19

21

Vigilia: No. 21, Prokimeni

01:19

22

Vigilia: No. 22, Ylösnousemusveisu

03:35

23

Vigilia: No. 23, Irmossi I

01:03

24

Vigilia: No. 24, Irmossi III

00:45

25

Vigilia: No. 25, Irmossi IV

01:04

26

Vigilia: No. 26, Irmossi V

02:09

27

Vigilia: No. 27, Irmossi VI

01:06

28

Vigilia: No. 28, Irmossi VII

00:49

29

Vigilia: No. 29, Irmossi VIII

00:37

30

Vigilia: No. 30, Jumalansynnyttäjän kiitosvirsi

05:23

31

Vigilia: No. 31, Irmossi IX

01:31

32

Vigilia: No. 32, Kiitosstikiira

01:45

33

Vigilia: No. 33, Ylösnousemustropari

02:32

34

Vigilia: No. 34, Loppusiunaus

02:03

Total Runtime

01:10:08
Info for Rautavaara: Vigilia

In 1971, Einojuhani Rautavaara was asked to compose a Finnish Orthodox church service, an all-night vigil similar to that of Rachmaninov, comprising Vespers as well as Matins. Soon after the first performance he reshaped the music into what we now know as Vigilia, a concert version forming a musical whole. As his inspiration, Rautavaara has himself described a visit to the Valamo monastery in the middle of Lake Ladoga in 1939: 'The bells began to ring, low-pitched booms and higher, shrill clinks: the world was filled with sounds and colors…' The music is marked by dark colors, the heady smell of incense and the crepuscular church lit only by small candles. Divided into two parts, Vespers and Matins, the 70-minute work consists of 34 sections, and features prominent parts for a bass and a tenor soloist, as well as a number of solo voices emerging from the mixed choir. The work is enriched by the constantly changing combinations of choir and soloists, the perspective shifting from the personal to the universal. It is here performed by the 21-strong Helsinki Chamber Choir, under its artistic director Nils Schweckendiek – a team that has made several recordings for BIS in recent years. These include Riemuitkaamme!, a Christmas album ('Schweckendiek's immaculately blended singers make a glorious noise', The Arts Desk), as well as a two-album survey of the choral works of Finnish modernist Erik Bergman ('The Helsinki choir produces a radiant sound throughout', Choir & Organ).
Niall Chorell, tenor
Tuukka Haapaniemi, bass
Helsinki Chamber Choir
Nils Schweckendiek, conductor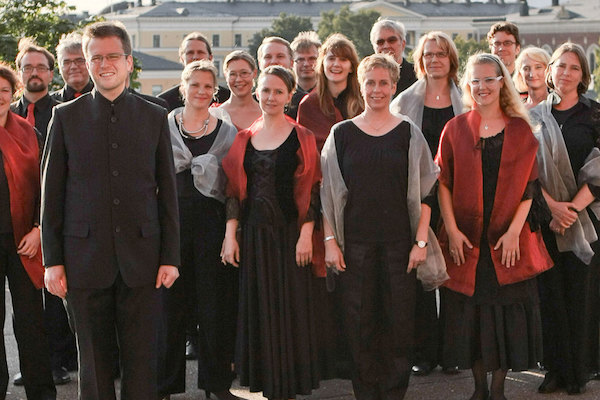 The Helsinki Chamber Choir (Helsingin kamarikuoro)
was founded in 1962 as the Finnish Radio Chamber Choir and assumed its current name in 2005. It is currently Finland's only professional chamber choir.
The choir's Artistic Director from 2005–2007 was Kimmo Hakola. Since 2007 Nils Schweckendiek has been responsible for the group's artistic planning.
While its wide-ranging repertoire includes music from the Renaissance to the present day, the Helsinki Chamber Choir is particularly highly regarded for its work with new music. The choir regularly commissions new works and has given over 50 world premieres in the seasons since 2005, as well as more than 30 Finnish first performances. The choir appears frequently at major Finnish music festivals and collaborates with orchestras and Baroque and contemporary music ensembles. Recent touring has included concerts in Russia, Estonia and Belgium.
The Helsinki Chamber Choir's concerts are regularly broadcast on radio and television, both nationally and internationally. Particular highlights have been televised performances on the international cultural channel ARTE of Michael Haydn's Requiem in 2006 and Einojuhani Rautavaara's Vigilia in 2013.
The Helsinki Chamber Choir's recording of Magnus Lindberg's Graffiti (with the Finnish Radio Symphony Orchestra and Sakari Oramo) was nominated for a Grammy in the contemporary music category in 2010. During its days as the Finnish Radio Chamber Choir, the group recorded a number of CDs for the Ondine label, including Rautavaara's complete works for mixed a cappella choir. The choir's most recent appearance on CD is in the world premiere recording of Veli-Matti Puumala's opera Anna Liisa (to be released in May 2015). A number of other recordings will appear in the near future.
Since 2012 the Helsinki Chamber Choir has been a member of Tenso, the association of European professional chamber choirs.
The Finnish Radio Chamber Choir's principal conductors were Harald Andersén, Kaj-Erik Gustafsson, Ilmo Riihimäki, Eric-Olof Söderström and Timo Nuoranne. Alongside Nils Schweckendiek, in recent years the choir has worked with conductors including Kaspars Putnins, Fredrik Malmberg, Eric-Olof Söderström, Andres Mustonen, Olari Elts, Rachid Safir, Tim Brown, Anne Azéma, Aapo Häkkinen, James Wood and Rinaldo Alessandrini.
Nils Schweckendiek
studied music at Clare College, Cambridge, and orchestral and choral conducting in Freiburg and Helsinki. In 2006 he made his debut at the Finnish National Opera with Richard Strauss' Der Rosenkavalier and subsequently conducted numerous opera and ballet performances at the same house. Guest performances have taken him to the Leipzig Opera (Der Rosenkavalier), the Savonlinna Opera Festival, Vaasa, Berne and Bielefeld. From 2009-2013 he was the conductor of the Ulm Opera, where he conducted first nights of, amongst others, Don Carlo (Verdi), Ariodante (Handel), Romeo and Juliet (Prokofiev), Der Ring an einem Abend (Wagner) and Le sacre du printemps (Stravinsky).
Nils Schweckendiek is committed to performing the music of our time and has conducted around eighty first performances, including music theatre, orchestral, choral and ensemble works. In 2013 his performance of Einojuhani Rautavaara's monumental Vigilia with the Helsinki Chamber Choir was televised on ARTE. He has worked with numerous orchestras in Finland, Germany, Spain, England, China and Estonia.
Since 2007 Nils Schweckendiek has been Artistic Director of the Helsinki Chamber Choir. In 2014 he was appointed Professor of Choral Conducting at the University of the Arts (Sibelius Academy) in Helsinki. Guest conducting has included the SWR Vokalensemble Stuttgart and the Danish Radio National Concert Choir. In the 2015/16 season he will be appearing with Tapiola Sinfonietta, the Ostrobothnian Chamber Orchestra, the Finnish Baroque Orchestra, the Mannheim Opera Choir, the Netherlands Radio Choir, the Croatian Radio and TV Choir, and defunensemble. He is Founder and Artistic Director of the International Einojuhani Rautavaara Composition Competition, the second edition of which is being held in 2015/16.

Booklet for Rautavaara: Vigilia