---
Album info
Album including Album cover
1

Night Heron

05:18

2

Traceries

03:46

3

Chicken Soup

05:14

4

Sleep Poem

08:21

5

Catch and Release

05:10

6

How Now

04:55

7

Interlude

01:08

8

The Other Charlie

02:40

9

See Ya

03:59

10

Hidden Stairway

06:01

11

Nimbus

04:09

12

This Myth

04:18

Total Runtime

54:59
Info for Shadowbox

Here is the first release by accordionist/pianist Rob Reich's new quintet. Ten beautiful compositions by Rob, gorgeously recorded. Featuring Ila Cantor, guitar; Ben Goldberg, clarinet; Todd Sickafoose, bass; and Eric Garland, drums. From the liner notes by Ben Goldberg: "My friend Rob Reich has been called to the world of music in many ways: advisor, contemplative, crafty instigator, master of the perfect phrase. With the present release we receive the blessing of Rob's talents as composer and bandleader. I have often wondered at the sources of Rob's ability to compose and improvise music that is always right on target. You could say that one of his gifts is an ability to speak from different worlds simultaneously: he is a master of succinct revelation, of vaporous extremes that get right to the heart, of plainspoken abandon. Also Rob is funny, in that way of being funny that uncovers some serious truths about the world and sets them in their proper relation. Of course, the real key to understanding Rob Reich is also the most enjoyable, and here it is. Shadowbox: step right in, glance around, believe me there's something you really need to hear."
"Listeners might easily overlook the fact that each track was recorded live in the studio — at least until the final song, "This Myth," when Reich actually counts off the catchy romp for accordion, bass and drums. With lyrics, it might be a story-song from coal-mining country. The leader alone solos on this one, and his expansive, expressive playing renders the album's last tall tale unforgettable." (Warren Allen, jazziz.com)
"Reich creates soundscapes brimming with half-buried feelings and memories just out of reach." (Andrew Gilbert, KQED)
Rob Reich, accordion, piano
Ila Cantor, guitar
Ben Goldberg, clarinets
Eric Garland, drums
Colin McCuen, bass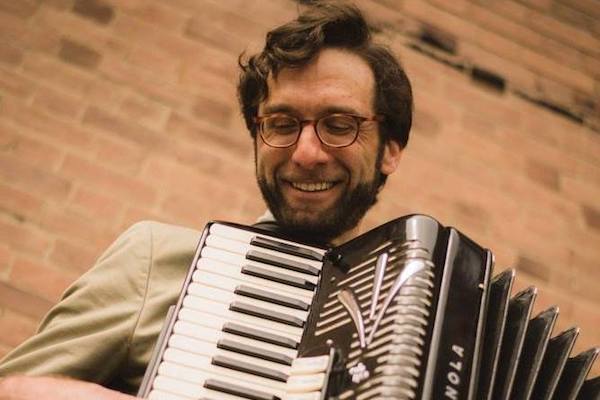 Rob Reich
is quintessentially what makes the San Francisco music scene a vibrant and vital mecca for independent music; he's become one of its stalwart underground artists. His music defies genre, combining strong melodic ideas, rhythmic drive, and a spirit of irreverence and experimentation. He is best known for his work with Tin Hat, Gaucho, and Circus Bella.
"Rob's music is just like he is: guileless, thoughtful, playful and charming. His music wears a bowler hat and a pair of Chuck Taylors." - Carla Kihlstedt "A master of succinct revelation, of vaporous extremes that get right to the heart, of plainspoken abandon." - Ben Goldberg "Whatever context he's in, Reich transforms it into a creative hothouse where thousands of musical flowers bloom." -Andy Gilbert, East Bay Express
Rob Reich grew up in Long Island, New York, studying piano from age three. After graduating with a degree in Music Composition from Oberlin Conservatory of Music, he moved to the San Francisco Bay Area, where he discovered the accordion, now his primary instrument.
Reich's music defies genre. Whether it's composing art songs based on the poetry of E E Cummings with Tin Hat, writing circus music for Circus Bella, or composing jazz repertoire for accordion with the Rob Reich Trio, his music combines strong melodic ideas, rhythmic drive, and a spirit of irrevence and experimentation.
In 2013 he was commissioned to compose and produce a score for "The Stranger: Part 1", a full length modern dance piece by David Herrera Performance Company. In 2011, he receieved a commission from Yerba Buena Gardens Festival to compose "Sidewalks and Alleys" for a seven piece chamber ensemble. His accompaniment skills have found him performing live soundtrack to silent films, including Buster Keaton's "The Playhouse" and Dave Fleischer's "Bimbo's Initiation".
He plays in the acclaimed jazz groups Gaucho, Nice Guy Trio, and Prez Kids, and has performed at venues including the Monterey Jazz Festival, Yoshi's, SFJAZZ, Yerba Buena Gardens, Symphony Space, and Joe's Pub.

This album contains no booklet.