---
Album info
Album including Album cover Booklet (PDF)
I`m sorry!
Dear HIGHRESAUDIO Visitor,
due to territorial constraints and also different releases dates in each country you currently can`t purchase this album. We are updating our release dates twice a week. So, please feel free to check from time-to-time, if the album is available for your country.
We suggest, that you bookmark the album and use our Short List function.
Thank you for your understanding and patience.
Yours sincerely, HIGHRESAUDIO
Joseph Aloys Schmittbaur (1718 - 1809): Symphony in F Major:

1

Symphony in F Major: I. Allegro molto

02:43

2

Symphony in F Major: II. Andante molto

03:36

3

Symphony in F Major: III. Menuetto - Trio

03:00

4

Symphony in F Major: IV. Presto assai

03:37

Symphony in B-Flat Major, Op. 2, No. 3:

5

Symphony in B-Flat Major, Op. 2, No. 3: I. Allegro assai

05:32

6

Symphony in B-Flat Major, Op. 2, No. 3: II. Allegretto

03:23

7

Symphony in B-Flat Major, Op. 2, No. 3: III. Menuetto - Trio

03:30

8

Symphony in B-Flat Major, Op. 2, No. 3: IV. Rondo. Andantino - Prestissimo

06:43

Symphony in E-Flat Major, Op. 2, No. 1:

9

Symphony in E-Flat Major, Op. 2, No. 1: I. Allegro con spirito

03:25

10

Symphony in E-Flat Major, Op. 2, No. 1: II. Andante cantabile

02:33

11

Symphony in E-Flat Major, Op. 2, No. 1: III. Menuetto - Trio

03:18

12

Symphony in E-Flat Major, Op. 2, No. 1: IV. Rondo. Allegro assai

02:05

Symphony in C Major:

13

Symphony in C Major: I. Adagio pianissimo - Allegro assai

09:17

14

Symphony in C Major: II. Romance. Adagio molto

04:37

15

Symphony in C Major: III. Menuetto. Allegro - Trio

03:53

16

Symphony in C Major: IV. Prestissimo

04:16

Total Runtime

01:05:28
Info for Schmittbaur: Symphonies

In 1776, Carl Ludwig Juncker wrote enthusiastically about the music of Joseph Aloys Schmittbaur (1718-1809): "Inexhaustible for any kind of music, with a special peculiar beauty, dignity and truth". The new recording by Werner Erhardt and his ensemble L'arte del mondo with selected symphonies by Schmittbaur, all but one of which were composed in Cologne, proves that this unjustly forgotten composer wrote great music.
Schmittbaur, who was born in Bamberg, received his training from the Würzburg court organ builder Johann Seuffert, and was also a pupil of Niccolo Jacomelli in Bologna. In 1754 he was appointed to the Rastatt court chapel, becoming its Kapellmeister in 1766. After the dissolution of the Rastatt Chapel, he was concertmaster in the Karlsruhe Court Chapel. From January 1775 Schmittbaur was appointed Cathedral Kapellmeister in Cologne, where he had a lasting influence on musical life through the concerts of the "Musical Academies". In 1777 he became court kapellmeister in Karlsruhe, where he helped the chapel there to achieve a high reputation. After Schmittbaur's death, his music was long forgotten. But unjustly so, as this recording by l'arte del mondo under the baton of conductor Werner Ehrhardt shows. Three symphonies Op. 2 (1776) are heard, which date from Schmittbaur's time in Cologne as Cathedral Kapellmeister and have a cheerful, sometimes even humorous character throughout. The fourth symphony is entitled "bey Gelegenheit der Höchsten Vermählung" and was composed by Schmittbaur in 1797 for the wedding of the daughter of the hereditary prince of Baden, Carl Ludwig. This late work also proves to be a colourfully orchestrated piece rich in contrast.
Werner Erhardt is enthusiastic about this first recording on the German harmonia mundi label: "Schmittbaur possessed unbroken creative power and great ingenuity up to a ripe old age. In the symphonies, one can see very well how very individually he developed his very own formal concepts and composed in an immensely creative, witty, surprising and humorous way. Rarely have my musicians been in such a good mood as when recording his music. The people of Cologne would say: 'Von nix kütt nix', and that is, so to speak, the greatest praise!"
L'Arte del mondo
Werner Erhardt, conductor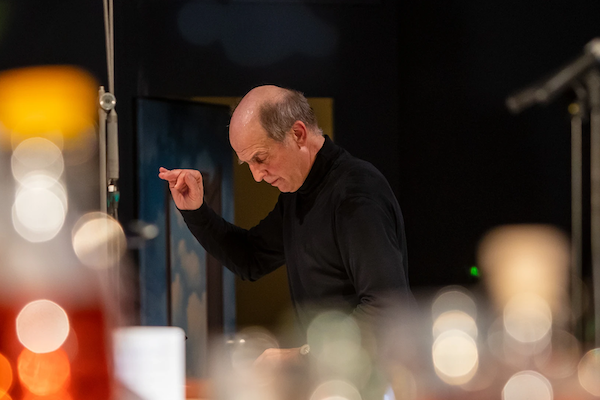 Werner Ehrhardt
Der Dirigent und Geiger Werner Ehrhardt, einer der großen Pioniere der deutschen Originalklangszene, ist Spezialist für die sogenannte Alte Musik und die Frühklassik. Er steht für eine eigenständige, unverwechselbare historisch informierte Interpretation von orchestralen und vokalen Werken. Dabei geht sein Interesse auch immer wieder weit über den Tellerrand der westeuropäischen Musik hinaus. Durch seine Aufgeschlossenheit für Neuerungen, künstlerische Neugierde, ansteckende Begeisterung und musikalische Weltoffenheit in der Arbeit mit Orchestern fasziniert Werner Ehrhardt seine Musiker, das Publikum und die Presse.
1985 gründete Werner Ehrhardt das heute weltweit renommierte Kammerorchester Concerto Köln, das er bis 2005 leitete und mit dem er einen charakteristischen Interpretationsstil der historischen Aufführungspraxis entwickelte und prägte. 2004 baute er das Orchester l'arte del mondo auf und wandte sich zudem als freier Dirigent auch den traditionellen Orchestern zu.
Seither gastierte er mit großem Erfolg bei zahlreichen internationalen Opern-, Sinfonie- und Kammerorchestern wie dem Staatsopernorchester Stuttgart, dem Konzerthausorchester Berlin, dem Berner Sinfonieorchester, den Hamburger Sinfonikern, dem Stuttgarter Kammerorchester, der Kammerakademie Potsdam, dem Orchestre de Chambre de Genève, dem Züricher Kammerorchester oder dem Vojvođanski Simfonijski Orkestar. 2019 dirigierte er u.a. Haydns "Orlando Paladino" am Musiktheater im Revier Gelsenkirchen, das Südwestdeutsche Kammerorchester Pforzheim und das Philharmonische Orchester Gießen. 2020 leitet er u.a. die spartenübergreifende Gelsenkirchener Produktion von Monteverdis "L'Orfeo".
Werner Ehrhardt arbeitete mit Solisten wie Edita Gruberová, Magdalena Kožená, Barbara Hendricks, Christine Schäfer, Nils Mönkemeyer, Andreas Scholl, Olli Mustonen, Christiane Oelze, Xavier de Maistre, Daniel Hope, Viktoria Mullova, Daniel Müller-Schott, Dorothee Oberlinger, Avi Avital, dem RIAS Kammerchor und dem Tölzer Knabenchor zusammen. ​
Im Bereich Oper, Oratorium und mit konzertant-sinfonischem Repertoire sind unter Werner Ehrhardts Leitung bereits an die 70 CD-Aufnahmen entstanden, die vielfach mit internationalen Preisen ausgezeichnet wurden. Unter den Einspielungen finden sich etliche Wiederentdeckungen vergessener Komponisten (beispielsweise Joseph Martin Kraus, Pasquale Anfossi, Josef Mysliveček und Franz Xaver Sterkel), die mit großer Begeisterung wieder ins Bewusstsein der Zuhörer gespielt wurden. 2018 erschienen bei dhm/Sony Sinfonien von Anton Zimmermann, 2019 ebenda die Aufnahme von Salieris Oper La Fiera di Venezia sowie Bach'sche Oboenkonzerte mit Céline Moinet bei Berlin Classics. 2020 veröffentlichte dhm/Sony seine Einspielung der Oper Scherz, List und Rache von P.C. Kayser nach einem Libretto von J.W. von Goethe. 2021 erschien bei Sony Classical ein gemeinsames Album mit l'arte del mondo und dem Bratschisten Nils Mönkemeyer.
Der gebürtige Kölner erhielt seine Ausbildung in historischer Aufführungspraxis bei Prof. Franzjosef Maier, Köln, Sigiswald Kuijken, Brüssel sowie im Dirigat bei Prof. Karl-Heinz Bloemeke in Detmold. Fortwährende Neugierde und ein ausgeprägtes Interesse an den unterschiedlichen Zugängen zur Musik führten ihn zu weiteren intensiven Studien bei den Pädagogen Kato Havas, Oxford und Prof. Renate Peter, Köln.
l'arte del mondo
Das Orchester l'arte del mondo, 2004 von seinem künstlerischen Leiter Werner Ehrhardt gegründet, sieht sich in der Tradition der so genannten Alten Musik auf historischen Instrumenten. Genauso widmet es sich aber auch dem Spiel auf modernem Instrumentarium und einem Repertoire bis hin zur zeitgenössischen Musik. Eines der Markenzeichen von l'arte del mondo sind seine ausgefallenen Programme, darunter musikalisch-interkulturelle Begegnungen, Opernprojekte sowie Ausgrabungen vergessener Werke. Darüber hinaus arbeitet l'arte del mondo regelmäßig mit renommierten Solisten zusammen. Von seinen dreißig CD-Einspielungen sind nicht wenige preisgekrönt.
Werner Ehrhardts während eines Italien-Urlaubs entstandener Wunsch, verstärkt abseits des üblichen Konzertkanons zu denken, neue Schnittmengen zwischen Alter Musik und anderen Genres zu finden und darauf hinzuarbeiten, musikalisch-interkulturelle Brücken zu bauen, nahm 2004 mit seiner Gründung des Ensembles l'arte del mondo Gestalt an. Musikalische Mitstreiter waren schnell gefunden und sind mitunter bis heute fester Bestandteil des Ensembles, dem Werner Ehrhardt nach wie vor als künstlerischer Leiter vorsteht. Zu den ersten realisierten Projekten gehörten Harem - La Fête du Sérail mit dem türkischen Pera Ensemble und die gemeinsame Produktion von Glucks Oper "Le Cinesi" mit Akteuren der Chinese National Peking Opera Company.
Die historische Aufführungspraxis ist der Ausgangspunkt des Ensembles und seiner Arbeit. Eines der Markenzeichen von l'arte del mondo sind ausgefallene, höchst innovative Programme, mit denen es weit über den Tellerrand des gängigen Konzertbetriebs und damit in dessen Zukunft schaut. Hierzu zählen genreübergreifende Projekte mit dem türkischen Pera Ensemble (Carneval Oriental, Entführung alla Turca), mit Künstlern der Peking-Oper (Gluck Le Cinesi) oder israelischen und palästinensischen Musikern (Israel in Egypt, Night in the Desert). Mit Daniel Hope und The Four Seasons Recomposed, Max Richters sensationell erfolgreicher Neubetrachtung von Vivaldis Vier Jahreszeiten, ist l'arte del mondo auf der ganzen Welt zu Gast gewesen. Ein weiterer Höhepunkt war die aufsehenerregende vertanzte Matthäus-Passion-2727 mit der israelischen Kamea Dance Company, die sowohl in Deutschland als auch in Israel zur Aufführung kam, u.a. am Jerusalem Theatre. Erneute Aufführungen sind für die Passionszeit 2022 geplant.
l'arte del mondo arbeitet regelmäßig mit renommierten Solisten zusammen, so beispielweise mit Daniel Hope, Nils Mönkemeyer, Daniel Müller-Schott, Dorothee Oberlinger, Avi Avital oder Xavier de Maistre.

Booklet for Schmittbaur: Symphonies