---
Album info
Album including Album cover
I`m sorry!
Dear HIGHRESAUDIO Visitor,
due to territorial constraints and also different releases dates in each country you currently can`t purchase this album. We are updating our release dates twice a week. So, please feel free to check from time-to-time, if the album is available for your country.
We suggest, that you bookmark the album and use our Short List function.
Thank you for your understanding and patience.
Yours sincerely, HIGHRESAUDIO
1

Two Shots (feat. gnash)

02:59

2

Pretend

02:28

3

Man In Black

02:18

4

210 Lilac Sky

03:32

5

In the Light of the Moon (feat. lil aaron)

02:25

6

Never & Always

02:31

7

Cabin

03:17

8

WYWH

03:13

Total Runtime

22:43
Info for Infinite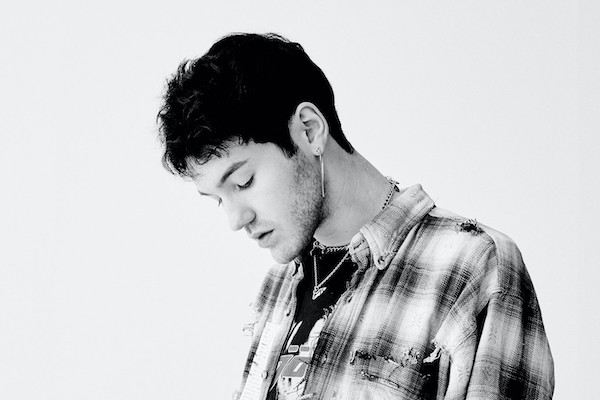 Goody Grace
My name is Goody Grace…it's nice to meet you. I'm from a super small town in the middle of Canada called Selkirk, Manitoba where it's pretty much winter all year. I had never been on an airplane until I was sixteen and came to L.A. for the first time. I didn't go back.
As a kid, I lived in my grandma's trailer with my grandma, my mom, and my brother. It was a very influential part of my life. It was where I started playing guitar at four. My mom and grandma put me on to Elvis and Johnny Cash; my brother got me into blink-182, Green Day, and Three 6 Mafia. My uncle turned me on to The Pixies, The Smiths, Morrissey, and The Cure. In high school, I discovered the Misfits. I also loved The Twilight Zone, The Simpsons, and Jack Kerouac as well as other novelists from the Beat generation. When I was nine, I got a laptop for Christmas and I taught myself how to produce using Garage Band. I gave everyone a burned CD of me singing Johnny Cash and Nirvana with all of my own production.
I think I went to high school for about a year. I couldn't focus on anything else but music. I heard stories of people like Bob Dylan and Tom Waits, and those stories put a desire in my soul. "Born To Run" by Springsteen changed my life and inspired me so much so that I have it tattooed on my hand.
Once I got to L.A., I never stopped moving around and I just started putting out music. I headlined my first sold out show at The Roxy in 2017. Someone from Rick Rubin's team was backstage and after the show, he invited me to Rick's house in Malibu the next day. I remember Rick and I sat and just talked for hours. We didn't even listen to music. 24 hours later, they said, "Rick wants to sign you to a publishing deal."
It was crazy surreal.
At the time, I was technically homeless, living on my manager's floor and trying to figure it out. The deal allowed me to move into my first apartment in L.A.
Not long after, I did a song with my boy gnash called "two shots," and it went crazy.
Along the way, I started making this project, Don't Forget Where You Came From. It's a funny phrase, because people typically say it in a spiteful or condescending way. But for me, I don't think there's a possibility I could ever forget where I came from because it's so buried in my roots and in my blood. It completely made me who I am. I feel like I am Selkirk. I'll wear that everywhere I go.
As much as I am this place, I am also all of the music I grew up on you can hear that when you listen to the project. In a way, I tried to approach this with the same personal touch as if I was burning a mix (or creating a playlist) for a friend.
I've got one of my idols Juicy J on "North," and I'm singing, "You know where I'm from, top of the map, I can't forget." I used to listen to G-Eazy's first mixtapes all the time and now he's one of my best friends on earth. He's on "Nothing Good" with Juicy J. I never thought I'd make it out of Selkirk, but I was going to do anything to fulfill this dream. Track two on the project "Not Coming Home" has Travis Barker on drums. There's a blink-182 vibe but it's lyrically like old Springsteen. I've got blink-182 on "Scumbag," which is an absolute dream come true. It's a loose concept album, but it isn't a typical story.
On the intro "Don't Forget," the opening line is, "Wear this smile, but ain't shit funny where I'm from, some of my friends sell records, some of my friends sell drugs." There's not much else around Manitoba but trouble. I'm in Hollywood with some of my heroes, but I still talk to everyone back home just as much. "Auburn" explains how tough it can be trying to figure out life with no direction. "Hope That You Miss Me" and "Used To Be" are very introspective. The whole record tells the story of the last ten years of my life—from sitting in the classroom, smoking weed, trying to find a way to make something of myself, and freezing my ass off in the cold to going through the trenches without knowing if it would work out, dropping songs, and finally letting people know how I got here on my first full-length.
Coincidentally, I ended up going back to Manitoba from October to December 2020 to quarantine for the holidays and ended up finishing the project there. I had no clue that it was exactly what I needed. I'd go over to my grandma's house, we'd have lunch and I would work on my laptop. I did "Don't Forget," "Not Coming Home," "North (Feat. Juicy J)," "Winter (Feat. Burna Boy)" and "On Repeat (Feat. Cigarettes After Sex & Lexi Jayde)" while in Manitoba.
Looking at Selkirk now, the trailer park got demolished in 2017. My grandma, mom, and brother have all moved out of town. Since home really is gone, there's truly no going back for me. This fact fueled me to create my own life and carve my own story. I'm finally telling it now.
I wouldn't even be alive if it wasn't for music. I certainly wouldn't have left my hometown. If this project inspires one person, who's lost, to follow a dream, there would be nothing better...
...because I keep following mine.

This album contains no booklet.