---
Album info
Album including Album cover
I`m sorry!
Dear HIGHRESAUDIO Visitor,
due to territorial constraints and also different releases dates in each country you currently can`t purchase this album. We are updating our release dates twice a week. So, please feel free to check from time-to-time, if the album is available for your country.
We suggest, that you bookmark the album and use our Short List function.
Thank you for your understanding and patience.
Yours sincerely, HIGHRESAUDIO
1

The Life And Death Of Mr. Badmouth (Demo)

04:54

2

Shame (Demo)

02:34

3

Who The Fuck? (Demo)

02:16

4

The Pocket Knife (Demo)

03:42

5

The Letter (Demo)

03:23

6

The Slow Drug (Demo)

03:19

7

It's You (Demo)

03:43

8

The Desperate Kingdom Of Love (Demo)

02:41

9

The Darker Days Of Me & Him (Demo)

04:34

Total Runtime

31:06
Info for Uh Huh Her - Demos

Collection of unreleased demos written for the sixth PJ Harvey studio album Uh Huh Her, including demos of "The Letter" and "Shame." Features brand new artwork with previously unseen photos by Maria Mochnacz. Artwork is overseen by Maria with Rob Crane. Mastering by Jason Mitchell at Loud Mastering, under the guidance of longtime PJ Harvey producer Head.
Written, recorded and produced over two years by Harvey herself, with almost every instrument on the album played by Harvey (the only exception being the final drum tracks, which have been added by Rob Ellis), Uh Huh Her is Harvey's highest charting album to date in the US, with the record also reaching No. 12 in the U.K.. It gained her another BRIT Award nomination for Best British Female Artist, as well as a fifth Grammy® Award nomination, for Best Alternative Music Performance of 2004.
The release will be accompanied by full restorations of the videos for 'Shame', 'You Come Through' and 'The Letter'.
"Raw, dark and beautiful…a jagged, edgy winner" – Entertainment Weekly
"A thrilling, bone-rattling barrage, interleaved with moments of hushed, accordion-flecked intimacy whose closeness and apparent candour make you want to shield yourself from their passion" – Sunday Times
"An extremely potent record... that contains more perspectives, characters and camera angles than maybe any PJ album to date" – Hot Press
PJ Harvey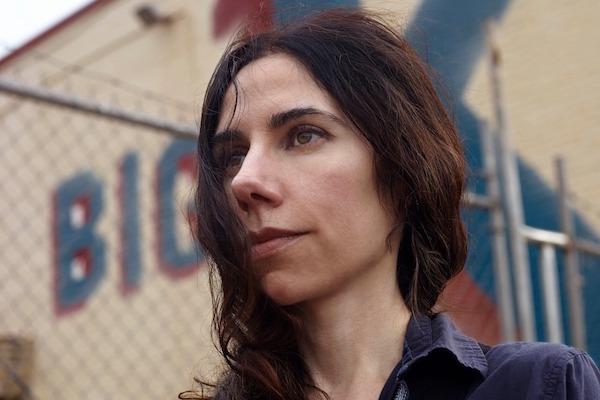 PJ Harvey
From the outset of her career, the work of PJ Harvey has commanded attention. She formed the eponymous bass/drums/guitar trio in 1991 in Dorset, England and by the autumn had released the debut single 'Dress' on independent label Too Pure. Dry, released the following month was hailed as an astonishing debut album, not just in the UK but worldwide and particularly in the United States, where Rolling Stone magazine named Harvey 'Best Songwriter' and 'Best New Female Singer' of 1992.
In 1993, PJ Harvey signed to Island Records and released her second album Rid Of Me. The album, supported by a lengthy world tour which drew increasingly wide audiences, garnered Harvey her first Mercury Music Prize nomination. The original trio dissolved and Harvey's solo work '4-Track Demos' was released in the autumn of 1993. To Bring You My Love, an eclectic and starkly original album, followed in 1995, and was accompanied by a tour that saw Harvey explore a more theatrical edge to her live performance. She received her second Mercury Music Prize nomination, two Grammy Award nominations, and 'Artist of the Year' Awards from both Rolling Stone and Spin.
Her fourth album Is This Desire?, released in September 1998, attracted plaudits globally gaining several BRIT and Grammy Award nominations. The much anticipated follow up, Stories From The City, Stories From The Sea, was released in October 2000 and went on to win Harvey's first Mercury Music Prize. 'Stories...' was supported by a sold-out worldwide tour. After a summer of live dates, including the first rock concert to be held at London's Tate Modern gallery, Harvey finished work on her next album Uh Huh Her. The supporting tour saw Harvey perform to sold out rooms in South America for the first time. White Chalk was PJ Harvey's critically-acclaimed seventh studio album, which marked a departure for Harvey as it was composed almost entirely on piano. It was supported by a string of notable solo performances including Manchester International Festival, The Royal Festival Hall, the Hay-On-Wye Festival of Literature, the New Yorker Festival, Sydney Opera House and a performance at Copenhagen Opera House for the Crown Prince couple.
In 2006 'PJ Harvey: The Peel Sessions' was released, a collection of Harvey's recordings for the veteran British broadcaster John Peel, spanning her career to date.
PJ Harvey's 2011 album, Let England Shake, was created with a cast of musicians and long-standing collaborators Flood, John Parish, and Mick Harvey. The songs focus on both her home country, and events further afield in which it has embroiled itself. The record evokes the troubled spirit of its time, whilst also looking back through our history. Let England Shake won Harvey her second Mercury Music Prize, setting her apart as the only artist to have won the award on two occasions, an achievement recognised by The Guinness Book Of Records. The album was also awarded 'Album of the Year' at the 2012 Ivor Novello Awards and was named #1 Album of the Year by numerous publications including The Sunday Times, Los Angeles Times, Mojo, Uncut, Washington Post, The Quietus, The Guardian, NME, Spin, HMV, Sydney Morning Herald, Le Matin, OOR Magazine, Irish Times, Musikexpress, The Independent, The Sunday Telegraph, Stool Pigeon and BBC Music.
Harvey began collaborating on visual projects with respected photojournalist Seamus Murphy in 2011. Murphy, an award-winning photographer, has spent over two decades documenting the world through his lens. His work has taken him to Rwanda, Eritrea, Kosovo, Iran, Afghanistan, Iraq and Syria. 'Let England Shake: 12 Short Films By Seamus Murphy' served as a visual accompaniment to the album, with each track having its own short film.
PJ Harvey has collaborated with a wide range of musicians, including Thom Yorke, Nick Cave, Tricky, Björk, Hal Wilner, Howe Gelb of Giant Sand, Pascal Comelade, Gordon Gano of Violent Femmes, and Sparklehorse. She joined Josh Homme (Queens of the Stone Age) on his critically acclaimed 'Desert Sessions' project [2003] and worked with Mark Lanegan on his solo album, 'Bubblegum'. Harvey produced the debut album by American artist Tiffany Anders and also wrote, recorded & produced material for Marianne Faithfull's 'Before The Poison' [2004].
In 1996 she worked with John Parish on Dance Hall At Louse Point, both an album and a live accompaniment to the Mark Bruce Dance Company production of the same name. The follow-up collaboration with Parish entitled A Woman A Man Walked By, was released in 2009 ahead of an extensive tour of Europe and America. The video for the first single, 'Black Hearted Love', was directed by the acclaimed British artists Jake & Dino Chapman.
In 2009 Harvey composed the soundtrack for renowned Director Ian Rickson's New York production of 'Hedda Gabler'. They worked together again in 2011 on the music for Ophelia in 'Hamlet' at the Young Vic starring Michael Sheen, and more recently collaborated to score the music for his highly acclaimed 2014 production of 'Electra' at The Old Vic starring Kristin Scott Thomas.
PJ Harvey contributed original music to the soundtrack for Mark Cousins' film 'What's This Film Called Love?' as well as for BBC television series 'Peaky Blinders' starring Cillian Murphy, and BBC Radio 4 Drama productions 'Eurydice and Orpheus' by Simon Armitage and 'Orpheus and Eurydice' by Linda Marshall Griffiths. Other projects have included soundtrack work on the films 'Basquiat' by Julian Schnabel, 'Stella Does Tricks' by Coky Giedroyc, 'The Cradle Will Rock' by Tim Robbins and 'Six Feet Under'.
PJ Harvey also appeared as Mary Magdalene in Hal Hartley's movie 'The Book of Life' in 1999.
Harvey made a guest appearance on BBC1's Andrew Marr Show in May 2010, the week before the UK General Election. She was interviewed by Marr and performed 'Let England Shake' in front of Marr's other guest, the then Prime Minister, Gordon Brown. She was invited back on the show in April 2011 alongside Brown's successor, Prime Minister David Cameron, and performed the song 'The Last Living Rose'.
A multi-instrumentalist, PJ Harvey is primarily a vocalist and guitarist while also an accomplished player of the autoharp. In addition to her musical career Harvey paints, draws, sculpts, and writes poetry.
Summer 2010 saw Harvey guest design Francis Ford Coppola's art & literary magazine; Zoetrope: All-Story. The issue featured her previously unseen paintings, sculpture and drawings.
In August 2013 PJ Harvey released a new song, 'Shaker Aamer', to highlight the detention of the then last British resident held without trial inside the US prison at Guantánamo Bay. The track was streamed exclusively on The Guardian's website and received positive worldwide attention.
She gave her debut public poetry reading at the British Library, and was a guest editor on BBC Radio 4's Today Programme in December 2013. Harvey was also awarded an MBE for services to music. In 2014 she was awarded an Honorary Degree in Music by Goldsmiths University.
PJ Harvey's first collection of poetry titled The Hollow of the Hand, in collaboration with photographer Seamus Murphy, was published by Bloomsbury UK in October 2015. To celebrate the release Harvey and Murphy presented The Hollow of the Hand show - an evening of poems, new songs, images and conversation – two sold out nights at the Southbank Centre's Royal Festival Hall as part of the London Literature Festival 2015.
On 4th November 2015, PJ Harvey appeared alongside Irish poet Paul Muldoon in a new experimental series of 'in conversation' style evenings called 'Soundings at the Byre', created by the University of St. Andrews' new International Writer in Residence, Reif Larsen, and Professor of English, Don Paterson.
In spring this year, PJ Harvey releases her ninth studio album, The Hope Six Demolition Project, documenting a unique artistic journey, which took her to Kosovo, Afghanistan and Washington, D.C. The album was recorded during a month-long residency, "Recording in Progress", in early 2015 at Somerset House during which audiences were given the opportunity to observe Harvey at work with her band and producers in a purpose-built studio housed in the basement of the iconic London building.
PJ Harvey will play a number of select festival dates across Europe this summer including Field Day in London on Sunday 12th June.

This album contains no booklet.