---
Album info
Album including Album cover
1

Was Die Welt Im Innersten Zusammenhaelt

07:09

2

Tiefe Nacht

05:24

3

Die Tat Ist Alles, Nichts Der Ruhm Teil 1

11:12

4

Die Tat Ist Alles, Nichts Der Ruhm Teil 2

05:35

5

Die Tat Ist Alles, Nichts Der Ruhm Teil 3

07:01

Total Runtime

36:21
Info for Tiefe Nacht - Jazz Thing Next Generation Vol. 95

The Leipzig bassist Andreas Pientka sets massive, monumental music in scene with his tentet on "Tiefe Nacht" (trans.: Deep Night). Seven brass players – two trumpets, a trombone, a tuba and three saxophones – as well as a rhythm group composed of Pientka himself as well as the pianist Niklas Roever and the drummer Alex Parzhuber bring the music to life, and the flutist Camila Moukarzel-Ortega also intervenes occasionally in the action. Pientka actually composed this music for orchestra, but the Corona pandemic thwarted his goal and so he opted for this brass-heavy and much more jazz-inspired instrumentation. "I had the feeling that brass players can more easily switch between classical and jazz and, above all, improvise," Pientka said, who has ample experience with wind instrument movements from his time with the JugendJazzOrchester of North Rhine-Westphalia and the BundesJazzOrchester.
Pientka was inspired by the composition process of Goethe's "Faust", and the elementary questions of a place in the world also occupy the bassist's mind. "I was always interested in many different things, but always kept dealing with the core question of my musical place in this regard," Pientka explained. "That's what drove me. I am driven by a certain restlessness and never had the feeling of having found my place. This search never stops and leads you to try out new things and develop further."
Andreas Pientka was born in Datteln in the northern Ruhr area in 1993, a city that is considered the largest canal junction in Europe. As a teenager, he was interested in rock music, but his interest in jazz was aroused when he joined a big band in a music school. "When I heard 'Sunday at the Village Vanguard' by Bill Evans, I noticed how virtuoso Scott La Faro played and how present the bass can be," the bassist recalled. "Paul Chambers was also a big influence. and I switched to the double bass."
Pientka began his studies at the Folkwang University of the Arts in Essen; his teachers included John Goldsby, Dieter Manderscheid and Robert Landfermann. He experimented with many genres parallel to his studies. He became a member of the BundesJazzOrchester, had his own trio and played in bands that were in the top 40 of the charts. But classical music was also constantly in his mind, and he finally took classical double bass lessons from Gisèle Blondeau from the WDR Radio Orchestra starting in 2019. In addition to his jazz studies, he also began a classical double bass course, which took him to Leipzig. All of this can be heard in the dense, gripping music of "Tiefe Nacht", which again and again takes the time for solo improvisations and reduced interludes, in which the bass takes the lead or piano and drums set important accents "Piano and percussion provide a kind of basic framework and act rather supportively," Pientka stated. "Both are very, very important to make dynamics clear and to contribute this special jazz vibe."
"Tiefe Nacht" tries not only to synthesize jazz and classical music, but also tradition and modernity, because Pientka is a sound inventor who wants to get to the bottom of things. "I found this search for the origin particularly interesting," the bassist said. "That's why I can identify with 'Faust', who doesn't know where his place is in the world. "With the musical world manifesting itself on "Tiefe Nacht", Pientka has at least once found his place as a daring and sometimes audacious composer and musician. Or to put it in the Goethe quote that gave the name to Pientka's three-part suite: "The deed is everything, glory is nothing".
Cay Schmitz, trumpet, flugelhorn
Christian Mehler, trumpet, flugelhorn
Philipp Schittek, tenor trombone
David Bernds, bass trombone, tuba
Julius van Rhee, alto saxophone, clarinet, flute
Marc Doffey, tenor saxophone, soprano saxophone, clarinet, flute
Ole Sinell, baritone saxophone, bass clarinet
Alex Parzhuber, percussion
Niklas Roever, piano
Andreas Pientka, double bass, composition
David Heiss, direction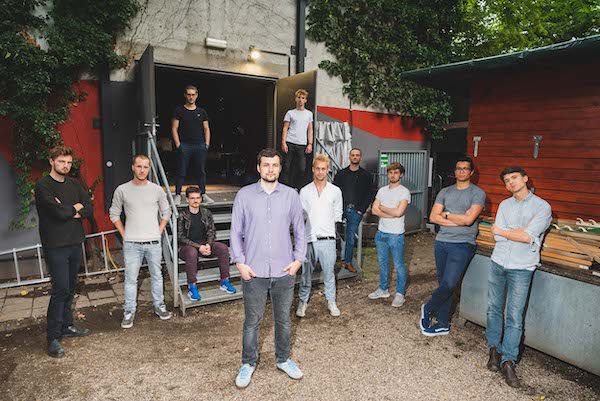 Andreas Pientka
Andreas Pientka grew up at the largest canal junction in Europe, between former coal heaps, power plant towers and industrial ruins. Early on he feels a strong attraction to music, starts learning to play the guitar and quickly realizes that something is missing. Where's that groove, that deep, organic hum he feels inside?
He realizes that the bass provides him with those missing elements. The end of the search for the right instrument is also the beginning of a new, much more profound journey: the perfect tone, your own musical language and personal development - for Andreas Pientka these things have been inextricably linked ever since.
He begins his studies at the Folkwang University of the Arts in Essen and is taught by John Goldsby, Dieter Manderscheid and Robert Landfermann. In the years that followed, Pientka, who describes himself as a traditionalist when it comes to music, constantly seeks and tinkers with the transformation of tradition into modernity. After all, modernity without tradition? Jazz without a story? After all, that would be like the Ruhr area without coal mines, New York without jazz and Andreas Pientka without the double bass. It just doesn't work.
During his studies, Pientka always had new opportunities to test the limits of his instrument. He becomes an integral part of the Federal Jazz Orchestra, writes for his own trio, goes on tour with pop bands and plays on every stage that can bear the weight of him and his double bass. Encounters with musicians from different genres challenge Pientka anew, allow him to work on his playing and open up new perspectives for him. It is only logical that precisely these new perspectives open up his latest field of research. What would music be without Mozart, Brahms or Beethoven? And what would the restless Pientka be without taking on the task of exploring the precision and sound aesthetics of classical music?
But what always remains for Pientka is jazz - whether as a technical field of research, an explosive area for experimentation or a philosophical treatise. The best thing about it, he says, is that everyone is allowed to be who they are and what they want to be. The only thing that counts is to keep moving forward and to find your own, very personal language.

This album contains no booklet.