---
Album info
Album including Album cover
1

It's The Cops

06:36

2

For You

06:26

3

Pete

06:00

4

I'm Starting to Smile Again

04:59

5

Meaningful Moments

06:14

6

Medium

05:25

7

I Love You

01:45

8

Africa

07:20

Total Runtime

44:45
Info for Until Now

Ron is a rising jazz guitarist and composer from Tel Aviv. He started his musical journey when his grandfather taught him to play violin and at the age of 10, Ultimately, he fell in love with the guitar, which remains his main instrument.
Ron was inspired by the sound of the Hard Bop of the 1950s and 1960s. His music and his playing attempt to recreate the vibe and the sound of this genre while evolving modern concepts and sounds into a mixture of old and new. He is currently a student at The New School in New York, after being awarded a scholarship from the New School in 2018.
Ron describes his debut project: "I truly believe that 'Until Now' describes exactly who I am as a musician and as a human being. When the pandemic started and I had to leave my new home in New York, hold my studies for a while and return to Tel Aviv, my hometown. Those days were tough for me. To feel that emptiness and depression made me realize how passionate I am about recording and playing my music live and I knew that it was finally the right moment for me to record my debut album and to play my music again."
Ron called on some of his dearest friends to record the album with him…Avshalom Mediam (piano), Oren Hardy (bass) and the exceptional Ofri Nehemya (drums). Ron explains: "Working with Avshalom, Oren and Ofri was like a dream come true for me and I feel that our longstanding friendship helped us to find our sound as a band."
Regarding his new relationship with Ubuntu Music, Ron continues: "I'm so excited to join the Ubuntu Music family. To release 'Until Now' with Ubuntu is such a big honor for me and I'm truly grateful for the opportunity to share my music. Working with Ubuntu and Martin Hummel on this album was inspiring. I'm so glad to begin our journey together."
Ron Magril, guitar
Avshalom Meidan, piano
Oren Hardy, double bass
Ofri Nehemya, drums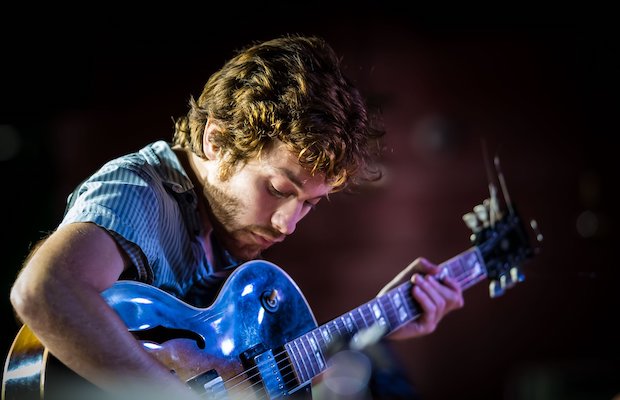 Ron Magril
was born on November 30, 1997 in Tel Aviv, Israel. He started his musical career from a young age, when his grandfather taught him to play the violin but later switched to the guitar and this is his main instrument ever since.
Ron studied at Ironi A School of the Arts in Tel Aviv and did a recital in JAZZ performance, which he graduated with honors after completing his 12 years of study. During his high school years, Ron worked on a number of projects in Israel and around the world, and at the same time studied with Ofer Ganor, who influenced him a lot, along with other teachers who helped him along the way.
Ron spent his military service in the Air Force and during his military service began studying for a bachelor's degree in the joint program of Stricker and the New School and in the past year Ron moved to New York to complete his studies in New York after receiving a scholarship from the New School.
In recent years, Ron has taken an active part in the Jazz and rock scene in Tel Aviv and New York and he often plays with the leading jazz players in Israel and the world.
Ron wins the America Israel Israel Excellence Scholarship in Jazz between the years 2018-2019,2019-2020, wins the Excellence Scholarship named after Ran Baron in 2016 and 2020, received a scholarship from HFLS, in 2018 he recieved a scholarship from the new school today, Ron is playing with the leading jazz musicians in israel while working on his debut album with his quartet, featuring original music that he wrote over the years.

This album contains no booklet.