---
Album info
Album including Album cover
1

Komm mit

06:36

2

Sigismund

03:26

3

Tanzen

06:10

4

Borstenvieh

04:28

5

Lippen schweigen

04:43

6

Die Blume

04:46

7

Ein Traum

05:07

8

Dein ist mein

03:45

9

Meine Lippen

05:47

10

Schenkt man

03:44

11

Zuaschaun kaun i ned

05:03

12

Unschuld

05:43

13

Arie vom toten Hund

02:21

Total Runtime

01:01:39
Info for Oparettet den Jazz

Die Operette, eine Melodienkette, klettenhaft uns Glück zu bringen das ist ihr Beruf.
Das Glück das sie besingen ist jedoch uns nur geliehen. Der Alltag holt uns immer ein, doch einer Sache sollten ganz gewiss wir sein.
In allen unsren Lebensdingen könnt dieses Glück verborgen sein.
Durchs Saxophon erklingen meist auf starken Schwingen diese Lebensdinge sanft in vollem Klange mild durchschwungen glänzt die Freiheit die wir uns errungen.
SaxoFOUR:
Florian Bramböck, tenor, baritone saxophone
Klaus Dickbauer, clarinet, bass clarinet, alto, baritone saxophone
Christian Maurer, soprano, tenor, baritone saxophone
Wolfgang Puschnig, alto saxophone, flute, alto flute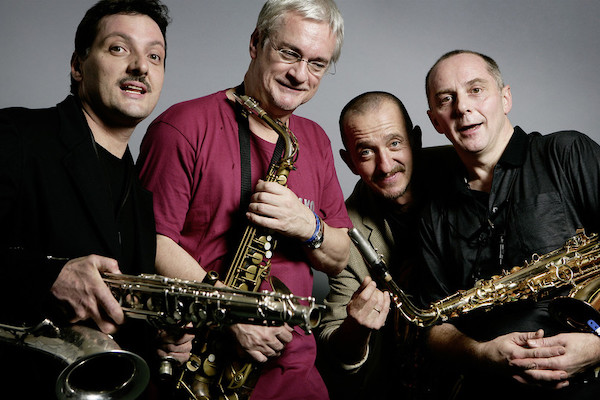 SaxoFOUR
Die ideale Kombination von Groove, Originalität, Geist und Virtuosität, bei der auch der Humor nicht zu kurz kommt.
Vier Individualisten, die sich logisch zu einer Einheit fügen, und das auf höchstem, musikalischem Niveau.
Vier der gefragtesten Saxophonisten zwischen Scheibbs und Nebraska.
Seit 27 Jahren feiert Saxofour jedes einzelne der mittlerweile ca. 700 gespielten Konzerte mit Behutsamkeit und vollster Freude. 13 Tonträger sind erschienen, die Programmthemen sind vielfältig: "our favourite filmsongs", das Mozartprogramm "Die Zaubertröte", music for all occasions, "Cinco" mit Mario Joao, "Gimme some of that" mit Don Alias, Eigenes mit "horns astray" und "vocalizind reeds", 4 Weihnachtsprogramme + eine Adventkalender DVD und "25 years of joy and fun"
Wir sind vom Ende unserer Möglichkeiten mit Sicherheit noch ungefähr genau 243 kg Notenpapier oder 27 Klangwolken weit entfernt, eher gewinnt jede und jeder von euch im Lotto, als dass uns nichts mehr einfällt.

This album contains no booklet.