---
Album info
Album including Album cover
I`m sorry!
Dear HIGHRESAUDIO Visitor,
due to territorial constraints and also different releases dates in each country you currently can`t purchase this album. We are updating our release dates twice a week. So, please feel free to check from time-to-time, if the album is available for your country.
We suggest, that you bookmark the album and use our Short List function.
Thank you for your understanding and patience.
Yours sincerely, HIGHRESAUDIO
1

Only You

03:05

2

Just the Way (44.1 kHz)

03:13

3

Backroad Girl (44.1 kHz)

03:02

4

Take My Name

02:37

5

I Do

02:40

6

Miss You Now

02:27

7

Greatest Hits (feat. Fitz)

03:04

8

Better With You

02:41

9

Forget You (feat. Avery Anna)

02:57

10

Alone Like That

02:54

11

I See You

03:16

12

I'll Take The Chevy

03:06

13

For You

02:53

Total Runtime

37:55
Info for For You

Platinum-selling band, Parmalee releases its highly anticipated new album, "For You".
"For You" is latest chapter in the southern hitmakers' journey in expanding the boundaries of Country music. Produced by David Fanning, the album mixes a contemporary sound with classic ingredients and is filled with larger-than-life Pop hooks, southern storytelling, and the amplified attitude of Rock 'n Roll. Primarily written by Parmalee lead singer Matt Thomas, For You draws from personal experiences to speak directly to the heart of their fans, honing in on that connection to make for their most harmonious project yet.
"We feel most authentic and our best as a band when we feel like we're having a conversation with the audience. That's what we really narrowed in on for this album and leaned into what makes Parmalee sound like Parmalee—it's all based on our connection to the fans," said Matt Thomas "For You is an album for the fans — the ones who've supported us for years, and the new ones we're getting to know every day."
Also available today is the visualizer video for "Take My Name," which American Songwriter says feels "authentically real" and is performed "with sincere emotion." Parmalee chose to release the romantic tune early to meet fan demand after sharing a snippet of the song with fans on TikTok. The band received a roaring response with many users begging to get their hands on the song so they can use it as their wedding song.
The 13-track album includes the multi-national, Platinum-certified smash of a collaboration with TrailerTrap creator, Blanco Brown, "Just the Way" which topped the charts in the US and Canada this year and has garnered more than 300 million on-demand streams. Currently in the Top 25 at Hot AC radio, the song mixes Parmalee's sharp songwriting and vocal harmonies with a modern message of self-love and individuality. The feel-good hit also spurred a recently released Pop version of the tune co-produced by Andrew Goldstein that features Pop/Hip Hop maverick Bryce Vine, in addition to an acoustic version that makes for an even sweeter serenade.
Matt Thomas, lead vocals, guitar
Josh McSwain, guitar
Barry Knox, bass
Scott Thomas, drums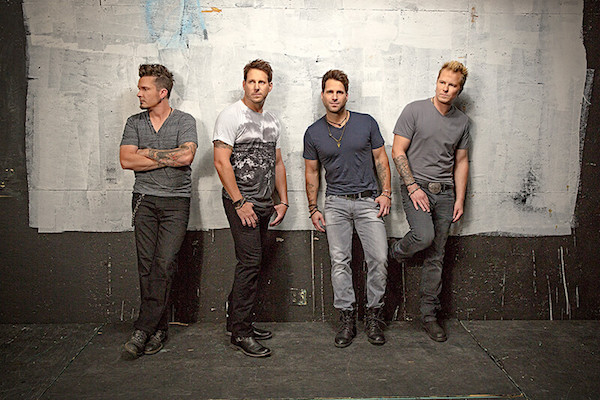 Parmalee
2016 ACM "New Vocal Duo/ Group of the Year" nominee Parmalee is one of country music's most successful new acts: The Platinum-selling band of brothers is one of only four groups since 2001 to earn three consecutive Top 10 singles from a debut country album. Since its debut at Country radio, Parmalee has earned over 358 million Pandora streams, 88.75 million plays on Spotify, over 31 million YouTube/ VEVO views, and 1.6 million Shazam subscribers. Heralded as "Country Music's Breakout Stars" by MSN Entertainment, Parmalee has supported Brad Paisley and Jake Owen on national tours while finding time to perform on NBC's TODAY show, The Late Late Show, FOX & Friends All American Summer Concert Series, MLB Central's Studio 21, The Queen Latifah Show and more. Parmalee – comprised of brothers Matt and Scott Thomas (lead vocals/guitar and drums, respectively), cousin Barry Knox (bass) and life-long best friend Josh McSwain (guitar)
For the members of chart-topping country quartet Parmalee, those five digits are more than the postal code of their hometown (Parmele, N.C. – population 278). They're a badge of honor, tattooed on each of their arms … and on each of their hearts. And now, it's the title of their second album for Stoney Creek Records.
Comprised of brothers Matt and Scott Thomas (lead vocals and drums), cousin Barry Knox (bass) and their best friend Josh McSwain (lead guitar), Parmalee are the quintessential American country band. Raised on a diet of Southern rock, country, and blues, they formed in 2001 as a bunch of small town boys chasing wild weekend nights, but their talents eventually took them beyond the little cement-block barn they rehearsed in and onto country music's biggest stages, not to mention the top of Billboard's country chart.
More than a decade of blue-collar persistence made their 2013 breakout single, "Carolina," into a Platinum-certified #1 hit, while their debut album landed in the Top 10. Two more singles ("Close Your Eyes" and "Already Callin' You Mine") rose to #4 and #10 on Billboard's Country Airplay chart, and all the while they kept their noses to the grindstone, touring hundreds of dates a year.
Awards nominations from the Academy of Country Music and Teen Choice Awards came rolling in, and headlining tours were launched. Now with their next batch of music, they're offering up a tribute to the place where it all began, and embracing the future.
"We have been wanting to call an album 27861 for years now," Matt explains. "Everybody has their own story, and you never know where people come from or how their lives have panned out. But we grew up around rural, hard-working people."
"You started working young, and you started learning that hard-work ethic," Scott says, thinking of the back-breaking days he and Matt spent logging local forests. "That's still our mentality now."
Just like the ink embedded in their arms, the hard-working virtues of that upbringing have seeped into Parmalee's soul. And with 27861, they propel the band into a bold new chapter – one with respect for where they came from, but harnessing the same adventurous sprit they left home with all those years ago.
Produced by the band themselves with a who's who of Nashville's most visionary musical minds, its sound mixes new flavors into the Parmalee cocktail.
"It has to go forward, because you never want to go back," Matt explains.
Their much loved country-rock sound is still in force, defined by blazing guitars and soaring harmonies, live drums and a locked-in musical brotherhood. But fans will notice a change. Many of Parmalee's new songs push forward to the very edges of modern country, bringing in expertly-programmed beats, irresistible pop melodies, and vocal hooks built to grab attention from fans of any genre.
"There's a lot of new tools, but that's all they are," says Josh. "Tools."
"It's all about singing along, smiling and having a good time," Matt adds with a grin. "That's what we want."
Singing along has never been easier, as personal, lived-in stories form the album's foundation. Matt co-wrote nine of the 12 tracks with Music City masters like busbee, Tom Douglas, Craig Wiseman, and the late Andrew Dorff, and the impact of tiny Parmele is felt even as the guys continue to chase their dreams.
Written by the singer with hit makers Ross Copperman and Josh Osborne, the blood-pumping second single "Sunday Morning" shows off the contrasting truths of the band's journey – they crave both big-city, fast-lane fun, and simple lives filled with love. The track combines heart and reverence for tradition with an explosive rush of romantic desire, and concert crowds have been eating it up as thousands are inspired to clap and sing along, wrapped up in rafter-shaking abandon.
"We're always trying to get back," Matt explains, saying even country stars need to stay in touch with who they truly are. "Back home away from the crazy where everything is laid back. Now Nashville is home for us. We all moved here together with a dream … a dream that started in a little cement block barn in Parmele, N.C."
As their hard work begins to pay off, Parmalee's starting point seems to keep getting farther from view. But no matter how far they rise, they know that small hometown will always come with them – from the lessons learned to the sounds they love to the drive that keeps pushing them forward. That's why they named the band "Parmalee" in the first place, and that's why their second album is called 27861.
"It's embedded in our soul," Barry says.

This album contains no booklet.