---
Album info
Album including Album cover Booklet (PDF)
I`m sorry!
Dear HIGHRESAUDIO Visitor,
due to territorial constraints and also different releases dates in each country you currently can`t purchase this album. We are updating our release dates twice a week. So, please feel free to check from time-to-time, if the album is available for your country.
We suggest, that you bookmark the album and use our Short List function.
Thank you for your understanding and patience.
Yours sincerely, HIGHRESAUDIO
1

Flow

05:06

2

Strait

04:56

3

Make Someone Happy

03:53

4

Ubi Sunt

04:46

5

Guitarra Piccante

04:25

6

At First Light

04:44

7

Danny Boy

03:40

8

Fat Foot

03:58

9

Argentinian Nights

01:41

10

Little Old Lady

03:17

11

Empty Stage

03:42

Total Runtime

44:08
Info for At First Light

An ECM artist for his entire musical career, US guitarist Ralph Towner has built up a unique body of work in his recordings for the label. Central to his oeuvre are his solo albums, the first of which, Diary, was issued 50 years ago. At First Light extends this great tradition, drawing inspiration from a broad palette of music. "My solo recordings have always included my own compositions in which there are trace elements of the many composers and musicians that have attracted me," writes Towner in a liner note, citing the influence of, among others, George Gershwin, John Coltrane, John Dowland and Bill Evans: "I feel that At First Light is a good example of shaping this expanse of influences into my personal music." In addition to his own pieces, Towner also plays Hoagy Carmichael's "Little Old Lady", Jule Styne's "Make Someone Happy" and the traditional tune "Danny Boy." Recorded at Auditorio Stelio Molo RSI, Lugano, in February 2022, At First Light was produced by Manfred Eicher.
In his liner note for At First Light, Ralph Towner writes of the singularity of having most of his life's work at one record label. He's been an ECM artist for more than fifty years, appearing in many different contexts, one of the most important being a run of solo recordings which began with Diary in 1973. At First Light is the newest addition to the solo guitar series. "My solo recordings," says Towner, "have always included my own compositions in which there are trace elements of the composers and musicians that have attracted me over the years. Musicians such as George Gershwin, John Coltrane, John Dowland, Bill Evans, to name a few. The blend of keyboard and guitar techniques is an important aspect of my playing and composition, and I feel that this album is a good example of shaping this expanse of influences into my personal music."
Repertoire this time includes, in addition to new Towner pieces, the guitarist's personal take on tunes from Broadway musicals. Hoagy Carmichael's "Little Old Lady"(from The Show Is On), and Jule Styne's "Make Someone Happy" (from Do Re Mi, a piece Bill Evans liked to play) are integrated here, as well as the much-covered Irish traditional air "Danny Boy", which Towner also makes his own. He also looks again at "Guitarra Picante", a piece from the songbook of the band Oregon.
Born into a musical family in Washington in 1940, Towner grew up immersed in classical music, jazz and the popular music of the day. A trumpet player from the age of seven, he took up piano seriously in his teens, in parallel studying composition, then embraced the classical guitar at 22. "I found that it was a very pianistic instrument, capable of sophisticated polyphony and myriad tone colours." He subsequently moved to Vienna to study classical guitar. "My studies involved much renaissance and baroque music which was to play a great part in shaping my writing and performance techniques."
As fellow guitarist Scott Nygaard has noted, "No one else plays guitar like Ralph Towner, And while his compositions often sound 'classical' (combining a fondness for baroque voice leading, Stravinskian harmonies, and odd time signatures with his own strong sense of melody) that's primarily because each piece grows organically and gracefully from an initial idea." Alongside the crucial inspirations from classical music and contemporary composition, Towner has also drawn profound influence from Bill Evans's conception of jazz and also from Brazilian music.
"Over the years I kept on adapting each of these in my own way," Towner has said: " I abstracted them and modified them until the sources were no longer recognizable, and I'd arrived almost without noticing it in an idiom of my own."
Towner's ECM solo albums include Diary, Solo Concert, Ana, Anthem, Timeline and My Foolish Heart.
His extensive discography also includes duet recordings with John Abercrombie (Sargasso Sea, Five Years Later), Gary Peacock (Oracle, A Closer View), Gary Burton (Matchbook, Slide Show), Peter Erskine (Open Letter), and Paolo Fresu (Chiaroscuro). Ensemble albums include Solstice and Sound & Shadows (with Jan Garbarek, Eberhard Weber and Jon Christensen), Batik (with Eddie Gomez and Jack DeJohnette), Old Friends, New Friends (with Kenny Wheeler, David Darling, Eddie Gomez, and Michael di Pasqua), City of Eyes (with Markus Stockhausen, Paul McCandless, Gary Peacock and Jerry Granelli), Lost and Found (with Denney Goodhew, Marc Johnson and Jon Christensen), and Travel Guide (with Wolfgang Muthspiel, and Slava Grigoryan).
Ralph Towner has also contributed to albums by Keith Jarrett (In The Light), Jan Garbarek (Dis), Kenny Wheeler (Deer Wan), Egberto Gismonti (Sol do meio dia), Arild Andersen (If You Look Far Enough) and Azimuth (Départ). Since 1970, Towner has co-led the group Oregon, whose ECM recordings include the eponymously-titled Oregon and Ectopia. Ralph's very first ECM recording, Trios/Solos, also featured Oregon members Glenn Moore, Collin Walcott and Paul McCandless.
"A convincing case can be made that Ralph Towner is at his finest in a solo setting" (Frank-John Hadley, Down Beat)
Ralph Towner, classical guitar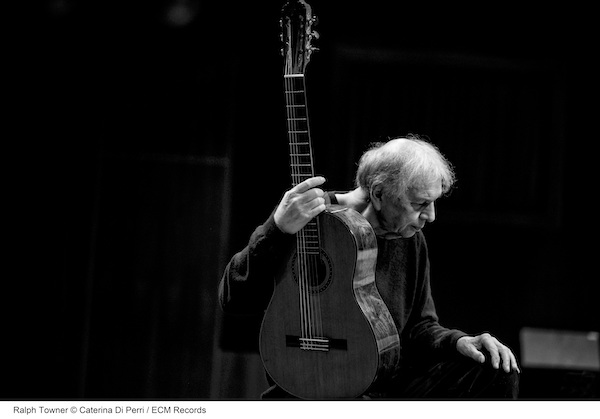 Ralph Towner
Musical innovation is no easy feat. It not only requires an innate talent, but also a devotion to the art that is not blinded by the commercial glare of the popular culture. Ralph Towner is such an innovator on the modern musical landscape, his ideas ever fresh, though they span a career of more than forty years.
Best known as the lead composer, guitarist, and keyboardist for the acoustic jazz ensemble "Oregon", Towner has also had a rich and varied solo career that has seen fruitful and memorable musical collaboration with such great modern musicians as Gary Burton, John Abercrombie, Egberto Gismonti, Larry Coryell, Keith Jarrett, Jan Garbarek, and Gary Peacock.
Towner was born in Chehalis, Washington on March 1st, 1940 into a musical family, his mother a piano teacher and his father a trumpet player. Towner and his siblings were raised in a nurturing and empowering environment that encouraged free musical experimentation and expression. In 1958, Towner enrolled in the University of Oregon as an art major, later changing his major to composition. He soon thereafter met bassist Glen Moore who would become a lifelong musical partner in the band Oregon.
It was about this time that Towner discovered the early LPs of Bill Evans, whom Towner emulated and whose influence he began to incorporate into his own piano style and composition. It was not much longer until Towner also bought a classical guitar on a lark and became entranced enough with the instrument that the early 1960s saw him heading to Vienna to study classical guitar with Karl Scheit. In 1968 Towner moved to New York City and immersed himself in the New York jazz scene, eventually landing a position with the Paul Winter Consort where the friendships and musical partnering with Glen Moore, Paul McCandless, and Collin Walcott were forged, a musical chemistry which was destined to alchemize into the band Oregon. Paul Winter also bestowed Towner with his first 12-string guitar. Towner has since coaxed the 12-string into imbuing his work with such a characteristic uniqueness that most jazz fans, given the two keywords "12-string" and "jazz" would immediately blurt the name Ralph Towner.
Towner's working relationship with producer Manfred Eicher of ECM Records began in 1972 and would provide a forum for his growth as a leader and collaborator with other jazz giants, all while concomitantly breaking open musical frontiers with Oregon throughout the intervening years. ECM's roster of low-volume acts was decidedly contrary to the amplified popular zeitgeist of the era, and provided Towner an opportunity to connect and create with some of the more iconoclastic and innovative artists of the musical culture in the 1970s. Towner's ECM years also saw his most minimalist, yet most bold, endeavor. "Solo Concert", released in 1980 on ECM, was conceptually elemental, a solo live guitar recital. Yet, no one to date had ever synthesized classical contrapuntal composition with improvisational and oddly-metered jazz like this before, especially in such a risky arena as a live performance. Such solo work would later become Towner's signature on recordings such as "Ana" and "Anthem", or augmented only by Gary Peacock's bass on "Oracle" and "A Closer View".
Like any true artist, however, experimentation with technology was simultaneously and paradoxically leading Towner away from this bare-bones approach to composition and performance in 1983 when he began to incorporate the Prophet 5 keyboard synthesizer into his compositions, both with Oregon and his ECM recordings. The Prophet 5 afforded an entirely new dimension to his writing, as well as to the brazen and quirky character of the "free-form" improvisatory pieces for which Oregon had become infamous.
Just as Towner's solo career has seen evolution, his partnership with Oregon would likewise undergo transformations as one might anticipate that any enduring relationship might do. Sadly, in 1984, percussionist Collin Walcott and manager Jo Härting were killed in Germany in a collision involving Oregon's tour bus. Towner and McCandless escaped serious injury in the back of the vehicle. The emotional scars would however be deep, and it at first seemed doubtful that Walcott's critical contribution to Oregon's musical tapestry, lost so tragically, could ever be resurrected by any replacement. Time would luckily find that the intent of Oregon's musical message was vehement enough to again find spontaneous expression after grief. Two subsequent world-class percussionists of a like mind, and gifted with rhythmic virtuosity, Trilok Gurtu in 1992 and Mark Walker in 1997, would share in and expand on Oregon's vision. That vision would explode in an epic way in 2000 upon release of "Oregon in Moscow", an orchestral double-CD recorded with the Tchaikovsky Symphony Orchestra, earning the ensemble four Grammy nominations.
Towner's creativity and virtuosity into the new millennium retain all the vitality of his younger years, even now into his 70s. Always in service to the music, he continues to have a knack for fostering new musical relationships with those who share a mission to synergize art into a sum greater than its parts, recently and most notably with Austrian guitarist Wolfgang Muthspiel and Australian guitarist Slava Grigoryan, a trio colloquially known as "MGT." Likewise, his later jazz duos with Italian trumpeter Paolo Fresu and Argentine clarinetist Javier Girotto have reaffirmed his unique niche in the international world of improvisational jazz. Ralph Towner has come full circle with the 2017 release of "My Foolish Heart," his 26th recording for ECM records, and an homage to the jazz pianist who inspired Towner on his original quest for compositional innovation, Bill Evans.

Booklet for At First Light