---
Album info
Album including Album cover Booklet (PDF)
Richard Rodney Bennett (1936 - 2012):

1

Bennett: Memento

05:37

Rebecca Clarke (1886 - 1979):

2

Clarke: Midsummer Moon

05:48

Frank Bridge (1879 - 1941):

3

Bridge: Cradle Song, H. 96

02:47

Cyril Scott (1879 - 1970):

4

Scott: Deux préludes: I. Poème érotique

05:03

Roger Quilter (1877 - 1953):

5

Quilter: Three Songs of William Blake, Op. 20: I. Dream Valley

02:23

Angela Morely (1924 - 2009):

6

Morely: Réverie

03:33

Total Runtime

25:11
Info for Dream Valley

The music on this EP inhabits a particular corner of the bounteous repertory of characteristic pieces for violin and piano. Short without being slight, these miniatures are vibrant and emotive, getting to the heart of the matter with freshness and originality, and sharing a rich yet restrained harmonic language which is identifiably English in character.
Sophie Rosa enjoys a varied career as a soloist, chamber musician and orchestral leader. She came to attention in 2011 after being awarded the Second Prize and Audience Prize at the 2nd Manchester International Violin Competition. She has performed across the UK as a recitalist in venues including the Royal Festival Hall, the Purcell Room, Wigmore Hall, Kings Place and Bridgewater Hall and has appeared as soloist with orchestras including Royal Liverpool Philharmonic Orchestra and Manchester Camerata. Sophie has broadcast for BBC Radio 3 and has released CDs on Rubicon Classics, Champs Hill and EM Records labels to critical acclaim.
Sophie is currently leader and artistic director of Sinfonia Viva and has appeared as guest leader with orchestras throughout the UK. As a keen chamber musician, Sophie is a member of Pixels Ensemble and also performs with contemporary music group, Psappha. She is a member of the teaching faculty at the University of Manchester. Sophie plays on a Joseph Gagliano violin dated 1795 and a Claude Fonclause bow made available through the generous support of the Stradivari Trust.
Ian Buckle maintains a varied freelance career working as soloist, accompanist, chamber musician, orchestral pianist and teacher. He enjoys longstanding associations with the Royal Liverpool Philharmonic and the John Wilson Orchestra, and has appeared with them as soloist on numerous occasions. He has also played concertos with the Royal Philharmonic, the Orchestra of Opera North and Sinfonia Viva. Committed to contemporary music, he has been the pianist in Ensemble 10/10 since the group's inception in 1997, and he regularly plays orchestral piano with the BBC Philharmonic. Ian is the artistic director and pianist of Pixels Ensemble (www.pixelsensemble.org) which gives concerts throughout the UK. He frequently collaborates with poets and readers, most recently Andrew Motion, Roger McGough and Deryn Rees-Jones; in recitals of piano music and poetry: Shropshire and Other Lads, a celebration of A. E. Housman; Anthem for Doomed Youth, a commemoration of World War One; and Philip Larkin's England. Ian teaches piano at the Universities of Liverpool and Leeds, maintains a private teaching practice in Manchester and is an examiner with ABRSM. Recordings include Pixels Ensemble's debut release of sonatas and piano pieces by Debussy, a recital of songs by Stephen Wilkinson The Sunlight on the Garden, and a CD of new works for clarinet and piano Prism with BBC Young Musician winner Mark Simpson. His performance of Gershwin's New York Rhapsody live at the Royal Albert Hall is featured on Warner Classics' The Best of the John Wilson Orchestra, and he and regular duo-partner Richard Casey are soloists in Saint-Saëns' Carnival of the Animals with the RLPO and Vasily Petrenko.
Sophie Rosa, violin
Ian Buckle, piano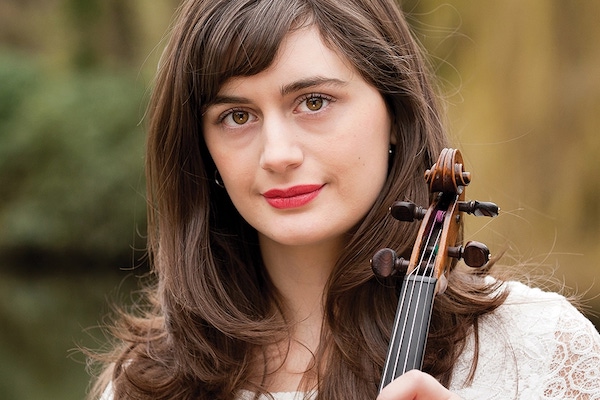 Sophie Rosa
enjoys a varied career as a soloist, chamber musician and orchestral leader. She came to attention in 2011 after being awarded the Second Prize and Audience Prize at the 2nd Manchester International Violin Competition. She has performed across the UK as a recitalist in venues including the Royal Festival Hall, the Purcell Room, Wigmore Hall, Kings Place and Bridgewater Hall and has appeared as soloist with orchestras including Royal Liverpool Philharmonic Orchestra and Manchester Camerata. Sophie has broadcast for BBC Radio 3 and has released CDs on Rubicon Classics, Champs Hill and EM Records labels to critical acclaim.
Sophie is currently leader and artistic director of Sinfonia Viva and has appeared as guest leader with orchestras throughout the UK. As a keen chamber musician, Sophie is a member of Pixels Ensemble and also performs with contemporary music group, Psappha. She is a member of the teaching faculty at the University of Manchester.
Sophie plays on a Joseph Gagliano violin dated 1795 and a Claude Fonclause bow made available through the generous support of the Stradivari Trust.
Ian Buckle
maintains a varied performing career working as soloist, accompanist, chamber musician and orchestral pianist. He enjoys especially strong relationships with the Royal Liverpool Philharmonic and the John Wilson Orchestra, and has appeared with both as soloist on numerous occasions. He has also played concertos with the Royal Philharmonic, Opera North, Sinfonia Viva and the Manchester Concert Orchestras. Committed to contemporary music, he has been the pianist in Ensemble 10/10 since the group's inception, premiering many new works in concerts nationwide including at Wigmore Hall and on BBC Radio 3; and his piano duo with Richard Casey specialises in performing music from the last and current centuries. Ian has had works written for him by Benjamin Hackbarth, Timothy Jackson, Martin Iddon and Michael Spencer. He frequently collaborates with former Poet Laureate Andrew Motion in giving recitals of piano music and poetry, recent programmes including Shropshire and Other Lads, a celebration of A E Housman; Anthem for Doomed Youth, a commemoration of World War One; and Philip Larkin's England. He is a member of both the piano-and-wind ensemble Zephyr and the Elysnan Horn Trio, formed when the group were students at the Royal Northern College of Music; and is the director and pianist of Pixels Ensemble.
Ian teaches at the Universities of Leeds and Liverpool and is an examiner with ABRSM. Current CD releases include transcriptions for cello and piano with Jonathan Aasgaard, a recital of new works for clarinet and piano with former BBC Young Musician winner Mark Simpson, violin and piano music by Edward German with Andrew Long, and a disc of English music with clarinettist Nicholas Cox. A recording of Gershwin's New York Rhapsody with the John Wilson Orchestra live from the Royal Albert Hall is available on iTunes. Ian holds a season ticket at Sheffield Wednesday Football Club and is an enthusiast for French cinema and nice restaurants.

Booklet for Dream Valley