---
Album info
Album including Album cover
I`m sorry!
Dear HIGHRESAUDIO Visitor,
due to territorial constraints and also different releases dates in each country you currently can`t purchase this album. We are updating our release dates twice a week. So, please feel free to check from time-to-time, if the album is available for your country.
We suggest, that you bookmark the album and use our Short List function.
Thank you for your understanding and patience.
Yours sincerely, HIGHRESAUDIO
1

Sooner Or Later

03:32

2

Gimme Something

04:05

3

Leave It All Behind

03:00

4

In Here

03:22

5

You And I

03:46

6

Mother Storm

04:06

7

A Mirror

04:12

8

Lost Boy

04:21

9

Turn It Around

03:54

10

Life Is A Landslide

04:12

11

Doesn't Really Matter

04:28

12

Where Is This Place

04:11

Total Runtime

47:09
Info for High Water II

The Magpie Salute return with their new album, 'High Water II', which will be released on 11th October via Provogue.
When 'High Water I' was released in August 2018 it was the sound of old friends coming together in a union of rock 'n' roll, psychedelic blues, rasping Americana and late night storytelling. The band was pulled together by guitarist Rich Robinson, it continued a storyline he began in the Black Crowes with guitarist Marc Ford and bassist Sven Pipien. Meanwhile, vocalist John Hogg shared Hookah Brown with Robinson as keyboardist Matt Slocum and drummer Joe Magistro both joined him for solo records and tours over the years. Their first official live outing was in January 2017 at the Gramercy Theatre, New York City.
The album reached the Top 40 Billboard Charts and was met with widespread acclaim from Rolling Stone, Relix, Guitar World, Planet Rock, MOJO Magaine, The Independent, The Daily Express and Classic Rock Magazine named it #7 in their albums of the year. Tours across the US and Europe followed including shows with Gov't Mule, The Avett Brothers and Blackberry Smoke with the band also taking their first trip to Japan in January this year.
'High Water II' picks up where the bands studio debut left off, much of the album was written during those early recordings at Dark Horse Studios in Nashville which is why the album feels like a perfect continuation of its predecessor. Talking about the flow between the two albums Robinson explains; "Both records are part of a collective journey. I chose the sequence specifically for each record. I wanted 'High Water l' to introduce us to the world and the world to us. With 'High Water ll,' I wanted to get a little deeper. To take people places they may not have expected to go."
Following the end of their 2018 European tour, the band had written 3 new songs – 'Gimme Somthing', 'Leave It All Behind' and 'Life Is A Landslide' - and it was during this tour where they took the opportunity to head into Rockfield Studios to continue working on the album. The farmhouse studio, based in a village near Monmouth in Wales has produced classic albums such as Queen's 'A Night At The Opera', Oasis' '(What's the Story) Morning Glory', Coldplay's 'Parachutes' as well as albums by Black Sabbath, Roy Harper, Rush, Iggy Pop, Bauhaus, Paul Weller, Hawkwind, Donovan and The Cure.
The themes that run through the record are those of human experience, "We as humans, will always wrestle with universal themes," Robinson says. "I think there's light and dark around us at all time. I think they're both necessary to see the contrast that helps us see the peaks and valleys of life. "
Like its predicessor, the first song on the album kicks it off with a rocket on the roaring Robinson/Hogg penned 'Sooner Or Later.' Talking about the songwriting process and what drives him, Robinson adds, "I always try to write a better song, and be a better musician." The album reflects the band as a whole with Hogg co-writing seven of the songs which include the Stonesy groove of 'Gimme Something', the funky blues of 'Doesn't Really Matter' and late night after hours shimmer of album closer 'Where Is This Place'. The Robinson written songs include a trio together in the first half of the album; the roots rocking 'In Here' which lets the listener know that it's ok to feel afraid, happy and sad as the chorus testifies, "We stand alone in our creation, and lay it out for you, So come on in I've got some answers, tell you what to do." This leads into 'You And I.' Awash with beautiful melancholy, it reflects on burdens blocking our way but still managing to pave a way to the stars and builds into a soaring and swirling climax and into 'Mother Storm' which whips you through laidback Americana through blistering solos and luscious keys.
The human element of the album reflects the personal significance each listener attached to it. Talking about this Robinson muses, "It's all personal for anyone writing or listening. If you like the band, the music, the lyrics or if you're writing these songs there is an intimate relationship formed with the work. A song, a lyric can mean 7 1/2 billion different things to people around the world because everyone around the song, writer or listener, will have their own individual life experiences and perspectives that color and assimilate the song into their life experience. It's pretty amazing if you think about it."
The country-tinged 'Lost Boy' was co-written between Robinson and Ford and features special guest Alison Krauss, who supplied vocals and fiddle. "Marc had 'Lost Boy' but he felt it was missing something, so I helped write the chorus," Robinson remembers.
The Magpie Salute is a landscape with limitiless possibilities and they have the ability to swoop and delve into a myriad of textures and emotions. Their live repertoire alone highlights this as an impressive cannon which means they can perform as a 10 piece, 6 piece or a trio. The collections of songs spans the Magpie Salute, Black Crowes, Rich Robinson solo material and cover versions meaning that no two shows are the same. Something that will keep fans wanting to come back time after time. "I think it definitely keeps it moving and fresh for us as a band. I think the fans that come to the show expect that they will be at a different show hearing different songs every night," says Robinson.
Prior to the announcement of 'High Water II,' Robinson revealed, he has also teamed up with Gretsch to create a new G6136T-CSTRR Rich Robinson "Magpie" Signature guitar. "Ever since I was a kid, I've always loved Gretsch guitars," Robinson says. "From Neil Young and Stephen Stills to Steve Marriott and Malcom Young, these guitars have always piqued my imagination. Sonically and visually, Gretsch guitars have always been unique in the musical landscape. To have my own signature Gretsch is an honor, and the Magpie is the combination of all of my favorite elements of Gretsch guitars."
Rich Robinson, guitar, vocals
Marc Ford, guitar, vocals
John Hogg, vocals, guitar, percussion
Sven Pipien, bass, backing vocals
Matt Slocum, keyboards
Joe Magistro, drums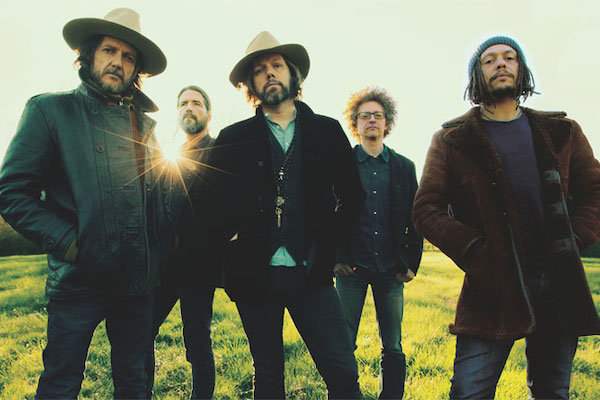 The Magpie Salute
American rock collective the Magpie Salute were born out of a brief reunion between former members of the Black Crowes, but their undeniable chemistry led to a longer-term project. In 2016, Rich Robinson, former guitarist and co-founder of the Crowes, was asked to perform and record for the Woodstock Sessions project; having taken part as a solo act in 2014, Robinson decided to form a loose collective with former Black Crowes members Marc Ford (guitar), Sven Pipien (bass), and Eddie Harsch (keys). Although the sessions consisted mainly of covers, the long-standing chemistry of the musicians convinced them to pursue new material once the show was over. Unfortunately, in November of the same year, Harsch passed away at the age of 59. Robinson recruited drummer Joe Magistro, guitarist Nico Bereciartua, lead vocalists John Hogg and Charity White, and background singers Adrien Reju and Katrine Ottosen to fill out the lineup. The Magpie Salute were ready for their first proper live show in early 2017, and they performed at the Gramercy Theatre in New York.
An eponymous live album filled with cover versions appeared in June 2017 but the group's official debut, High Water I, was released in August in 2018. High Water I showcased original material and was designed as the first installment in a two-part album; the second volume appeared in October 2019.

This album contains no booklet.