---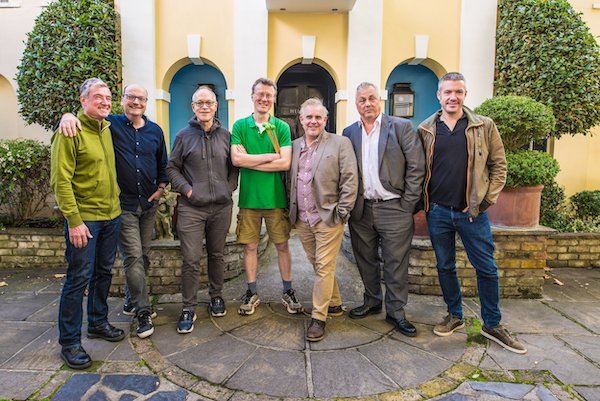 Carl Gorham
As a session musician, he has played on numerous commercial TV recordings, as well as performing live with TV spin-off band The Hairstyles, from Channel 4's 'Absolutely' and on jazz/poetry gigs with poet Dannie Abse CBE. As a TV writer / producer, he is best known for creating the animation hit 'Stressed Eric' for BBC2, now broadcast in more than thirty countries and the first animation show to be seen in primetime on NBC in the USA for 45 years. He is a double British Animation Award winner, as well as a Bafta and British Comedy Award nominee.
Jason McDermid
is responsible for all the arrangements on the album. He is a long-time member of the Jools Holland's Rhythm and Blue Orchestra as is fellow trumpeter Chris Storr and they've performed with, amongst many others, Tom Jones, Ray Davies, Amy Winehouse and Joss Stone. Alistair White (trombone) is also a former member and has played with Quincy Jones, Carla Bley, Guy Barker, Stan Tracey and Hugh Masekela whilst Pete Long (saxes / clarinet), as well as being the current Musical Director of the Ronnie Scott's Jazz Orchestra, has worked with Dizzy Gillespie, John Scofield and Chick Corea.
James Pearson
is the current Musical Director of Ronnie Scott's Club and his credits include Wynton Marsalis, Johnny Griffin, Richard Rodney Bennett and Robbie Williams. Simon Wallace (piano) wrote songs for 20 years with American lyricist Fran Landesman and has worked extensively in TV with Simon Brint. Alec Dankworth bass) is twice winner of the BBC Jazz Award for best bass player and has led numerous groups of his own as well as working with artists such as Dave Brubeck and Van Morrison, whilst Arnie Somogyi (bass) has recorded, performed and toured with the likes of Bobby Hutcherson, Eddie Henderson, Art Farmer and the Mingus Big Band. Anthony Kerr (vibes) is a long-serving soloist with the BBC Big Band and Georgie Fame and The Blue Flames, as well as his own ensemble. Satin Singh (percussion) has played with the likes of Pete Wareham, Shabaka Hutchins, Ray Sandoval and Supergrass.
Sarah Moule
For six years Sarah Moule was the featured vocalist with the John Wilson Orchestra and she has also broadcast with the BBC Concert Orchestra. Louise Marshall (vocals) works with Jools Holland's Rhythm and Blues Orchestra and more recently was at Number 1 in the charts with LF System's 'Afraid to Feel'. Natalie Williams (vocals) has toured extensively with the Ronnie Scott's All Stars and has enjoyed a 13-year residency at the club with her own band, Natalie Williams' Soul Family. Romy Sipek (vocals) is a recent graduate of Millennium Performing Arts College and has already appeared in the Faithless / R-Plus video for 'Hold on to Your Heart' and performed at Ronnie Scott's Upstairs.