---
Jerry Garcia & David Grisman
---
Biography Jerry Garcia & David Grisman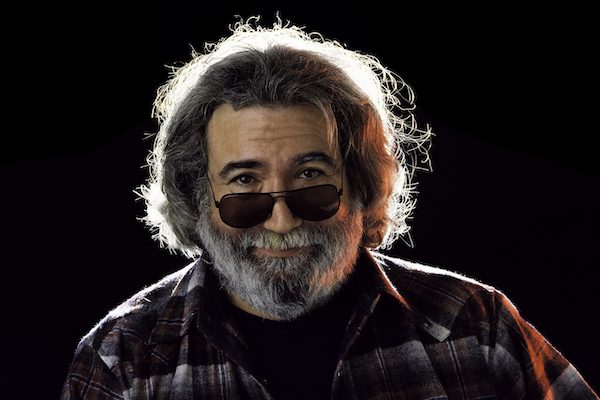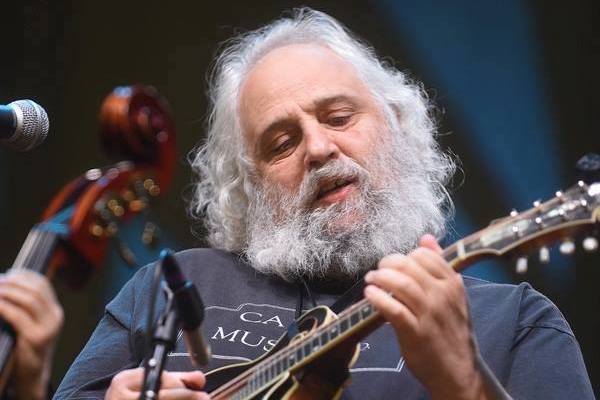 Jerry Garcia
Jerome John "Jerry" Garcia was an American singer-songwriter and guitarist born on August 1, 1942. He is best known for his lead role in the Grateful Dead, though he also recorded and performed with several other bands and as a solo artist. Garcia was influenced by music at an early age, taking piano lessons for much of his childhood. His father was a retired professional musisician and his mother enjoyed playing the piano and singing. Jerry was introduced to rock and roll and rhythm and blues by his brother Clifford, and enjoyed listening to the likes of BB King and Chuck Berry. He was gifted an accordian on his fifteenth birthday, but complained until it was exchanged for a guitar. He dropped out of school at age 17 and served nine months in the US Army before being discharged for poor conduct. He then began to play folk and blues guitar in clubs within the San Francisco area while working as a salesman and music teacher. In early 1961 Garcia got into a fairly serious car accident in which he was thrown from the vehicle and one of his friends was killed. He later cited the event as a turning point in his life, stating; "That's where my life began. Before then I was always living at less than capacity. I was idling. That was the slingshot for the rest of my life. It was like a second chance. Then I got serious." It was then he decided to fully commit himself to playing guitar, and sought out a career in the music industry.
Over the course of the next four or five years Garcia met many lifelong friends and eventual bandmates; Robert Hunter, David Nelson, Phil Lesh, Bob Weir, Ron "Pigpen" McKernan, and Bill Kreutzmann. Garcia, Weir, Ron "Pigpen" McKernan, and several of their friends formed a jug band called Mother McCree's Uptown Jug Champions which would become the Warlocks and later the Grateful Dead. Garcia served as lead guitarist, as well as one of the principal vocalists and songwriters of the Grateful Dead for their entire career. He was well known for his soulful extended guitar improvisations, which would frequently feature interplay between him and his fellow band members. His fame, as well as the band's, arguably rested on their ability to never play a song the same way twice. Garcia's mature guitar-playing melded elements from the various kinds of music that had enthralled him. Echoes of many different styles of music can be heard in his playing, ranging from bluegrass to contemporary blues and jazz.
Jerry was also a part of several side project bands, most notably the Jerry Garcia Band, but also acoustic and bluegrass based groups such as Old and in the Way, Legion of Mary, and New Riders of the Purple Sage. He recorded four albums as a solo artist and lent guitar parts to many other artists including Jefferson Airplane and Crosby, Stills, Nash & Young. Garcia toured with the Grateful Dead almost constantly from their formation in 1965 until Garcia's death in 1995, as well as with his other bands during off periods. Periodically, there were breaks due to exhaustion or health problems, often due to unstable health and/or Garcia's drug use. According to fellow Bay Area guitar player Henry Kaiser, Garcia is "the most recorded guitarist in history. With more than 2,200 Grateful Dead concerts, and 1,000 Jerry Garcia Band concerts captured on tape – as well as numerous studio sessions – there are about 15,000 hours of his guitar work preserved for the ages." He died on August 9, 1995, eight days after his 53rd birthday, at a drug rehabilitation clinic. The cause of death was a heart attack. Garcia had long struggled with drug addiction, weight problems, sleep apnea, heavy smoking, and diabetes—all of which contributed to his physical decline and eventually his death.
David Grisman
For nearly 40 years, mandolinist/composer David Grisman has been busy creating "dawg" music, a blend of many stylistic influences (including swing, bluegrass, latin, jazz and gypsy) so unique he gave it its own name. In doing so, David has inspired a whole new genre of acoustic string instrumental music with style and virtuosity while creating a unique niche for himself in the world of contemporary music.
Dubbed "The Paganini of the Mandolin" by the New York Times, David has been praised for his mastery of the instrument as well as his varied talents as a composer, bandleader, teacher and record producer. After recording for several major labels, Grisman founded his own company, Acoustic Disc, which he runs from his studio in northern California. Upon launching the label in 1990, David entered the most prolific period of his distinguished career, producing 45 critically acclaimed, high quality recordings of acoustic music (five of which have been nominated for Grammy Awards).
David discovered the mandolin as a teenager growing up in New Jersey, where he met and became a disciple of mandolinist/folklorist Ralph Rinzler. Despite a warning from his piano teacher that it wasn't a "real" instrument, Grisman learned to play the mandolin in the style of Bill Monroe, the father of bluegrass music. He took it with him to Greenwich Village where he studied English at New York University and became immersed in the proliferating folk music scene of the early 1960s.
In 1963 Grisman made his first recordings as an artist (the Even Dozen Jug Band – Elektra) and producer (Red Allen, Frank Wakefield and the Kentuckians – Folkways). In 1966, Red Allen offered David his first job with an authentic bluegrass band, the Kentuckians. While studying the music of his bluegrass mandolin heroes like Bill Monroe, Jesse McReynolds and Frank Wakefield, Grisman began composing original tunes and playing with other urban bluegrass contemporaries like Peter Rowan and Jerry Garcia, with whom he would later form Old & in the Way.
David's interests spread to jazz in 1967, while playing in the folk-rock ensemble, Earth Opera. A failed attempt at learning to play the alto saxophone turned him into a lifelong student of jazz musicianship and theory. In the meantime, his burgeoning career as a session musician gave him experience playing various other types of music and opportunities to stretch the boundaries of the mandolin. Today his discography includes recordings with Bela Fleck, the Grateful Dead, Stephane Grappelli, Emmylou Harris, Chris Isaak, Dolly Parton, Bonnie Raitt, Linda Ronstadt, Earl Scruggs and James Taylor.
David's unique instrumental style found a home in 1974 when he formed the Great American Music Band with fiddler Richard Greene. "Nothing against singers," said David, "but it became apparent to me that I could play 90 minutes without one. Besides, Elvis never called." Within that year, Greene moved on to join a pop act, and David met guitar wizard Tony Rice, who moved to California where they started rehearsing a new group, the David Grisman Quintet, which also included bassist/mandolinist Todd Phillips and violinist Darol Anger. The rest is string band history.
Since its auspicious debut in 1976, the DGQ has won numerous polls and awards and has headlined at major jazz, folk and bluegrass festivals around the world. DGQ alumni (including Tony Rice, Mark O'Connor, Mike Marshall and Darol Anger) have gone on to establish successful careers as leaders of acoustic music. Current DGQ members include bassist Jim Kerwin, multi-instrumentalist Joe Craven, flutist Matt Eakle, and Argentine guitarist Enrique Coria.
In 1990, David founded the Acoustic Disc label with his friend and manager, Craig Miller, and two other long-standing friends from New York, Artie and Harriet Rose. To date label has released over 90 CDs, including five with Jerry Garcia, all produced or co-produced by Grisman.
David has always been a pioneer. He continues to deeply influenced several generations of musicians through his own musical explorations, and with the blossoming success of Acoustic Disc has helped make artist-owned independent labels a viable force in the modern music business.