---
Elena Harsanyi, Elvira Bill, Mirko Ludwig, Andreas Wolf, Kölner Akademie & Michael Alexander Willens
---
Biography Elena Harsanyi, Elvira Bill, Mirko Ludwig, Andreas Wolf, Kölner Akademie & Michael Alexander Willens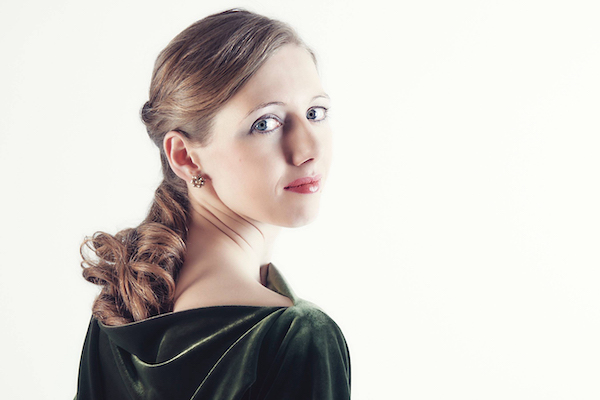 Elena Harsanyi
The young soprano, Elena Harsányi, was born in Aachen into a family in which singing together was always an integral part of everyday life – not as a profession, but as a connecting social element. So it does not come as a surprise that her first experience with opera at a young age – of course, Mozart's Magic Flute – suddenly awakened a love for classical music. Her desire to sing persisted into her adolescence and after singing lessons with Dr. Barbara Hebborn in Bonn, Elena received her first successes in the form of winnings at the competition Jugend Musiziert and intensive stage experiences in the opera projects of the Ludwig-van-B Foundation. Slowly, the idea of ​​professionalizing singing beyond her passion for the art grew. This was followed by a Bachelor's degree at the University of Music Saar with Prof. Ruth Ziesak in the areas of music theater and singing pedagogy, as well as a Master's degree in concert singing at the University of Music and Dance Munich with Prof. Christiane Iven. The opportunity to learn from these two outstanding artists, who were internationally successful in opera, Lieder, and concerts, is still decisive for Elena's vocal and artistic development today.
Inspired by their musicality and work ethic, she was able to enjoy her first successes in opera and song early on. ...
Elvira Bill
studied singing with Christoph Prégardien at the Cologne Musikhochschule. While studying for her Abitur in Mönchengladbach, she received significant encouragement in her vocal studies from Reinhard Becker (Wuppertal). Her repertoire ranges from the established classics to contemporary music. She also studies historical performance practice with the countertenor Kai Wessel. In her solo work, she specializes in oratorio. As a soloist, Elvira Bill has sung under Marcus Creed, Peter Neumann, Robin Gritton, Christopher Hogwood and many other conductors. At the Theater Krefeld-Mönchengladbach she has sung in Friedrich Cerha's opera Der Riese vom Steinfeld. Concert tours have taken her to many German cities, to France, Austria, the Benelux countries, Italy, Portugal, Hungary, Russia, China and Oman.
Mirko Ludwig
Born in Hamburg, the tenor gained his first singing experience as a boy soprano with the choir boys of Uetersen and first took singing lessons with the soprano Bettina Pahn. He then studied with Professor Thomas Mohr and Krisztina Laki at the Hochschule für Künste Bremen. Here he also received important impulses in the field of historical performance practice with Manfred Cordes and Detlef Bratschke, among others.
In addition to the major solo roles in the concert and oratorio repertoire, including the great works of J.S. Bach, Mirko Ludwig is in great demand as an ensemble singer, but also devotes himself increasingly to lieder singing.
He regularly performs with renowned ensembles such as Weser-Renaissance Bremen, Cantus Thuringia, Balthasar-Neumann-Chor, Himlische Cantorey or Cantus Cölln. With his ensemble "quartonal" he won 1st prize in the vocal ensemble category at the German Choir Competition in Dortmund in May 2010.
The young singer gained stage experience at the Hamburg State Opera as a member of a vocal ensemble for baroque operas. He has also sung the role of "Tamino" (The Magic Flute - W.A. Mozart), "Peter Quint" (The Turn of the Screw - B. Britten) and "Orpheus" (Orpheus in the Underworld - J. Offenbach) in productions at the Hochschule für Künste Bremen.
Andreas Wolf
German Bass-Baritone Andreas Wolf is a regular guest at international opera houses and concert halls, working with conductors such as William Christie, René Jacobs, Andrea Marcon, Jérémie Rhorer, Raphaël Pichon, Maxim Emelyanychev, Peter Dijkstra, Jean-Christophe Spinosi, Alessandro De Marchi, Rinaldo Alessandrini, Paul Agnew, Ton Koopman, Hervé Niquet, Hans-Christoph Rademann, Ivor Bolton, Ludovic Morlot, Bertrand de Billy and Sylvain Cambreling.
In the season 2020/21, he appeared in staged productions of Bach's Johannes-Passion at Oper Stuttgart and at the Théâtre du Châtelet in Paris, in Schubert's Mass in G major and Saint-Saëns' Oratorio de Noël with the Netherlands Radio Philharmonic and Vasily Petrenko, Handel's Saul with the Bachakademie Stuttgart and in Acis and Galatea at Moscow's Zaryadye Hall, in Bach's Matthäus-Passion at the Palau de la Música in Barcelona and at the Bachfest Leipzig with Ton Koopman, in Handel's Israel in Egypt with Le Concert Spirituel and Semele at the Festival de Beaune with Leonardo García Alarcón, Stravinsky's Pulcinella with the MDR Sinfonieorchester, Haydn's Harmoniemesse and Frank Martin's In Terra Pax with Peter Dijkstra and the Netherlands Radio Philharmonic, and in Bach's Johannes-Passion with the Orchestre Philharmonique de Radio France. He also recorded C.P.E. Bach's Die Auferstehung und Himmelfahrt Jesu with the Vlaams Radiokoor.
Recent opera engagements include Jupiter/Platée at Semperoper Dresden and Oper Stutttgart, Leporello/Don Giovanni at the Tchaikovsky Concert Hall in Moscow, at La Monnaie in Brussels and Oper Stuttgart, Papageno/Die Zauberflöte at Teatro Real Madrid and the Grand Théâtre de Genève, Guglielmo/Cosi fan tutte at Teatro Real in Madrid, La Monnaie in Brussels and the Wiener Festwochen, Truffaldin/Ariadne auf Naxos, Zuniga/Carmen and Paolo Calvi/Die Gezeichneten at Bayerische Staatsoper Munich, Figaro/Le Nozze di Figaro at Teatro Real Madrid and the Opera national du Rhin Strasbourg, Falke/Die Fledermaus at Oper Stuttgart, Nanni in Joseph Haydn's L'Infedelta delusa ​for the Festival d'Aix-en-Provence and Aeneas in Dido and Aeneas in New York and Moscow with Les Arts Florissants.
A sought-after concert artist, Andreas Wolf has performed Berlioz' Messe Solennelle with Le Concert Spirituel in Versailles and at BOZAR in Brussels, Handel's Belshazzar with the RIAS Kammerchor and Akademie für Alte Musik Berlin at the Festivals in Salzburg and Beaune, in Oslo, Cologne and the Berliner Philharmonie, Mendelssohn's Elias with the Hamburger Sinfoniker, Beethoven's Messe in C-Dur with Het Residentie Orkest and with Choeur Accentus at La Seine Musicale Paris, Handel's Alexander's Feast with Concerto Köln under Ivor Bolton at Laeiszhalle Hamburg, Bach's Messe in h-moll with the Chor des Bayerischen Rundfunks under Peter Dijkstra, with Concerto Köln at the Elbphilharmonie Hamburg, the Seattle Symphony and the Orchestra National de Radio France, Rocco/Fidelio with the Wrocław Baroque Orchestra, Ariodate in Handel's Serse with Il Pomo d'Oro at Theater an der Wien and Théâtre des Champs-Elysées and Bach's Weihnachtsoratorium with the Gothenburg Symphony Orchestra, Concerto Köln and the Chor des Bayerischen Rundfunks,
Recordings include Berlioz' Messe Solennelle (Alpha), Haydn's Jubilaeum Virtutis Palatium with Capella Augustina, Johann Ludwig's Trauermusik, Handel's Ode for the Birthday of Queen Anne, both with Akademie für Alte Musik Berlin and Bach cantatas with the Freiburger Barockorchester and Carolyn Sampson, all for Harmonia Mundi.
In 2021/22, Andreas Wolf will give his house debut at the Bolshoi theatre in the title role of Le Nozze di Figaro and return to the Grand Théâtre de Genève in a new production of Lully's Atys, conducted by Leonardo García Alarcón also presented at Versailles. Concert highlights include Bach's Messe in h-moll with the RIAS Kammerchor and Akademie für Alte Musik Berlin, conducted by René Jacobs, Handel's Israel in Egypt with Le Concert Spirituel at the Festival Berlioz and in Grenoble, Mozart arias and Bach's Matthäus-Passion with Het Residentie Orkest, Handel's Acis and Galatea with the Bachakademie Stuttgart and with the NDR Runfunkorchester, conducted by Nicholas McGegan, and Beethoven's Missa Solemnis with Concerto Köln and Kent Nagano at Beethovenfest Bonn.