---
Avishai Cohen & Yonathan Avishai
---
Biography Avishai Cohen & Yonathan Avishai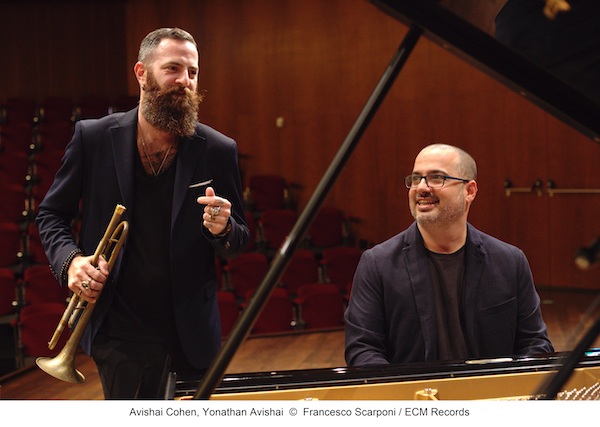 Avishai Cohen
For four years running, Cohen has been voted a Rising Star-Trumpet in the DownBeat Critics Poll. Along with leading his Triveni trio with Omer Avital and Nasheet Waits, the trumpeter was a member of the SF Jazz Collective for six years. He also records and tours the world with The 3 Cohens Sextet, the hit family band with his sister, clarinetist- saxophonist Anat, and brother, saxophonist Yuval. Declared All About Jazz: "To the ranks of the Heaths of Philadelphia, the Joneses of Detroit and the Marsalises of New Orleans, fans can now add the 3 Cohens of Tel Aviv."
The trumpeter began performing in public in 1988 at age 10, playing his first solos with a big band and eventually touring with the Young Israeli Philharmonic Orchestra to perform under the likes of maestros Zubin Mehta, Kurt Masur and Kent Nagano. Having worked with Israeli folk and pop artists in his native country and appeared on television early on, Cohen arrived as an experienced professional musician when he took up a full scholarship at Berklee College of Music in Boston. In 1997, the young musician established an international reputation by placing third in the Thelonious Monk Jazz Trumpet Competition. Avishai came of age as a jazz player as part of the fertile scene at the club Smalls in New York's West Village.
Cohen first recorded for ECM as part of saxophonist Mark Turner's quartet on Lathe of Heaven, released in September 2014. The trumpeter has performed at the Village Vanguard and beyond with Turner, as well as widely in a band led by pianist Kenny Werner. Cohen has played often in the Mingus Big Band and Mingus Dynasty ensemble, and he has lent his horn to recordings by Anat Cohen, Yuval Cohen and keyboardist Jason Lindner, along with collaborating on stage and in the studio with French-Israeli pop singer Keren Ann. In addition to performing, Cohen was named the Artistic Director of the International Jerusalem Festival in 2015.
Yonathan Avishai
Based in France, pianist Yonathan Avishai is undoubtedly one of the most singular voices of his generation. Whether through a concert, in the theatre or in a workshop, this unique musician, shares his passion for sound, music and its history.
Yonathan, was born and grew up in Israel. He began studying the piano at a young age and discovered in his early teens jazz. Already at the age of 14 he formed his own groups and performed at clubs and festivals in his country. He often accompanied touring American musicians in Israel (Walter Blanding Jr., Marcus Printup, Allan Harris) and was part of Arnie Lawrence's Ensemble.
He was a member of The Left Bank, a cooperative association of musicians formed to promote original music in Tel Aviv. This experience led to an involvement with the social and local aspects of cultural development. Yonathan took part in organizing musical events in various facilities in the city. As a result of these activities, in 2001, he arrived at a socio-cultural center in Alsace (France) as a part of an European exchange program.
In 2002 he moved to Dordogne (France) and got involved in the local cultural scene. He studied musicotherapy in Bordeaux (Atelier de Musicotherapy de Bordeaux) following which he led workshops in facilities for special education, primary schools, music schools and developed a true passion for teaching and pedagogy.
That same year he formed with Omer Avital, Avishai Cohen and Daniel Freedman "Third World Love quartet". The group recorded five albums and performed the world over. In 2006 Yonathan recorded an album with the percussionist Bachir Mouhali : Soledad (Fresh Sound Records).
In 2008, in collaboration with director Sharon Mohar, Yonathan explored the field of music and theater. As a result, the Compagnie L'air du jeu (The Playground Company) came into existence and, in 2010, produced a show for kids entitled Il était une fois un gribouille. In 2010 Yonathan and drummer Bertrand Noël formed a duo and recorded a CD called Lost boys (Cristal Records).
In 2012, Yonathan moved to Yonne (France). And joins bassist Ome Avital's quintet with whom he records 2 albums (New Song and Abutbul Music).
He forms his own project and band Modern Times with bassist Yoni Zelnik and drummer Donald Kontomanou. In 2015 appeared Modern Times's first album entitled Trio. It was followed in 2016 by The parade, with the trio joined by César Poirier (saxophone, clarinet) and Inor Sotolongo (percussion). Released on the french label Jazz&People both albums were acclaimed by the critics: Jazz Magazine (Choc), Jazz News (Indispensable), Mezzo (Le top jazz) et Télérama. Yonathan was elected as 2017, Révélation française de l'année in Jazz Magazine.
Yonathan is today a part of Avishai Cohen's quartet with whom he recorded 2 albums for ECM records (Into the silence et Cross may palm with silver).
Yonathan signed recently with label ECM as well and his next trio album will be released in the beginning 2019.
Inspired by artists such as John Lewis, Art ensemble of Chicago and Mark Rothko, between tradition and modernity, Yonathan strives to deepen the dimensions of his music . Packing each note with a dramatic charge. He creates a poetic world rich in emotion and colour. His compositions are restrained, subtle and feature great refinement.