---
Album info
Album including Album cover
I`m sorry!
Dear HIGHRESAUDIO Visitor,
due to territorial constraints and also different releases dates in each country you currently can`t purchase this album. We are updating our release dates twice a week. So, please feel free to check from time-to-time, if the album is available for your country.
We suggest, that you bookmark the album and use our Short List function.
Thank you for your understanding and patience.
Yours sincerely, HIGHRESAUDIO
1

Guitar Boogie (Live)

07:02

2

Locomotivation (Live)

03:23

3

Haba Na Haba (feat. Pam Rose, Anthony Snape, Frank Vignola & Vinny Raniolo) (Live)

04:53

4

My Life (feat. Pam Rose) (Live)

04:21

5

The Trails (Live)

05:27

6

Everlasting (feat. Anthony Snape) (Live)

02:42

7

Frequency (feat. Anthony Snape) (Live)

03:56

8

My Beloved (feat. Pam Rose) (Live)

05:44

9

I'll Still Be Loving You (feat. Pam Rose & Anthony Snape) (Live)

05:09

10

Avalon (feat. Frank Vignola & Vinny Raniolo) (Live)

02:10

11

How High the Moon (feat. Frank Vignola & Vinny Raniolo) (Live)

03:43

12

Hungarian Dance No. 5 (feat. Frank Vignola & Vinny Raniolo) (Live)

02:59

13

Smokey Mountain Lullaby (Live)

03:33

14

Nine Pound Hammer (Live)

05:13

15

The Digger's Waltz (Live)

03:26

16

Moon River (Live)

04:25

17

What a Wonderful World (feat. Frank Vignola & Vinny Raniolo) (Live)

03:32

Total Runtime

01:11:38
Info for Live from the Balboa Theatre

When guitar virtuoso Tommy Emmanuel throws a party for his talented friends, the result is musical magic. A once-in-a-lifetime concert, taped before a sold-out audience at the historic balboa theatre in San Diego and featuring an international cast of musicians.
TOMMY EMMANUEL AND FRIENDS: LIVE FROM THE BALBOA THEATRE was produced for public television in 2011. Tommy Emmanuel is considered one of the finest acoustic guitar players in the world and to celebrate his 50th anniversary as a performer, he invited some of his favorite musician friends to join him on stage.
"My memories of the Balboa show are filled with adrenaline, wonder and joy," says the acclaimed and Grammy-nominated acoustic guitarist, singer and songwriter TOMMY EMMANUEL about his new digital-only live album TOMMY EMMANUEL–LIVE FROM THE BALBOA THEATRE out February 12 on his label, CGP Sounds. Listen here to the album's first single "Locomotivation," released today (February 5), and watch the video here. Pre-save and pre-add the album here.
Featuring 17 tracks (see the track listing below), LIVE FROM THE BALBOA THEATRE is a classic TOMMY EMMANUEL concert filmed on February 13 and 14, 2011 at the Balboa Theatre in San Diego, CA. The album features special guest performers such as Pam Rose, Anthony Snape, and Frank Vignola & Vinny Raniolo. Both Pam Rose and Anthony Snape are acclaimed songwriters who have co-written songs with TOMMY. Frank Vignola and Vinny Raniolo are masters in the jazz world who are also longtime touring collaborators with TOMMY.
"Playing with Frank and Vinnie, singing with Pam and Anthony, having fun with the audience and working with the PBS network made it a once-in-a-lifetime event, I hope you enjoy it and feel it too!" says TOMMY.
In other exciting TOMMY news, his guitar work graces Barry Gibbs' newly released solo album Greenfields: The Gibb Brothers' Songbook. EMMANUEL plays on the Bee Gees' classic "How Deep Is Your Love" featuring Little Big Town.
Tommy Emmanuel, guitar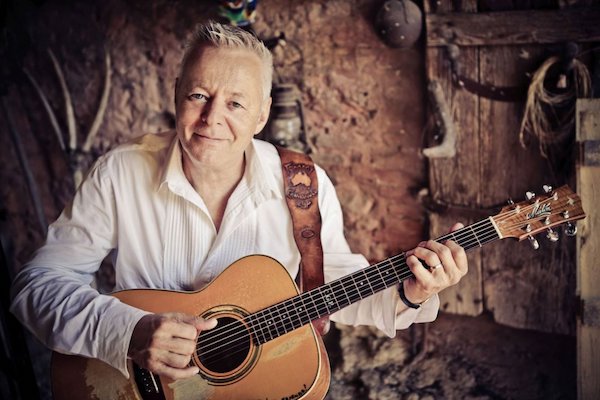 Tommy Emmanuel
Two-time Grammy nominee Tommy Emmanuel has a professional career that spans over four decades and continues to intersect with some of the finest musicians throughout the world. A household name in his native Australia, Tommy has garnered hundreds of thousands of loyal fans worldwide. Tommy's unique style - he calls it simply "finger style" - is akin to playing guitar the way a pianist plays piano, using all ten fingers.
Guitar legend Chet Atkins was one of the first to inspire Emmanuel to pick up the guitar as a child. Decades later, Atkins himself became one of Emmanuel's biggest fans. In 1999, Chet honored Tommy Emmanuel with the title of "Certified Guitar Player" for his lifetime contribution to the instrument, a rare honor shared by only three other people in the world (Jerry Reed, Steve Warner and John Knowles). Atkins eventually recorded with Tommy in 1996 on "The Day the Finger Pickers Took Over the World", for which Emmanuel received his first Grammy award nomination. This was also Atkins last recording.
After a recent recuperative rest, resulting from an exhausting touring schedule, Tommy is now completely rejuvenated and embarking on a full tour schedule in 2008. A new double live CD and DVD, "Center Stage" filmed in High Definition and recorded at the Sierra Nevada Brewery in Chico, California will be commercially released in Spring '08. The DVD portion will also air on Public Television affiliates all over the United States. Every element of modern technology was used in the production of both the DVD and CD. Tommy's record producer, Kim Person, recorded and mixed the audio tracks, while long-time Sierra Nevada video producer/director Peter Barlow tied the entire package together in state-of-the-art quality. It makes for a stunning package, both aurally and visually.
The double disc Live CD "Center Stage" contains many fan show-stoppers, including Emmanuel's Beatles Medley, Mombasa, and Initiation – the aboriginal tribute song that has evolved over the years and never sounds the same on any recording – or during any show. Tommy also introduces four never-before recorded tracks, "Ruby's Eyes", "Lenny Bro'", "The Jolly Swagman" and "Papa George" (inspired by George Harrison). Also, included are several arrangements of popular traditional tunes like "House of the Rising", "Nine Pound Hammer", "Amazing Grace" – and for his Japanese fans, "Sukiyaki" This new CD is a great mix of the rare, the new, the traditional and the favorites.
Emmanuel's music and life are legendary in Australia. He began playing guitar at age 4, by learning to play by ear without any formal instruction. Emmanuel and his older brother Phil were child prodigies, starting their professional career in the 1960s. By the age of six, Tommy was already working as a professional musician. Shortly after his father's death in 1966, the Emmanuel family was approached by Australian country music star Buddy Williams, who took the family on the road until they were forced by the Australian child welfare department to stop traveling. The Emmanuel children were then sent to a regular school. During these years, Tommy was playing in "The Trailblazers" (with siblings Chris on drums and Virginia on slide guitar) on weekends. He also taught guitar and made numerous television appearances in musical competitions. Emmanuel's first brush with fame came when The Trailblazers won two televised talent contests and produced an EP. He and his siblings worked hard to create the family's sole income for several years. In his early teens, Tommy left home and moved to Sydney to pursue a professional career as a guitarist. Playing in clubs all over the city, Emmanuel soon found himself in high demand as a session player for some of the era's most popular performers. During the mid 70s through the early '80s, he joined one of the decade's biggest, Dragon, recorded thousands of commercial "jingles" and played on recordings for Air Supply, Men at Work and dozens of other popular artists. In 1987, Dragon toured with Tina Turner on her "Break Every Rule" tour.
In addition to his storied career, which includes 16 music and instructional recordings, Tommy is also an accomplished record producer and musical arranger. He is also well regarded for mentoring students by offering guitar workshops and master classes on tour. Other accolades include his 2007 Grammy nomination for "Gameshow Rag' from "The Mystery" CD, induction into the Thumb pickers Hall of Fame in Muhlenberg, Kentucky (the only non-American so honored), and Acoustic Guitar Magazine readers' poll for placing in the top 3 favorite artists. Emmanuel was voted Rolling Stone (Australia) Magazine's "Most Popular Guitarist" for two consecutive years. He has earned four Platinum and Gold albums, two consecutive "Golden Guitar" awards (2006, 2007) at the CMAA Awards in Australia. Another stellar career highlight was Tommy's performance (with his brother Phil) at the Sydney 2000 Olympics Closing Ceremonies, viewed by over 2 billion people around the world. Emmanuel has set sales records that have yet to be broken and performed with hundreds of musical legends including Chet Atkins, Les Paul, Keith Urban, Eric Clapton, Sir George Martin, Tina Turner, Joe Walsh, Stevie Wonder, Nokie Edwards (of the Ventures), Hank Marvin, the Lexington (Kentucky) Philharmonic, the Dortmund (Germany) Symphony, and the Western Australian Symphony Orchestra. In addition, Tommy hosts several annual "TommyFest" concerts, where other stellar internationally recognized musicians are invited to share in a four day all-out celebration of music.
As a solo performer, Tommy's dazzling performance, flawless guitar skills and voluminous repertoire never fail to amaze and engage his legions. From the wilds of Australia's outback to bustling major cities throughout the world, Emmanuel's flair and unforgettable showmanship have created an enviable fan base that continues to grow even larger every year.

This album contains no booklet.