---
Album info
Album including Album cover
I`m sorry!
Dear HIGHRESAUDIO Visitor,
due to territorial constraints and also different releases dates in each country you currently can`t purchase this album. We are updating our release dates twice a week. So, please feel free to check from time-to-time, if the album is available for your country.
We suggest, that you bookmark the album and use our Short List function.
Thank you for your understanding and patience.
Yours sincerely, HIGHRESAUDIO
Tommy Emmanuel (b. 1955):

1

Song for a Rainy Morning

02:10

2

Angelina

02:40

3

Halfway Home

03:11

4

Fuel

04:25

5

The Wide Ocean

03:35

6

It's Never Too Late

03:36

7

(The Man With The) Green Thumb

03:07

8

The Mystery

03:46

9

Timberland

03:07

10

Timberlake Road

02:34

11

Sail On

02:38

12

Blood Brother

04:47

13

Endless Road

04:18

14

Luttrell

02:06

15

Ruby's Eyes

03:25

16

Lewis & Clark

03:51

17

Train to Dusseldorf

02:27

18

Mombasa

02:45

19

Cowboy's Dream

03:17

20

Rachel's Lullaby

02:28

21

Questions

03:34

22

Those Who Wait

04:40

23

Drivetime

02:57

24

Stay Close To Me

02:58

Total Runtime

01:18:22
Info for The Best of Tommysongs

"The Best of Tommysongs" is a double album that features some of Tommy Emmanuel's best original works. He solely wrote, produced, and recorded all the songs on this record. Tommy has been playing some of these songs for over 30 years, and they have evolved over time. He wanted to re-record them to suite the modern arrangements and to make them sound bigger than ever. The record also has 5 brand new songs.
Emmanuel solely wrote, performed, and produced every song on the 24-track record.
"I boarded a train in Paris, France to ride the rails to Cologne, Germany. Looking out the window, I saw a billboard for 'Harry Potter World,' that set me in motion. I got my guitar out and started looking for cinematic chords and ideas. Three hours later, I had the entire song written and was practicing it up. I had no title at that stage and when I played it for a friend he asked "what's fueling this emotion?" Immediately I reacted, "You just gave me the title, 'Fuel'! Even though there's time changes and odd bars in the song, you can actually tap time straight through it. In my own way, this is a small attempt at paying homage to Mason Williams, the brilliant composer of 'Classical Gas.'"
Tommy Emmanuel, guitar
Engineered by Rory Rositas and Brad Benge at OmniSound in Nashville
Mixed by Marc DeSisto, Tommy Emmanuel at Luke's Room Studio in Los Angeles
Mastered by Marc DeSisto at Luke's Room Studio in Los Angeles
Produced by Tommy Emmanuel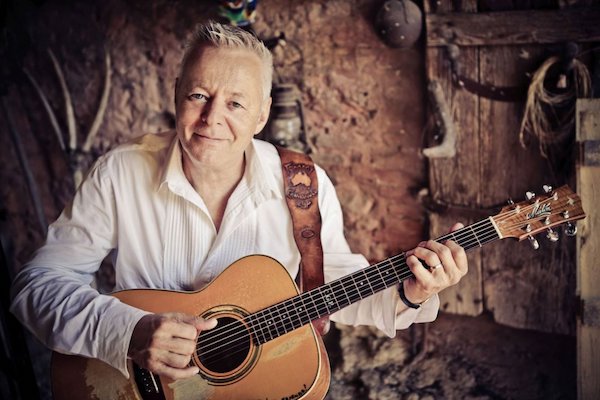 Tommy Emmanuel
Two-time Grammy nominee Tommy Emmanuel has a professional career that spans over four decades and continues to intersect with some of the finest musicians throughout the world. A household name in his native Australia, Tommy has garnered hundreds of thousands of loyal fans worldwide. Tommy's unique style - he calls it simply "finger style" - is akin to playing guitar the way a pianist plays piano, using all ten fingers.
Guitar legend Chet Atkins was one of the first to inspire Emmanuel to pick up the guitar as a child. Decades later, Atkins himself became one of Emmanuel's biggest fans. In 1999, Chet honored Tommy Emmanuel with the title of "Certified Guitar Player" for his lifetime contribution to the instrument, a rare honor shared by only three other people in the world (Jerry Reed, Steve Warner and John Knowles). Atkins eventually recorded with Tommy in 1996 on "The Day the Finger Pickers Took Over the World", for which Emmanuel received his first Grammy award nomination. This was also Atkins last recording.
After a recent recuperative rest, resulting from an exhausting touring schedule, Tommy is now completely rejuvenated and embarking on a full tour schedule in 2008. A new double live CD and DVD, "Center Stage" filmed in High Definition and recorded at the Sierra Nevada Brewery in Chico, California will be commercially released in Spring '08. The DVD portion will also air on Public Television affiliates all over the United States. Every element of modern technology was used in the production of both the DVD and CD. Tommy's record producer, Kim Person, recorded and mixed the audio tracks, while long-time Sierra Nevada video producer/director Peter Barlow tied the entire package together in state-of-the-art quality. It makes for a stunning package, both aurally and visually.
The double disc Live CD "Center Stage" contains many fan show-stoppers, including Emmanuel's Beatles Medley, Mombasa, and Initiation – the aboriginal tribute song that has evolved over the years and never sounds the same on any recording – or during any show. Tommy also introduces four never-before recorded tracks, "Ruby's Eyes", "Lenny Bro'", "The Jolly Swagman" and "Papa George" (inspired by George Harrison). Also, included are several arrangements of popular traditional tunes like "House of the Rising", "Nine Pound Hammer", "Amazing Grace" – and for his Japanese fans, "Sukiyaki" This new CD is a great mix of the rare, the new, the traditional and the favorites.
Emmanuel's music and life are legendary in Australia. He began playing guitar at age 4, by learning to play by ear without any formal instruction. Emmanuel and his older brother Phil were child prodigies, starting their professional career in the 1960s. By the age of six, Tommy was already working as a professional musician. Shortly after his father's death in 1966, the Emmanuel family was approached by Australian country music star Buddy Williams, who took the family on the road until they were forced by the Australian child welfare department to stop traveling. The Emmanuel children were then sent to a regular school. During these years, Tommy was playing in "The Trailblazers" (with siblings Chris on drums and Virginia on slide guitar) on weekends. He also taught guitar and made numerous television appearances in musical competitions. Emmanuel's first brush with fame came when The Trailblazers won two televised talent contests and produced an EP. He and his siblings worked hard to create the family's sole income for several years. In his early teens, Tommy left home and moved to Sydney to pursue a professional career as a guitarist. Playing in clubs all over the city, Emmanuel soon found himself in high demand as a session player for some of the era's most popular performers. During the mid 70s through the early '80s, he joined one of the decade's biggest, Dragon, recorded thousands of commercial "jingles" and played on recordings for Air Supply, Men at Work and dozens of other popular artists. In 1987, Dragon toured with Tina Turner on her "Break Every Rule" tour.
In addition to his storied career, which includes 16 music and instructional recordings, Tommy is also an accomplished record producer and musical arranger. He is also well regarded for mentoring students by offering guitar workshops and master classes on tour. Other accolades include his 2007 Grammy nomination for "Gameshow Rag' from "The Mystery" CD, induction into the Thumb pickers Hall of Fame in Muhlenberg, Kentucky (the only non-American so honored), and Acoustic Guitar Magazine readers' poll for placing in the top 3 favorite artists. Emmanuel was voted Rolling Stone (Australia) Magazine's "Most Popular Guitarist" for two consecutive years. He has earned four Platinum and Gold albums, two consecutive "Golden Guitar" awards (2006, 2007) at the CMAA Awards in Australia. Another stellar career highlight was Tommy's performance (with his brother Phil) at the Sydney 2000 Olympics Closing Ceremonies, viewed by over 2 billion people around the world. Emmanuel has set sales records that have yet to be broken and performed with hundreds of musical legends including Chet Atkins, Les Paul, Keith Urban, Eric Clapton, Sir George Martin, Tina Turner, Joe Walsh, Stevie Wonder, Nokie Edwards (of the Ventures), Hank Marvin, the Lexington (Kentucky) Philharmonic, the Dortmund (Germany) Symphony, and the Western Australian Symphony Orchestra. In addition, Tommy hosts several annual "TommyFest" concerts, where other stellar internationally recognized musicians are invited to share in a four day all-out celebration of music.
As a solo performer, Tommy's dazzling performance, flawless guitar skills and voluminous repertoire never fail to amaze and engage his legions. From the wilds of Australia's outback to bustling major cities throughout the world, Emmanuel's flair and unforgettable showmanship have created an enviable fan base that continues to grow even larger every year.

This album contains no booklet.