---
Album info
Album including Album cover Booklet (PDF)
Albert Becker (1834 - 1899): Joseph, lieber Joseph mein:

1

Becker: Joseph, lieber Joseph mein

02:57

Carl Rütti (b. 1949): O nata lux de lumine:

2

Rütti: O nata lux de lumine

03:31

Samuel Scheidt (1587 - 1654): Puer natus est:

3

Scheidt: Puer natus est

01:27

Gion Antoni Derungs (1935 - 2012): Tut ils fideivels:

4

Derungs: Tut ils fideivels

02:47

Julia Schwartz (b. 1963): Das Christkind im Wald:

5

Schwartz: Das Christkind im Wald

05:50

Gottfried Wolters (1910 - 1989): Maria durch ein Dornwald ging:

6

Wolters: Maria durch ein Dornwald ging

02:43

Peter Appenzeller (b. 1955): Maria vas tras:

7

Appenzeller: Maria vas tras

01:22

Heinrich von Herzogenberg (1843 - 1900): Meine Seele erhebt den Herrn:

8

Herzogenberg: Meine Seele erhebt den Herrn

03:33

André Sala (1899 - 1968): Que j'aime ce divin enfant:

9

Sala: Que j'aime ce divin enfant

02:36

Carlo Boller (1896 - 1952): Dormi bel bambin:

10

Boller: Dormi bel bambin

03:56

Markus Fricker (b. 1943): Advent:

11

Fricker: Advent

01:22

Felix Mendelssohn (1809 - 1847): Sechs Motetten, Op. 79: Nr. 1:

12

Mendelssohn: Sechs Motetten, Op. 79: Nr. 1: Weihnachten

01:37

Peter Appenzeller: Neues Quempas-Lied I:

13

Appenzeller: Neues Quempas-Lied I

02:47

Neues Quempas-Lied II

14

Appenzeller: Neues Quempas-Lied II

05:30

André Ducret (b. 1945): La Marche des Rois:

15

Ducret: La Marche des Rois

03:47

Robert Pearsall (1795 - 1856): In dulci jubilo:

16

Pearsall: In dulci jubilo

03:40

Markus Fricker: Liislig fallt de Schnee:

17

Fricker: Liislig fallt de Schnee

01:40

Burkhard Kinzler (b. 1963): Still, still, still:

18

Kinzler: Still, still, still

03:02

Cesar Bresgen (1913 - 1988): O du stille Zeit:

19

Bresgen: O du stille Zeit

02:49

Total Runtime

56:56
Info for Dormi Bel Bambin

At Christmas, vocal music is particularly close to us. What is it that makes this music so appealing? Is it just the memories and traditions associated with it, or do Christmas carols actually sound radically different in their basic mood? For centuries, Christmas has inspired composers to write delightful works, many of which have been forgotten or never performed.
In Switzerland, too, there are numerous compositions that capture the special sound of Advent and Christmas, but most of them lie dormant in archives. How does Advent sound in Rhaeto-Romanic, for example? How do contemporary composers deal with traditional carols? Our concerts combine musical finds from all four language regions of Switzerland with works of German Romanticism.
The Christmas concerts are intended to expand the usual repertoire and provide a different perspective on Swiss music. So why not listen to Christmas in a different way? After all, the biscuits are baked fresh every year and enriched with new ingredients.
Swiss Vocal Consort
Marco Amherd, artistic director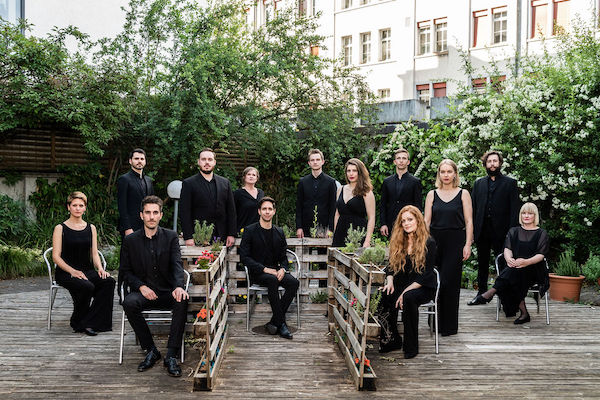 Swiss Vocal Consort
The ensemble was founded in 2018 by Marco Amherd and gave its debut concerts in November 2018. The members are extremely experienced as ensembles and promise a high artistic level. The aim of the Swiss Vocal Consort is to present vocal music in Switzerland at the highest level and thereby create cultural added value. Therefore, its programmes will feature rarities that are often neglected in the normal cultural routine. Programmes will be presented that build a bridge from old to new music and combine different sound worlds.
Marco Amherd
(1988) studied conducting, organ/church music and economics in Zurich, Freiburg im Breisgau and Toulouse. He completed his studies with distinction in each case.
From autumn 2019, Marco Amherd will be the artistic director of the DAVOS FESTIVAL. Since August 2015, he has been cantor at the Johanneskirche Zurich and is a lecturer for organ at the Musikschule Konservatorium Zürich MKZ. In autumn 2018 he took on a teaching position for choral conducting at the ZHdK. With the Vokalensemble Zürich West he won 1st prize in the elite category of the Swiss Choral Competition in 2017. At the Montreux Choral Festival in 2018, the ensemble won 1st prize as well as the audience prize. The main focus of his repertoire is the vocal and organ music of Bach, Schütz and Reger, as well as compositions of the 20th and 21st centuries. Marco Amherd has won prizes at several international competitions (including the Bach Competition Wiesbaden (2018), Silbermann Competition Freiberg (2017), Bossler Competition Freiburg (2016).
Since 2016 he has been a scholarship holder in the Conductors' Forum of the German Music Council. Within the framework of this sponsorship, he has been able to work with ensembles such as the NDR Choir, the WDR Choir, the Choir of the Dresden Semper Opera, the Philharmonic Choir Berlin and the Chamber Choir Saarbrücken.

Booklet for Dormi Bel Bambin